Founded in 1946, BetVictor is a longstanding institution in the world of sports betting. Having transitioned from a traditional bookmaker to a pioneer in online gambling, they have consistently pushed the boundaries of the industry.

With over 80 years of experience, they offer an extensive high-tech, in-play betting platform that caters to all types of bettors. Venturing into Ontario's regulated iGaming market in 2022, BetVictor sportsbook is licensed and regulated by the Alcohol and Gambling Commission of Ontario, ensuring a secure and reliable betting environment.

From popular sports markets and parlays to exciting features like live betting and quick bets, BetVictor Canada provides a comprehensive and user-friendly betting experience for Ontario's sports enthusiasts. With instant, free-of-charge deposits and a modern interface, it ranks among the top sports betting sites in the region, providing a thrilling, trusted and customer-centric platform for all your betting needs.
BetVictor Strengths and Weaknesses
BetVictor, like any online sportsbook, has its own set of strengths and weaknesses. We've compiled the most noteworthy ones below:
BetVictor Strengths
Certified iGaming Platform: BetVictor stands out with its iGaming certification, guaranteeing a safe, reliable and trustworthy platform for users. Their reputation as legacy operators further strengthens their credibility, providing bettors with peace of mind.
Diverse Betting Options: With a wide range of sports and markets, BetVictor caters to every bettor's interest. Whether it's traditional sports or live betting, their offerings are comprehensive. Additionally, their Bet Builder feature allows users to customize their bets, adding a personal touch to the betting experience.
Strong Customer Service: BetVictor boasts 24/7 live chat support, offering immediate assistance to users. Alongside this, the Help Center provides useful information, answering most questions without the need to contact a representative.
BetVictor Weaknesses
Limited Attention to Canadian Leagues: Although BetVictor offers an impressive range of sports, it seems to lean heavily towards UK-based markets. This often results in less focus on Canadian leagues, which could be a downside for Ontario bettors.

Limited phone support: A notable drawback of BetVictor is its limited phone support. The lack of a dedicated direct phone line can make troubleshooting more challenging for customers who prefer immediate, voice-based assistance
While BetVictor demonstrates strength in many areas, the absence of a mobile app for Canadian bettors and a narrow focus on UK sports are noticeable drawbacks.

However, their solid performance in key areas such as betting options, customer service, and reliability still makes them a valuable choice for Ontario's bettors. It's especially suitable for beginners and casual bettors, though seasoned users may find value as well.
BetVictor Canada Rating
BetVictor Canada Profile
| | |
| --- | --- |
| Website: | betvictor.com/en-ca/ |
| Company: | BV Gaming Limited |
| Year founded: | 1946 |
| Founder: | William Chandler |
| License & Regulation: | iGaming Ontario (iGO) & Alcohol and Gaming Commission of Ontario |
| Contact: | Live Chat, Help Center, Email, Text, Message On Twitter, and Help Centre |
| Payment Methods | Debit Card (Visa and Mastercard), Credit Card, PayPal, Neteller, Skrill (Moneybookers), Paysafe, and Bank Transfer |
| Features: | Live betting, Live streaming, Early cash out, Quick bet, Bet Builder, Fast Withdrawal Speeds, and In-Play Betting |
| Apps Devices: | iOS and Android |
| Casino Providers: | Microgaming, NetEnt, Evolution Gaming, IGT, Play'n GO, Quickspin, Blueprint Gaming, and others. |
| Casino Games: | Slots, Megaways, BV Picks, Roulette, Blackjack, Classic Table Games, Live Casino Games, and others. |
| Headquarters: | Gibraltar |
BetVictor Sportsbook Review – Our Expert's Highlights
BetVictor stands out as a solid choice for sports betting enthusiasts. Their strengths are prominent, featuring a robust selection of sports and markets, stellar live betting options, and the unique capability to live stream the PGA Tour. They've made their mark with an appealing, user-friendly platform, complete with 24/7 live chat support, and flexible deposit and withdrawal limits.
BetVictor mobile app is iGaming certified and compatible with both iOS and Android devices. As a reputable operator with a rich legacy, we've found that BetVictor's place in the market is well-deserved.
However, the platform isn't without its flaws. The absence of dedicated phone support, and scarcity of player rewards are a few of the areas where we believe BetVictor could improve. While their offerings are vast, they can sometimes appear too UK-focused and often neglect Canadian leagues. Moreover, the lack of a mobile app in Canada is a significant drawback.
Despite these weaknesses, BetVictor does deliver on many fronts. The platform's features, such as live betting, live streaming, early cash out, and the unique Bet Builder are commendable. Punters will find the fast withdrawal speeds, comprehensive customer service, and innovative quick bet option highly beneficial.
A stalwart in the industry, BetVictor has been serving the community since the 1940s. They've embraced the changing times and expanded into a well-recognized sportsbook that hosts an array of exciting markets and features. It is an institution we'd recommend, especially for those in Ontario where they have recently established a strong presence.
In terms of user experience, the BetVictor app is adept at accommodating mobile betting. The interface is easy to navigate, and users can effortlessly stay updated with relevant news and place bets on live events.
The Bet Builder is one of our favorite features. The ability to tailor your bets adds a level of flexibility that enhances the overall betting experience, making it an exciting and distinctive component of the site. Their customer service is also noteworthy, offering multiple channels of communication including live chat, email, Twitter, and Facebook.
In conclusion, while there is room for improvement, BetVictor is a robust platform that caters well to sports betting enthusiasts, especially those interested in popular sports. Its legacy as a trusted name in the industry combined with its array of features and excellent customer service make it a recommendable choice for both new and experienced bettors.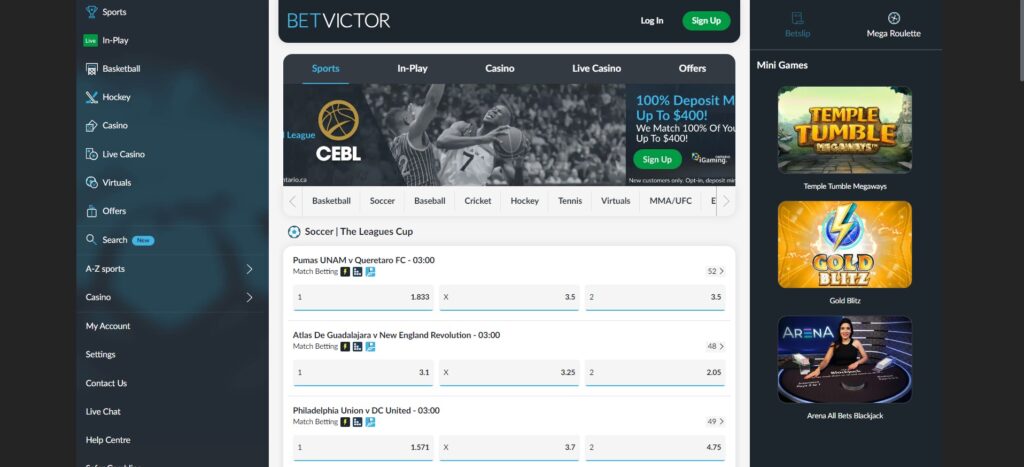 BetVictor Sports Betting Features
BetVictor has an array of interesting features designed to enhance user betting experience. These features increase user control, provide flexibility, and ensure convenience, making BetVictor a preferred choice for many.
Live Betting: With Live Betting, you can engage with your favourite sports in real-time. It keeps the excitement alive as odds change and you can place bets as the action unfolds. This adds another layer of strategy and opportunity to your betting experience.

Live Streaming: The Live Streaming feature allows you to watch your selected events in real-time. This not only provides a thrilling experience but also allows you to make more informed betting decisions by observing the ongoing game.

Early Cash Out: The Early Cash Out feature gives you control over your bets. If a game is not going your way or you just want to lock in a profit before the final whistle, you can choose to cash out early.

Quick Bet: The Quick Bet feature enhances the speed and convenience of betting. Once enabled, you can instantly add selections to your bet slip for a pre-set amount, allowing for quicker and more efficient betting, especially useful in live-in play situations.

Bet Builder: Bet Builder allows you to create your own unique bets on selected events. This offers more flexibility and can lead to a more personalized betting experience. It's a perfect tool for those who enjoy crafting their own betting strategies.

Fast Withdrawal Speeds: Fast Withdrawal Speeds mean you get your winnings quicker. This feature is a huge advantage for users who appreciate the swift payout process, making BetVictor a highly convenient platform.

Flourishing Customer Service: BetVictor's offers various ways to get in touch with their support team. This ensures that any issues or queries are dealt with swiftly and efficiently, enhancing user experience.
BetVictor App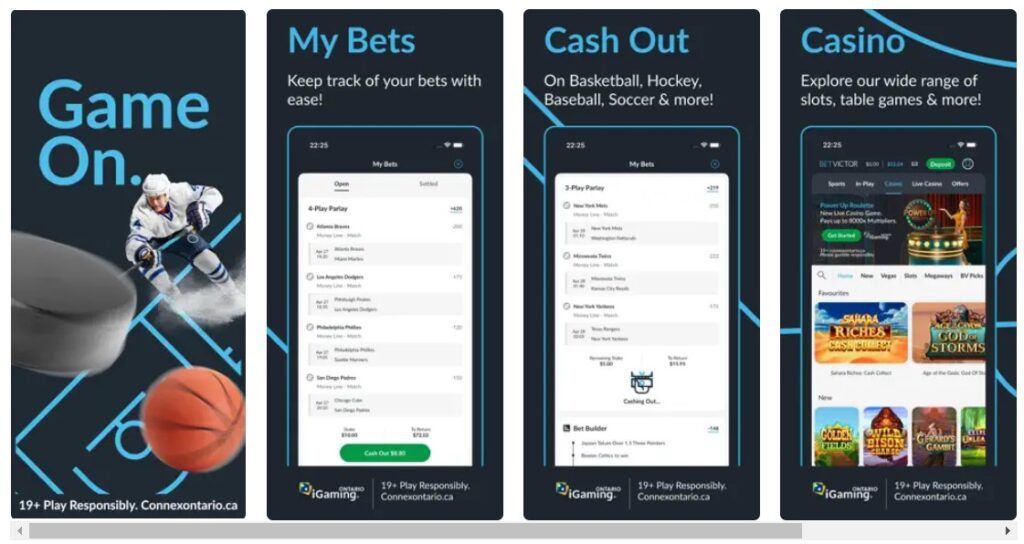 In this digital age, mobile accessibility is a vital feature for any online betting platform, and BetVictor doesn't disappoint. Whether you prefer using a desktop or your mobile device, BetVictor has got you covered. The BetVictor desktop site, albeit a scaled-up version of the mobile site, is simple to navigate. However, it's the mobile experience that stands out with its seamless design and efficient processing.
The BetVictor mobile app is compatible with both Android and iOS devices, offering you the flexibility to place bets, play your favorite online slot games, including jackpot slots, from anywhere in Ontario. The streamlined app design ensures a smooth, convenient gaming experience.
The app doesn't compromise game selection either. BetVictor features a vast array of popular games such as live casino, slots, and table games, from Blackjack and Roulette to innovative new games. It's not only a haven for casino game enthusiasts but also for those interested in sports betting, offering fantastic odds.
You can effortlessly navigate through the games, filtering by the most played, most popular, and newest, guaranteeing a user-friendly experience. If you prefer not to download the app, there's also a mobile browser site, although it's slightly slower in comparison.
In essence, BetVictor's mobile accessibility ensures a dynamic, easy-to-use, and engaging betting and gaming platform right at your fingertips.
BetVictor's Sports Coverage

BetVictor's sports coverage is extensive, encompassing a diverse range of sports. It ensures that no matter your preference, you'll find something to pique your interest and put your sporting knowledge to the test.
🏈 BetVictor Football: Undeniably, football garners a massive global following. With BetVictor, you can engage with top leagues like the NFL. Canada has a proud representation with teams like the Toronto Argonauts and Montreal Alouettes. The thrill of betting on a touchdown or predicting a game's total points is unmatched.
🏒 BetVictor Hockey: As a quintessential Canadian sport, hockey betting is a favorite on BetVictor. You can place bets on the NHL, where Canadian teams like the Toronto Maple Leafs and Montreal Canadiens are prominent. Whether it's the money line or puck line, hockey betting offers exhilarating experiences.
🏀 BetVictor Basketball: With the NBA being one of the most exciting leagues globally, basketball betting is a must-try. Toronto Raptors' games are always a thrilling bet. Player props, point spreads, and over/under totals make basketball betting a fan favorite.
⚾ BetVictor Baseball: The charm of the MLB season is irresistible, especially with teams like the Toronto Blue Jays. Betting on baseball offers interesting markets, including run lines, game totals, and futures.
🥊 BetVictor MMA: MMA betting, especially UFC events, brings a different level of thrill, given the sport's unpredictability. You can bet on fight winners, method of victory, round betting, and more.
⚽ BetVictor Soccer: Being the world's most popular sport, soccer offers diverse betting opportunities. From the MLS to the English Premier League and UEFA Champions League, the options are endless. Toronto FC and Vancouver Whitecaps represent Canada in MLS, adding a home connection to the excitement.
Beyond these, BetVictor also provides betting options for cricket, tennis, virtual sports, and esports, covering everything from the Cricket World Cup and Wimbledon to virtual soccer and CS:GO tournaments. Each sport comes with its unique charm, making BetVictor betting a versatile platform for every sports enthusiast.
BetVictor Betting Markets
The essence of sports betting lies in its diverse markets, which offer a multitude of ways to engage with the sport and place a wager. BetVictor covers a comprehensive range of markets, enabling both casual bettors and seasoned punters to find their preferred betting opportunities.
Here's an overview of the top five betting markets that are popular for their potential returns and strategic value.
Moneyline: This is the simplest and most straightforward betting market, perfect for beginners. Moneyline involves betting on the team you believe will win the match.

For instance, if the Toronto Maple Leafs are playing against the Montreal Canadiens, and you back the Leafs to win with odds of 1.60, you stand to make a profit if they clinch the victory.
Point Spread: Popular in sports like basketball and football, point spread betting involves predicting whether a team will 'cover the spread'.

If the Toronto Raptors are -7.5 favourites against the Brooklyn Nets, they need to win by 8 points or more for a successful bet. This market balances the playing field and adds a layer of strategy to betting.
Over/Under (Totals): This market entails betting on the total number of points, goals, or runs scored in a game. For example, in an NHL game between the Calgary Flames and Edmonton Oilers, you might bet on over 5.5 total goals if you expect a high-scoring contest. This market allows you to bet on the game's pace and intensity without picking a winner.
Prop Bets: Prop bets involve wagering on specific outcomes within a game, such as the number of strikeouts a pitcher will record in a baseball game, or whether a player like Toronto Raptors' star will score over or under a certain number of points. It adds an individual performance angle to betting.
Futures: This market lets you bet on long-term outcomes, such as who will win the Stanley Cup or the Super Bowl. For example, if you believe the Vancouver Canucks have a strong team that could win the Stanley Cup, you can place a future bet before or during the season. While this market requires patience, it can lead to significant payouts.
Each of these markets offer unique opportunities to capitalize on your sports knowledge, understanding of teams and players, and strategic betting acumen. BetVictor caters to a wide variety of preferences with these betting markets, elevating your sports betting experience.


Banking at BetVictor
Financial transactions are a crucial aspect of any online betting experience. BetVictor offers various deposit and withdrawal options, ensuring seamless and secure banking operations. It's always important to choose the method that suits your needs best, considering factors like speed, ease of use, and fees.
How to make a deposit at BetVictor:
Proceed with your BetVictor login to access your account.
Click on the 'Deposit' button, usually found at the top of the page.
Choose your preferred deposit method from the available options.
Input the amount you wish to deposit.
Follow the prompts to complete the transaction.
BetVictor Deposit Options:

Debit & Credit Cards: It's straightforward, safe, and requires no additional account setups. It's a universal method accepted at virtually all online betting sites.

PayPal: This e-wallet option provides a layer of security as it avoids sharing bank details with the bookmaker. Transactions are typically quick.

Neteller and Skrill (Moneybookers): Popular e-wallet services with a strong reputation in the online gaming industry. They offer fast and secure transactions.

Paysafe: A prepaid card option providing anonymous and secure deposits.

Bank Transfer: A reliable but slightly slower deposit method, directly from your bank account.
Requesting a Withdrawal at BetVictor:
Log into your BetVictor account.
Go to 'My Account' and select 'Withdraw'.
Choose your withdrawal method (generally, it should be the same as your deposit method).
Enter the amount you want to withdraw.
Follow the prompts to confirm the withdrawal.
Remember, the withdrawal times and potential fees can vary based on the method you choose. Always check the specifics for each method to ensure it aligns with your preferences.
Is BetVictor Legal in Ontario?

The answer is simple, yes. BetVictor's legal standing in Ontario is unquestionable. The platform is fully licensed and regulated by the Alcohol and Gaming Commission of Ontario in agreement with iGaming Ontario, demonstrating its compliance with the highest standards of fairness, security, and operational integrity.
Having a license from a recognized gambling authority like the AGCO brings reassurance to players. It means BetVictor abides by a set of rules designed to protect customers and their interests. The new licensing arrangements have also paved the way for single-game betting, offering more freedom and variety to Canadian bettors.
Playing at a regulated site like BetVictor ensures reliable customer service, secure transactions, fair gaming practices, and the legal recourse in the event of any disputes. Hence, you can place your bets with confidence, knowing you are in a secure and law-abiding environment.
BetVictor Customer Support
One of the defining aspects of any online betting platform is the quality of customer support it offers, and BetVictor certainly doesn't disappoint. The platform provides multiple methods for contacting their customer support, ensuring that you always have a line of communication open when you need it.
Firstly, there's the Live Chat feature, available 24/7, providing instant responses to your queries. This is the fastest and most direct way to get your issues resolved or questions answered.
For common inquiries or more general issues, BetVictor's Help Centre is a handy resource. It's an extensive FAQ section that addresses a wide variety of topics, including payments, promotions, sports betting, casino gaming, and account verification.
If you prefer a more personalized response, you can Email the support team, who typically respond in a few hours. Alternatively, you can Text them if you prefer mobile communication.
Finally, for those active on social media, BetVictor even offers customer support via Twitter. Simply drop them a message and they'll be on hand to help. Each of these options aims to ensure that you feel supported every step of the way while using BetVictor.
Final Verdict
Having thoroughly examined BetVictor and its various features, the overall impression is quite positive. The brand provides an expansive variety of sports and betting markets that cater to the preferences of almost any betting enthusiast. Its impressive list of sports includes both international and Canadian leagues, which certainly gets a thumbs-up. The unique features like the Bet Builder and the Quick Bet options are delightful add-ons that significantly enhance the betting experience.
While the platform excels in many areas, there's some room for improvement. The user interface, although functional, could be more intuitive and engaging. The desktop version seems a bit overscaled and could benefit from a redesign to make it more appealing and easier to navigate.
The inclusion of multiple customer support channels is commendable. However, the addition of phone support could be beneficial for users who prefer this mode of communication.
In summary, BetVictor is a solid choice for Canadian users seeking a robust betting platform. It carries an excellent range of features that cater well to both beginners and experienced bettors alike, making it a well-rounded platform worth considering.
While forming our conclusion, we also decided to take a look at some BetVictor customer reviews available online, as customer feedback often provides valuable insights about a product or service. These reviews mainly come from bettors who have been using BetVictor's platforms for a while, and their experiences varied.
Some users praised BetVictor, especially for its sports betting options, while others had mixed feelings about the in-play betting experience, citing quick changes in odds as a challenge. Some reviews also indicated occasional bugs on the platform which led to slight confusion.
Although some experiences were less than perfect, it's important to remember that customer reviews represent individual experiences, which can differ based on a multitude of factors. We believe that BetVictor, with its strong set of features and attention to customer service, remains a strong choice for most bettors.
FAQs
Is BetVictor legal in Canada?

What sports does BetVictor cover?

What types of bets can I place at BetVictor sportsbook?

What deposit methods are available at BetVictor?

Does BetVictor have a dedicated mobile app?

What customer support options are available at BetVictor?

What casino games are available at BetVictor?

Which bonuses are available on BetVictor?

What can I expect from the BetVictor Casino gaming experience?
About the author: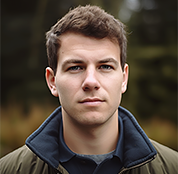 Ryan is an avid sports betting writer with a big passion for the Toronto Maple Leafs. His expertise in analyzing betting odds combined with his knowledge of sports provides readers with valuable insights. When he's not analyzing odds or cheering for the Leafs, you'll find Ryan on the basketball court.