Hey there, fellow Ontarian sports enthusiasts! Ever come across a platform that claims, "where winners bet"? That's Pinnacle for you. Having read several Pinnacle reviews, I was eager to explore what this brand offers. Launched fresh for our province on Oct. 26, 2022, Pinnacle Canada brings to the table what many bettors crave: top-of-the-line odds.

They've taken a unique stance by skipping the flashy ads and big sponsorship splurges, ensuring they pass on the value directly to us through those irresistible odds. Numerous Pinnacle customer reviews also emphasize their commitment to value. This strategy stems from their choice to maintain low margins, hence the better profit potential over time if you've got your betting game on point.

Though they faced a slight hiccup, suspending some bets during their Ontario site launch, they've ensured stakes got refunded. A big shoutout to their seamless sign-up process and logically structured platform that won my admiration. Curious about their casino offerings? The Pinnacle casino review sections are a good place to start. And guess what? Their operations have the nod from the AGCO, so we're in safe, legit hands.

But hang tight, eh! There's a lot more to uncover about this modern betting haven. Let's deep dive, shall we?
Pinnacle Pros & Cons
When exploring any betting platform, it's crucial to weigh the good with the not-so-good. Pinnacle, with its myriad features, is no exception. Let's delve into the strengths that make it stand out, as well as areas that could use some improvement.
Pinnacle Pros
Optimal Odds with Low Margins: One of Pinnacle's standout features is its low margins, ensuring that bettors receive top-notch odds across a multitude of sports betting markets. This commitment to offering competitive odds means you're getting some of the best value possible with each wager.
Diverse Betting Options: From Live Betting, which allows real-time wager alterations as events unfold, to Parlay and Single Bets, Pinnacle ensures a wide range of choices for punters. Furthermore, their esports offerings and virtual sports options ensure that even in the off-season, there's always something exciting to bet on.
Welcoming High Stake Bettors and Winners: Unlike some platforms that might restrict heavy winners, Pinnacle encourages them. Their policy of not blocking winners and facilitating high stakes wagers, combined with content aimed at refining betting skills, positions them as a haven for seasoned punters seeking fair play.
Pinnacle Cons
Lack of Immediate Customer Support: Despite offering round-the-clock support, Pinnacle's omission of a live chat function can be a drawback. The absence of this instant communication tool means users might face longer response times, relying solely on email for queries and concerns.
No Dedicated Mobile App for Ontario: While Pinnacle boasts a mobile app in other regions, its absence in Ontario is a limitation. Though the mobile website provides a workaround, having a dedicated app often ensures a smoother, more integrated betting experience.
Pinnacle undeniably brings a lot to the table, from its unbeatable odds to a myriad of betting choices. While there's room for improvement in areas like customer support and app availability, it's evident that their strengths cater predominantly to serious punters looking for depth and value. Their recent introduction to Ontario means they're still growing in the region, and we're hopeful that user feedback will guide further enhancements.
Pinnacle Canada Rating
Pinnacle Ontario Profile
| | |
| --- | --- |
| Website | https://www.pinnacle.ca/en/ |
| Year founded | 1998 |
| License & regulation | iGaming Ontario, Malta, Curacao |
| Contact | Email, FAQs, Live chat |
| Payment methods | Visa, Mastercard, Interac e-Transfer, MuchBetter, iDebit, Instadebit |
| Features | Virtual sports, Live betting |
| Apps Devices | No app |
| Min Deposit: | $10 |
| Withdrawal times: | Minutes to 10 days |
| Other Products | Casino, live casino, betting resources |
| Casino providers: | Pragmatic play, Games Global, Relax Gaming |
| Casino games: | Slots, Blackjack, Roulette, and more |
| Owner | Impyrial Holdings Ltd |
Pinnacle Ontario Sportsbook Review Highlights
Ontario's betting landscape experienced a significant shift with the introduction of Pinnacle Canada in 2022, touting itself as the place "where winners bet." After extensive exploration, here's what we've found:
Ontario's discerning bettors have reason to rejoice. By sidelining traditional advertising avenues and big sponsorship deals, Pinnacle's main attraction becomes apparent: outstanding odds. Their commitment to lean margins offers bettors an opportunity to realize better profits, provided their wagers are on point. If you're keen on making substantial bets, Pinnacle is worth a serious look due to the elevated limits they offer across various sports. They've encompassed most major sports and, for the tech-savvy, a commendable range of esports betting options is available. Missing the adrenaline during off-seasons? Virtual sports might just be the solution.
For Ontarians concerned about diverse banking methods, Pinnacle has responded well. Their transparency is evident with licensing details showcased prominently and rigorous third-party testing assuring bettors of the platform's integrity. Despite its many strong points, Pinnacle isn't without its shortcomings. Newbies or casual punters might feel slightly left out, especially with the absence of features like bet builder. While their approach to not offer sign-up bonuses aligns with regional regulations, the policy of charging for subsequent monthly withdrawals is a tad perplexing. It's also worth noting that while there is a Pinnacle mobile app available internationally, its absence specifically for Ontario is felt. Additionally, the lack of a live chat for instantaneous support is a miss.
Though our main focus is the sportsbook, a brief mention of Pinnacle casino is warranted. It provides a welcome respite for those moments when you fancy a change from regular sports betting.
In conclusion, while Pinnacle might not cater to everyone, for those eager to maximize gains and indulge in high-stakes bets with some of the industry's best odds, it's a formidable option in Ontario's dynamic betting scene. As always, responsible gaming is paramount, and we aim to assist you at every juncture.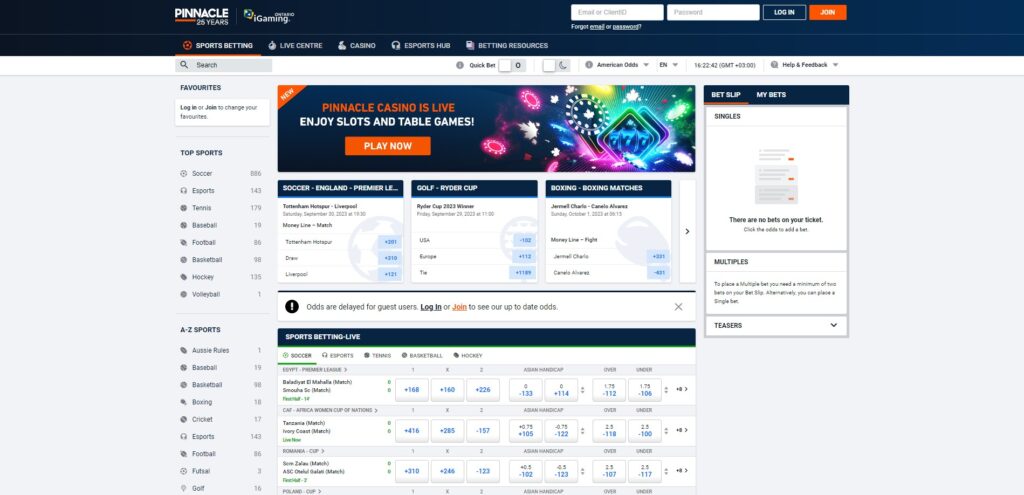 Pinnacle Sports Betting Features 
At the heart of a robust betting platform lies a suite of features that not only elevate the user experience but also provide versatility in betting choices. Pinnacle boasts a selection of unique offerings that cater to both seasoned punters and newcomers alike. Let's explore these features in detail and understand the dynamics behind each.
Virtual Sports: Virtual sports simulate real-world sports activities, enabling bettors to immerse in their favorite sports even when it's off-season. The beauty of this feature is its unpredictable nature, driven by algorithms. These fast-paced, short-duration events are an excellent avenue for bettors to test strategies and refine their betting skills without the wait tied to real-world matches.
Live Betting: This feature stands out by allowing punters to place wagers on events as they unfold in real-time. The game's dynamism is reflected in fluctuating odds, giving bettors an opportunity to capitalize and potentially increase their returns. For the best live betting experience, staying updated with real-time stats and, when possible, watching the event live can give invaluable insights.
E-sports: A modern addition to the betting world, E-sports revolve around competitive video gaming events. Its rise in popularity offers a fresh betting arena characterized by frequent matches and diverse tournaments. To gain an edge in E-sports betting, it's beneficial to understand the game mechanics, top players, and prevalent team strategies.
Multiple Bets: Known in some circles as parlays, multiple bets present the allure of combining several selections into one wager. The appeal here lies in the potential for magnified returns from a comparatively small stake. However, it's essential to approach this feature with caution, as the high rewards come with proportionate risks. Starting with fewer selections can be a prudent way to understand and harness the power of parlays.
In sum, the features of Pinnacle promise a diverse and enriching experience. Whether it's the thrill of live betting or the strategic depth of E-sports, there's a facet of the platform ready to cater to every punter's preference. By familiarizing and leveraging these features, bettors can craft a more tailored and potentially lucrative betting journey.
Pinnacle Mobile Betting Experience: Bridging the Gap Without an App
In today's digital age, the demand for mobile optimization in online platforms is paramount. Pinnacle, despite not offering an app, has beautifully stepped up to this challenge with its mobile website. Accessible seamlessly on both Android and iOS devices, it's evident that Pinnacle's commitment to user experience doesn't wane, even in the absence of a dedicated app.
One might wonder, how does the mobile website fare compared to the app experience? To begin with, signing up via the mobile site is notably swift, ensuring that even newcomers are ushered into the world of betting without any unnecessary delays. The intuitive interface, tailored meticulously to fit the mobile screen, mirrors the ease and clarity one might expect from a dedicated application. Navigational elements are crisp, betting options are presented clearly, and the entire user journey feels uncluttered and focused.
Perhaps one of the standout advantages of the mobile website experience is its discreet nature. Without the need to download an app, there's an added layer of privacy for those who prefer a low-profile approach to their betting activities. Moreover, with the website being optimized for mobile viewing, punters are assured of a smooth, immersive, and, as some might argue, a more relaxing experience.
While having a dedicated app does have its merits, Pinnacle Canada mobile website holds its ground staunchly, offering a well-rounded, efficient, and user-centric experience. For Ontarians, this presents a fantastic opportunity to enjoy the essence of what Pinnacle has to offer, all from the comfort and convenience of their smartphones.
Pinnacle Sports Coverage
When it comes to sports betting, diversity is the name of the game. Pinnacle sportsbook, in its commitment to offer a rich betting experience, covers an impressive array of sports, each having its own charm and excitement. As an avid punter myself, let me share my insights on some of the top sports that resonate with both me and the Canadian community.
⚽ Pinnacle Soccer: Often referred to as 'the beautiful game', soccer is universally loved, and betting on it can be a thrilling experience. From the Barclays Premier League to La Liga, and even the MLS where Toronto FC and Vancouver Whitecaps fly the Canadian flag, there's always a match to stake on. The stakes get even higher during World Cup seasons, making it my all-time favorite.
🎮 Pinnacle Esports: Esports has seen a meteoric rise in recent years, and it's no surprise given the adrenaline-packed matches in games like Dota 2, CS:GO, and League of Legends. Betting on esports brings a fresh perspective, and with tournaments like the LoL World Championship, there are plenty of opportunities to win.
🎾 Pinnacle Tennis: The elegance of tennis, from Grand Slams like Wimbledon and the US Open to the ATP and WTA tours, offers dynamic betting options. Eugenie Bouchard and Denis Shapovalov have waved the Canadian flag high in international circuits, making it even more personal for us Canadians.
⚾ Pinnacle Baseball: The crack of the bat, the anticipation of a home run—baseball is truly an American classic that has found its roots in Canada too. The Toronto Blue Jays in the MLB have given Canadians countless memorable moments. Betting during the World Series? An experience like no other!
🏈 Pinnacle Football: Not to be confused with soccer, North American football, especially the NFL, is riveting. With the Super Bowl being an annual spectacle, and teams like the Buffalo Bills close to the Canadian border, the sport offers diverse betting markets, making it a Canadian favorite.
🏀 Pinnacle Basketball: The sport has seen a surge in Canada, especially after the Toronto Raptors' NBA championship win in 2019. The thrill of the playoffs, the buzz of March Madness – basketball offers intense betting scenarios, making it a personal favorite of mine.
As for other sports like hockey and volleyball, they come with their unique appeal. Hockey, with the NHL, is particularly close to Canadians' hearts, boasting teams like the Montreal Canadiens and Vancouver Canucks. On the other hand, volleyball, during the Olympics and various leagues, provides exciting betting options that shouldn't be missed.
In essence, Pinnacle sports coverage ensures there's something for every kind of bettor. Whether you're into mainstream sports or niche interests, the platform has you covered.
Pinnacle Betting Markets
In the pulsating realm of sports betting, the array of markets available can be a game-changer for punters. These markets give us the freedom to predict outcomes beyond just the traditional win, lose, or draw scenarios, adding layers of intrigue to the betting experience. Let's delve into five of the most popular betting markets and examine why they resonate with both novice and seasoned bettors.
Match Result (1X2) – The most straightforward and widely recognized betting market. Punters simply decide on who will win the match or if it'll end in a draw. For instance, in the MLS, if Toronto FC is playing against Vancouver Whitecaps, odds might be presented as:
| | | |
| --- | --- | --- |
| Toronto FC: 2.50 (Win) | Draw: 3.20 | Vancouver Whitecaps: 2.80 (Win) |
This market is popular because of its simplicity and is often the first port of call for newcomers.

Over/Under Goals – A favorite among those who'd rather not pick a side. Here, you're betting on the combined number of goals scored. For instance, in an NHL game between the Montreal Canadiens and the Ottawa Senators, the over/under might be set at 5.5 goals. If you predict a high-scoring match, you'd bet on 'over', but if you foresee a defensive duel, 'under' would be the choice.

Both Teams to Score (BTTS) – Particularly popular in soccer betting, this market is for those who expect goals on both ends. For example, during an NBA game between the Toronto Raptors and the Golden State Warriors, known for their offensive prowess, the BTTS can be a smart bet, offering good odds and a thrilling watch.

Handicap Betting – For matches where there's a clear favorite, handicap betting levels the playing field by giving the underdog a virtual advantage. Suppose the Calgary Flames (clear favorites) play against the Winnipeg Jets in the NHL. The Flames might get a -1.5 goal handicap, meaning they start the game at -1.5 goals, requiring them to win by at least 2 goals for the bet to win.

Futures/Outright Bets – Instead of focusing on individual matches, futures bets are all about predicting long-term outcomes, such as which team will win the NBA Championship or the Stanley Cup in the NHL. For Canadian pride, placing a futures bet on the Toronto Maple Leafs to win the Stanley Cup can be both a testament to loyalty and a strategic long-shot wager.
Each betting market offers a unique perspective on the game and varies in complexity and risk. Whether it's the simplicity of the Match Result or the long-haul of Futures, each market has its appeal, and the trick lies in understanding them to maximize one's betting prowess.
Banking with Pinnacle: Safe, Swift, and Seamless
Navigating the financial avenues of an online betting platform is crucial for any punter. It's not just about knowing where to place your bets, but also understanding how to fund your account and, hopefully, withdraw those hard-earned winnings.
With Pinnacle, accessing your account through the Pinnacle login ensures a banking experience that stands out in terms of convenience, variety, and security.
How to Make a Deposit: A Step-by-Step Guide
Start with Pinnacle Login: Begin by accessing your account using your Pinnacle login credentials.
Navigate to Banking: On your dashboard, locate and click on the 'Banking' or 'Deposit' section.
Select a Method: Choose from the array of deposit methods available.
Enter Details: Input the required details, which might include the amount you wish to deposit and any necessary financial information associated with your chosen method.
Confirm: Review the information for any errors, and once you're sure, confirm the transaction.
Done: The funds should appear in your account. The speed might vary based on the chosen method, but most deposits are instantaneous.
Top Deposit Options at Pinnacle: A Closer Look

Visa & Mastercard: The giants of the credit card world. Both offer a straightforward deposit process, ensuring immediate access to funds. They come with top-tier security features, making them a popular choice for many.

Interac e-Transfer: Especially popular among Canadians, this option allows users to transfer funds directly from their bank account. It's swift, secure, and the transaction fees are usually minimal.

MuchBetter: An e-wallet designed for online transactions. Its intuitive mobile interface and low transaction fees make it a preferred choice for many bettors.

iDebit: A system that acts as an intermediary between your bank and the betting site, ensuring immediate transfers without the need to use credit or debit cards.

Instadebit: Similar to iDebit, it offers a bridge between your Canadian bank account and Pinnacle, allowing for quick and secure transactions.
For Canadian punters, Interac e-Transfer might be the most recommended due to its familiarity, speed, and minimal fees. However, always choose the method that aligns with your comfort and financial preferences.
How to Request a Withdrawal: Steps to Secure Your Winnings
Access Your Account via Pinnacle Login: Use your Pinnacle login details to enter your account.
Go to Banking: Find and click on the 'Withdraw' or 'Banking' section.
Choose a Method: Pick your preferred withdrawal method.
Fill in the Details: This might include the amount you wish to withdraw and any additional information.
Confirm: Once everything looks good, confirm your withdrawal request.
Wait: The time it takes to process might vary based on the method. Ensure you've met all wagering requirements and other criteria before initiating a withdrawal.
In essence, Pinnacle ensures that your banking journey, starting from the Pinnacle login, is as exhilarating as the betting adventure. With varied options tailored for Canadians and a straightforward process, it sets a high benchmark in the realm of online sports betting finance.
Is Pinnacle Legal in Ontario?

Navigating the world of online sports betting in Ontario, many punters have come across Pinnacle Canada as a trusted name. So, "Is Pinnacle legal in Ontario?" is a question that naturally emerges.
Absolutely, the answer is a resounding yes. Pinnacle Canada is fully licensed and regulated by both the Alcohol and Gaming Commission of Ontario and iGaming. This licensure is more than just a formal requirement; it's a testament to Pinnacle's dedication to maintaining the highest standards set by these regulatory bodies, ensuring that the platform remains transparent, fair, and safe for its users.
The presence of this license from such authoritative entities is a clear indication of Pinnacle's commitment to its users. Notably, one of the significant implications of this licensure has been the introduction of single-game betting. This transformative shift offers bettors the opportunity to place bets on individual matches, freeing them from the confines of parlay bets. For both seasoned punters and newcomers, this change spells more flexibility and options.
Engaging with a regulated site like Pinnacle sportsbook offers numerous advantages:
User Protection: With stringent regulations in place, platforms like Pinnacle ensure robust protection of user data and funds. From the moment you enter your Pinnacle login details to when you're navigating their betting options, your information and money are safeguarded.
Fair Play: Odds and gameplays on regulated sites like Pinnacle are transparent and fair. Whenever you're indulging in Pinnacle betting, you can rest assured of the integrity of your bets.
Responsible Gambling: Pinnacle, like other licensed platforms, champions responsible gambling by offering tools and resources to ensure users maintain a balanced relationship with betting.
In line with local regulations in Ontario, Pinnacle emphasizes the criticality of verifying account details. This step isn't just a procedure for security, but also Pinnacle's way of ensuring they serve the right audience, adhering to age restrictions. Such commitment showcases that Pinnacle is legit and invested in fostering a responsible community of bettors.
To sum it up, Pinnacle sportsbook isn't merely a name in the online betting cosmos. It stands tall as a trusted, legal, and dedicated platform in Ontario. So, when you choose Pinnacle, you're not just placing bets; you're being part of a secure, transparent, and user-centric ecosystem that prioritizes your interests and safety.
When players approach online betting platforms, a common concern is always about safety and security. "Is Pinnacle safe?" is a frequently asked question by many. To address this, Pinnacle has secured licensing and regulation from the respected Alcohol and Gaming Commission of Ontario and iGaming. This not only affirms its legitimacy but also emphasizes its commitment to providing a secure environment for bettors. With advanced encryption technologies and strict data protection policies, players can confidently place their bets and manage their accounts without apprehensions.
Customer Support at Pinnacle Canada
In an era where customer experience can make or break a brand, Pinnacle has invested thoughtfully in its support mechanisms. Recognizing the significance of round-the-clock assistance, especially in the dynamic realm of sports betting, Pinnacle ensures multiple avenues for users to get their queries addressed and issues resolved.
Email Support: Traditional but effective. Pinnacle's email support is both responsive and comprehensive. Whether you're confronting technical glitches or need clarity about betting options, the support team, accessible via email, ensures a timely and thorough response. It's an excellent choice for those who prefer detailed communication or have intricate issues that might require in-depth solutions.
FAQs: Before even reaching out, Pinnacle users can browse through an extensive FAQs section on the website. This section, often undervalued, is a goldmine of information. From account-related questions, deposit methods, to betting rules and regulations, most common queries are already addressed here. It's a testament to Pinnacle's anticipation of user needs and their commitment to swift problem-solving.
Live Chat: While Pinnacle is currently without a live chat feature, its existing support mechanisms strive to bridge this gap. The live chat function, when available in many platforms, offers instantaneous responses and is ideal for immediate concerns. Pinnacle users, in the interim, can leverage both the email and FAQ sections for efficient and effective support.
Pinnacle's customer support reflects its overarching ethos: prioritizing user experience. While there's always room for enhancement, like the potential addition of live chat in the future, the brand's current support infrastructure is robust, ensuring that bettors can focus on what they love without undue hindrances.
Pinnacle Ontario FAQs
Entering the realm of online sports betting can lead to many queries. Here are some commonly asked ones about Pinnacle to assist you in understanding their platform better.
Is Pinnacle legal in Canada?

What sports and leagues can I bet on at Pinnacle?

What types of bets can I place at Pinnacle?

What deposit methods are available at Pinnacle?

Does Pinnacle have a dedicated mobile app?

What customer support options are available at Pinnacle?

What casino games are available at Pinnacle?

Where can I find information about the Pinnacle bonus?
About the author: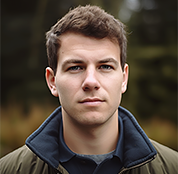 Ryan is an avid sports betting writer with a big passion for the Toronto Maple Leafs. His expertise in analyzing betting odds combined with his knowledge of sports provides readers with valuable insights. When he's not analyzing odds or cheering for the Leafs, you'll find Ryan on the basketball court.
Pinnacle Sportsbook Review Verdict
Pinnacle undoubtedly stands tall in the world of sports betting. Their offering is comprehensive, from a diverse sports coverage to a range of betting markets that cater to both seasoned punters and newcomers. Their commitment to providing valuable content to help users become sharper punters is praiseworthy. Also, the inclusion of options like Virtual Sports, E-sports, and Live Betting adds depth to their platform. And while they might not offer a dedicated app for Ontario users, the mobile website experience they provide is fluid and user-friendly.
However, Pinnacle isn't without areas ripe for improvement. Their customer support, for one, could be enhanced with the addition of a live chat feature.
In summary, while Pinnacle showcases several strengths, certain areas require attention to elevate the overall user experience to its pinnacle.