Established as an international powerhouse in the sports betting arena, Betway Canada is not just another bookmaker – it's a trailblazer. With strong roots in the world of sports, as evidenced by their high-profile sponsorship deals with English Premier League giants like West Ham United and Tottenham Hotspur, their presence is hard to miss. If you're in Ontario, you're in luck! Betway is now AGCO-regulated, bringing its world-class sportsbook experience right to your doorstep.

Their reputation precedes them: a seamlessly easy-to-use website, Betway mobile app it's both intuitive and visually appealing, and a vast array of betting options that caters to rookies and seasoned bettors alike. Their commitment to transparency and integrity is evident in their triple licensing, notably by the Malta Gaming Authority, UK Gambling Commission, and, importantly for Ontarians, the Alcohol Gaming Commission of Ontario.

What sets Betway apart, apart from its robust sports coverage and reliable customer support, is its unwavering commitment to its values of possibility, thrill, authenticity, and responsibility. As a part of the Super Group global technology company, Betway betting is dedicated to not only offering unparalleled betting experiences but doing so with utmost responsibility. Dive deeper into this review and discover why Betway sportsbook is a favorite amongst Canadian bettors. Whether you're a newcomer or a seasoned bettor, Betway promises an experience worth your while.
Betway Strengths and Weaknesses
Analyzing Betway's online sportsbook offerings reveals notable strengths and areas for improvement.
Betway Strengths:
Impressive Website Interface: Betway boasts a top-notch website design. Professional aesthetics combined with intuitive navigation ensures even novices find their footing swiftly. The focus on a hassle-free user experience means punters spend less time figuring out the interface and more time on their bets.
Extensive Market Options: With Betway, you're spoilt for choice. They cater to fans of all major sports and leagues, supplemented with a diverse range of odds. Additionally, their player props add depth and variety, enabling a broader range of bet options for enthusiasts.
Innovative Betting Features: Beyond traditional betting markets, Betway engages its users with inventive ways to place bets. Enhanced odds, live betting, and bet builders, among others, ensure a dynamic betting experience. With live betting, players can immerse themselves from start to finish, reflecting Betway's commitment to a comprehensive betting environment.
Betway Weaknesses:
Niche Sports Coverage Lacking: While Betway's coverage of mainstream sports is commendable, it falls slightly short when venturing into more niche sports. This limitation means they lag behind some competitors, potentially losing out on a segment of enthusiasts looking for a more diverse betting palette.
Restrictive Live Streaming: Betway does offer live streaming, but it's considerably limited, especially for Canadian users. With many sportsbooks expanding their live streaming options, this restrictiveness may deter users seeking a more immersive betting experience, as they might miss out on watching events of their choice.
Betway is evidently a front-runner in the online sportsbook space, with standout features and a user-centric approach. However, like all services, there are areas to improve upon. Broadening their sports coverage and enhancing live streaming options would undoubtedly cement their position further. Their dedication to innovation suggests they'll continue to evolve and adapt to user needs.
Betway Canada Rating
Betway Profile
| | |
| --- | --- |
| Website: | https://betway.ca/ |
| Established: | 2006 (Betway Group) |
| License & Regulation: | Alcohol and Gaming Commission of Ontario and iGaming |
| Deposit Methods: | Mastercard, Visa, Interact, Paysafecard, MuchBetter, payz, Ecovoucher, Flexepin, iDebit and Instadebit |
| Min Deposit: | $10 |
| Payout Speed: | Withdrawals are typically processed within 24 hours. |
| Contact: | Help Center and Live Chat |
| Features: | Live Experience, Boosted Odds, Bet Builder, Mobile App, Live Betting, Cash Out, Big Pick, and Virtual sports |
| Apps Devices: | iOs and Android |
| Casino Providers: | Microgaming, NetEnt, Pragmatic Play, IGT |
| Casino Games: | Table Games, Slots, Slingo, Jackpots, Roulette, Blacjack, Real Dealer Roulette |
| Products: | Sports, Esports, Casino and Live Casino. |
| Partnership & Sponsorship: | Tottenham Hotspur, West Ham United, NHL, LNH, Ninjas in Pyjamas |
| Owner: | Cadway Limited |
Betway Sportsbook Review – Our Expert's Highlights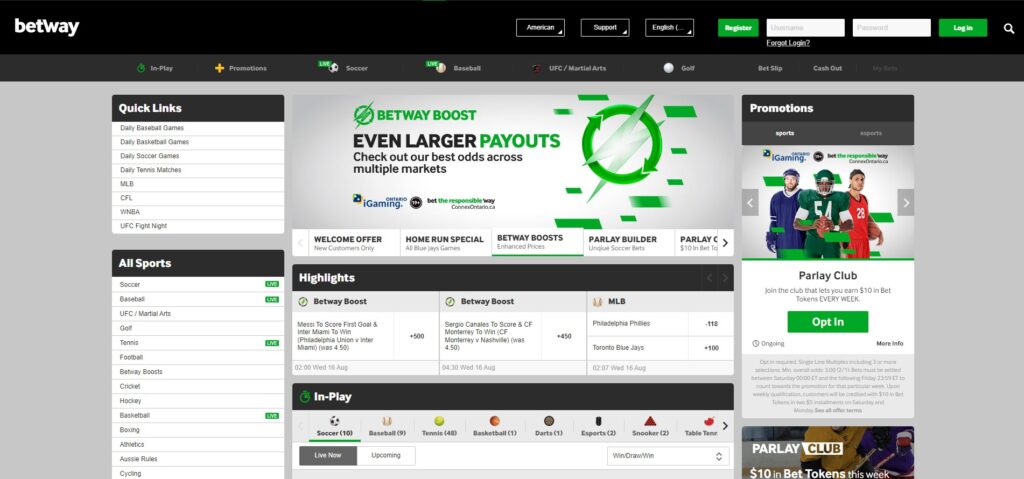 Betway has steadily emerged as a recognizable name in the world of sports betting. Their digital presence, through both their website and mobile app, has garnered attention for its professionalism and ease of navigation. While they cater extensively to popular sports, it's essential for potential users to know what they're diving into.
At its core, Betway's platform is well-structured, ensuring even new bettors can navigate through the plethora of betting options available. They cover major leagues and tournaments, including the NHL, NBA, and NFL, not to mention significant global soccer leagues. However, if you're more inclined towards niche sports, you might find their coverage a tad limited.
Banking with Betway is made simple with diverse methods, accommodating a broad spectrum of users. That said, with the digital world swiftly moving towards cryptocurrency, Betway's omission of this option is quite conspicuous. Their withdrawal process, though in line with industry norms, might seem a bit stretched for those accustomed to quicker transactions.
On the customer support front, Betway offers commendable assistance. The information-loaded Help Center can address a majority of common queries, and the addition of a 24/7 live chat feature, albeit sometimes tricky to access, enhances user experience.
Security-wise, Betway stands tall, with regulatory oversight from established authorities like the Malta Gaming Authority and the UK Gambling Commission. Users, however, should always exercise caution and do their research.
One area with room for improvement is the sign-up process. It isn't necessarily cumbersome but trimming it down a bit would enhance the user experience.
Betway offers a balanced and reliable sports betting experience. It has a lot going for it, especially for those in Canada and Ontario. However, it's always wise for users to see if it aligns with their specific needs and preferences.
Betway Betting Features
In today's competitive betting market, a platform's strength isn't just measured by the number of sports or games it offers but also by the innovative features it brings to the table. Betway, over the years, has continued to impress with its state-of-the-art betting features that aim to elevate the betting experience. Here's a closer look:
Betway Live Experience: This feature offers bettors a truly immersive experience. With high-quality streaming of various sports events, users get to watch the action unfold in real-time. This not only makes betting more engaging but allows bettors to make more informed decisions based on live performance.
Betway Bet Builder: It gives bettors more control by allowing them to combine multiple bets from a single game into one wager. By customizing bets, users can craft unique outcomes that align with their predictions, maximizing potential returns.
Betway Boosted Odds: These special odds are periodically enhanced to give better returns than the regular market rate. By keeping an eye out for these boosts, bettors can increase their potential winnings, offering tremendous value.
Betway Live Betting: A dynamic feature, live betting allows users to bet as the game progresses. With fluctuating odds based on real-time game dynamics, it's an adrenaline-pumping experience that challenges a bettor's real-time analytical skills.
In-play Wagering System: Much like live betting, the in-play system continually updates odds based on ongoing matches, offering countless opportunities to place bets throughout the game's duration.
Betway Cash Out: This feature empowers bettors by letting them close a bet before the event has finished. If a bet isn't going as planned, or if a user simply wants to lock in their profit, they can cash out a portion or the entirety of their stake.
Betway Big Pick App: Beyond traditional betting, this app allows users to pick winning teams across major leagues. With a straightforward interface, players can make selections, get automatically ranked, and win cash prizes based on leaderboard standings.
App Notifications: Stay updated with real-time notifications about ongoing matches, special offers, and major betting events. It ensures that bettors never miss out on golden opportunities.
Virtual Sports: Betting isn't confined to real-world events. With virtual sports, users can bet on algorithm-driven virtual matches, races, and tournaments, ensuring betting action around the clock.
iGaming Ontario Sportsbook Integration: By integrating with the Ontario sportsbook, Betway showcases its commitment to adhere to regional betting regulations, ensuring a trustworthy and compliant betting experience for its users.
Fair Odds: Consistency in offering competitive and fair odds underscores Betway's commitment to giving its users the best possible value, ensuring a satisfying betting experience.
Each of these features adds a unique dimension to the Betway experience, tailored to meet the diverse needs of the modern bettor. Whether you're in it for the thrill, the strategy, or the potential returns, Betway's feature-rich platform has something for everyone.
Betway App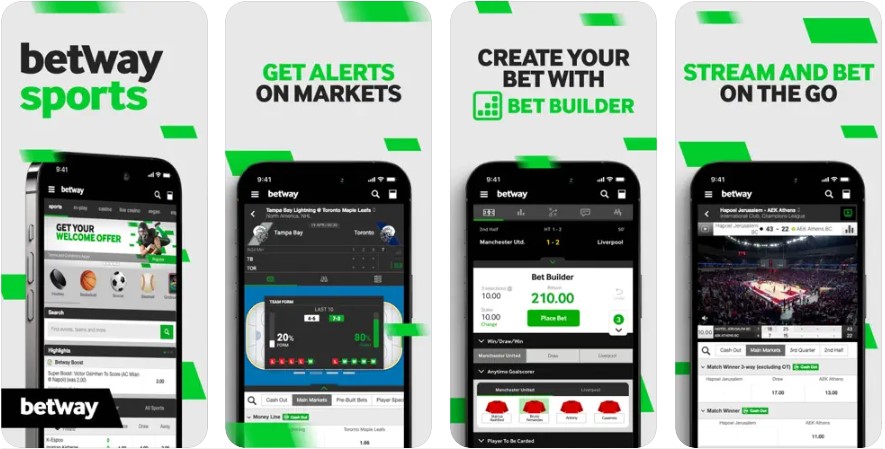 Betting In today's fast-paced world, mobility is essential, and Betway understands this, offering a seamless mobile betting experience through the Betway app. This app extends the Betway experience into the pockets of its users, ensuring they never miss out on their favorite sporting actions. For Ontario bettors, the Betway betting app provides unparalleled access to a vast array of sports and betting markets. With its intuitive design, placing a bet, depositing funds, or withdrawing winnings is just a few taps away.
A noteworthy feature is the app's user-friendly layout. Users have praised its sleek design, rapid response time, and the streamlined experience it offers, mirroring the desktop site's efficiency. The Betway mobile app is easily accessible, available for free on the Apple App Store for iPhone users and directly from the Betway site for Android devices. Moreover, it ensures bettors can engage with all their favorite markets anytime, anywhere, from banking and cashout functions to the popular Betway Big Pick feature.
Navigating the app is straightforward. Whether it's accessing banking options or viewing open bets, everything is organized and positioned for ease of access. Plus, with in-app notifications, users stay updated in real-time. All in all, the Betway app is a robust extension of their platform, ensuring users have the best of Betway's offerings right in the palm of their hands.
Betway Sports Coverage

Betway offers an extensive range of sports betting opportunities, and as an avid bettor, I've found that each sport brings its own unique thrill and set of challenges. Here's my take on some of the top sports on their platform:
⚽ Betway Soccer: The global game has taken a strong foothold in Canada. Betting on the English Premier League or the UEFA Champions League is always exhilarating. Within soccer, top markets often revolve around goal scorers, match outcomes, and over/under goals. For Canadian fans, Alphonso Davies playing for Bayern Munich is a testament to our growing soccer prowess.
⚾ Betway Baseball: The crack of the bat, the suspense of extra innings; baseball offers numerous betting angles, from game outcomes to player performances. The MLB remains the pinnacle of baseball betting, and the Toronto Blue Jays, our pride, often take center stage in major matchups.
🥊 Betway UFC/Martial Arts: There's nothing quite like the anticipation of a big fight night. UFC and other martial arts provide opportunities to bet on fight outcomes, method of victory, and round betting. Canadian MMA fighters, like Georges St-Pierre, have left an indelible mark on this sport.
🏈 Betway Football: My personal favorite, the tactical depth of football, particularly in the NFL and CFL, offers bettors myriad options. Whether it's the Super Bowl or the Grey Cup, the big games are always filled with betting opportunities. And yes, Canadian teams like the Edmonton Eskimos and Ottawa Redblacks make the CFL all the more special.
🏒 Betway Hockey: Canada's favorite! The NHL is the pinnacle, with teams like the Montreal Canadiens and Toronto Maple Leafs holding a cherished place in our hearts. Popular markets revolve around game winners, total goals, or player performance bets.
🏀 Betway Basketball: The surge in basketball's popularity, especially with the Toronto Raptors' recent success, has made NBA betting even more thrilling. From point spreads to player point totals, there's never a dull moment. And with Canadian talents like Shai Gilgeous-Alexander on the rise, it adds an extra layer of excitement.
Other sports worth exploring on Betway include golf, where the Masters is a high point; tennis, with Grand Slams offering intense action; cricket, which, though less popular in Canada, offers intriguing markets, and esports, a rapidly growing domain where titles like Dota 2 and CS:GO dominate.
Betway Sports Betting Markets
The allure of sports betting isn't just about picking winners or losers; it's about the vast array of markets available that allow punters to exploit their knowledge and insights. Betway, being a premier sportsbook, offers an impressive range of betting markets catering to both novice and seasoned bettors. Here's a breakdown of some of the most popular markets and why they're so widely favored:
Moneyline/Match Outcome: Arguably the most straightforward bet, you're simply selecting who you believe will win the match. This type of bet is particularly popular due to its simplicity. For example, if the Toronto Raptors are playing against the LA Lakers with odds of +180 for the Raptors and -150 for the Lakers, a successful C$100 bet on the Raptors would yield C$180. Novices often start with money line bets to get a feel for the betting landscape.
Point Spread: Point spreads level the playing field between unevenly matched teams by assigning a handicap. For instance, if the Ottawa Redblacks are favorites over the Montreal Alouettes with a spread of -6.5, they must win by 7 points or more for the bet to cash. It's a way of equalizing odds and offers a strategic dimension, especially in games where outcomes can be unpredictable.
Over/Under (Totals): This bet isn't about who wins or loses but the total number of points/goals scored in a game. For a hockey match between the Vancouver Canucks and Calgary Flames with an over/under set at 5.5, if you bet on the over, you're hoping for 6 or more total goals. It's popular because sometimes, while the outcome of a game is uncertain, the pace or style of play can be predicted.
Prop Bets: These are fun and varied bets on specific outcomes within an event. For example, betting on Connor McDavid of the Edmonton Oilers to score the first goal in a game or predicting the exact score at halftime during a Toronto FC soccer match. They add an extra thrill as they can turn ordinary moments in a game into potential winning opportunities.
Futures/Outrights: These are bets placed on events that will happen in the future, like which team will win the Stanley Cup or who will clinch the MVP in the NBA. They're popular for their potential high returns. For instance, betting on the Montreal Canadiens at the start of the season to win the Stanley Cup might fetch longer odds, offering bigger payouts if they do indeed triumph.
In the diverse world of sports betting, these markets are just the tip of the iceberg, but they're foundational. They allow for a blend of strategy, insight, and, of course, a bit of luck, making every game a potential roller coaster of emotions.
Diverse Bets & Trusted Platform
Play Now


Betway Banking Options
Banking plays a pivotal role in online betting. Seamless banking experience ensures punters can focus on what they love most: the game. Betway understands this, offering a variety of efficient and secure banking options tailored for a hassle-free betting journey.
How to Make a Deposit on Betway?
Login to Your Betway Account: Navigate to the top right corner and click on the 'Bank' or 'Deposit' option.
Choose a Deposit Method: From the list of available options, select your preferred method.
Enter Amount: Key in the amount you wish to deposit.
Provide Banking Details: Depending on your chosen method, you might need to provide card details, e-wallet account information, or access your bank account.
Confirm & Complete: Review the details, ensure everything is correct, then confirm. Your funds should appear in your Betway account shortly.
Top Deposit Options on Betway

Mastercard/Visa: Widely accepted and known for their security, these credit/debit card options are straightforward. Simply enter card details, and funds are usually transferred instantly. Great for those who want to use familiar banking methods.

Interac: A popular choice for Canadians, Interac links directly to your bank account, ensuring safe and immediate transfers.

Paysafecard: Another prepaid card option. Simply buy a card from any sales outlet, and use the 16-digit PIN to make your deposit.

MuchBetter: A modern e-wallet solution, designed specifically for online gaming. It offers quick transactions and a mobile-first approach.

Flexepin: Another voucher-based method, with the added benefit of a multi-use PIN for convenience.

iDebit & Instadebit: Tailored for Canadians, both act as intermediaries between your bank and Betway, ensuring quick, secure transactions without using a card.
How to Request a Withdrawal on Betway?
Access Your Betway Account: Navigate to 'My Account' and select the 'Withdrawal' option.
Choose a Withdrawal Method: Ideally, use the same method through which you deposited to ensure smooth processing.
Enter Withdrawal Amount: Determine how much of your balance you wish to withdraw.
Provide Necessary Details: Depending on the method, this could be bank details, e-wallet information, or other relevant data.
Confirm Withdrawal: Review everything, ensure all details are accurate, and confirm. Processing times can vary based on the chosen method.
Efficient banking processes are vital to a satisfactory betting experience. With Betway's diverse options and straightforward procedures, rest assured your financial dealings will be smooth and secure.
Is Betway Legal in Canada?
Absolutely. Operating under the rigorous oversight of the Alcohol and Gaming Commission of Ontario and iGaming, Betway not only ensures fair and secure gaming but also embodies a commitment to its users. Moreover, the brand's accreditation by eCOGRA, an international agency that ensures player protection and fair gaming, further solidifies its credibility.
At Betway, gambling is designed for enjoyment, but the brand's commitment goes beyond mere fun. They prioritize a safe gambling environment, safeguarding against criminal behavior and underage gambling. Every user's personal information is guarded, all financial transactions are secure, and the dedication to fair and ethical service is unwavering.
But what sets Betway apart is its comprehensive suite of Responsible Gambling tools. Players can:
Set Deposit and Loss Limits: Manage your spending by setting daily, weekly, or monthly deposit and loss limits. Adjustments are straightforward, putting control in the player's hands.
Self-Assessment: Gauge your gambling habits through a brief, confidential online quiz, providing insights into your behavior.
Take a Break: Choose to take a hiatus from gambling, ranging from one day up to three months. The account will reactivate automatically post the break period.
Self-Exclusion: Concerned about gambling habits? Users can self-exclude their account for periods stretching from six months to five years, offering a cooling-off period.
Account Closure: If needed, players can close their account anytime, with a 24-hour minimum wait time for reopening, ensuring thoughtful decisions.
Betway's ethos lies in sharing the thrill of gambling while ensuring players have the tools and knowledge to enjoy responsibly. Access these tools via 'My Account' and the 'Responsible Gambling' section. With Betway, players aren't just betting; they're betting responsibly.
We've seen in many Betway customer reviews the question "Is Betway legit?"
As we already mentioned, Betway is licensed and regulated by AGCO and iGaming, ensuring its operations adhere to strict guidelines and standards. Additionally, its accreditation by eCOGRA further underscores its commitment to fair play and security. Always ensure you're accessing the official Betway site or app to guarantee a legitimate and safe experience.
Customer Support at Betway
Betway offers an intuitive and comprehensive customer support system, ensuring players never feel stranded. Before diving into direct communication, it's advisable to browse through Betway's detailed help page. Many common queries are addressed there, potentially offering you a quick resolution.
You can access Live Chat support by navigating through the "Help" section, ensuring prompt responses to your queries.
Final Verdict
Betway offers an impressive and comprehensive betting experience, especially for those who prioritize a vast selection of sports coverage. The ease of banking, with multiple deposit and withdrawal options, adds to its user-friendly approach. Legality and security are well-covered; being licensed and regulated by the Alcohol and Gaming Commission of Ontario provides an assurance of authenticity and reliability. The commitment to responsible gambling is commendable, with a plethora of tools available for users to maintain control.
However, improvements can be made in the customer support section. While the detailed FAQs and guide to reaching support via live chat are beneficial, a more direct approach would enhance the user experience further. Perhaps a more visible and immediate link to live chat or other support avenues would help. Overall, Betway provides a solid platform for betting enthusiasts but should consider refining its customer interaction pathways for an even smoother experience.
Betway Ontario FAQs
Understanding the intricacies of online betting platforms can be overwhelming, especially for newcomers. At the crossroads of questions and clarity, we've expanded on some of the frequently asked questions about Betway to shed light on its offerings and operations.
Does Betway hold a valid gambling license?

What sports and leagues can I bet on at Betway?

What types of bets can I place at Betway?

What deposit methods are available at Betway?

Does Betway have a dedicated mobile app?

What customer support options are available at Betway?

What casino games are available at Betway?

What Betway bonus options are available?
About the author: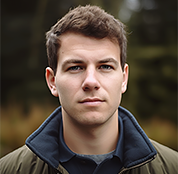 Ryan is an avid sports betting writer with a big passion for the Toronto Maple Leafs. His expertise in analyzing betting odds combined with his knowledge of sports provides readers with valuable insights. When he's not analyzing odds or cheering for the Leafs, you'll find Ryan on the basketball court.