Hey there, sports betting fans! Welcome to our TonyBet review, a deep dive into a global gaming giant that's also making waves as TonyBet Canada. Established in 2011 but originally called OmniBet, TonyBet was rebranded by poker legend Antanas Guoga, aka Tony G. Aimed to be your one-stop-shop for all TonyBet betting needs, this platform doesn't disappoint.

Before diving in, note that TonyBet takes security seriously. You'll undergo identity verification upon TonyBet login. It might seem tech-heavy, but it's crucial for safety and compliance. Concerned about privacy? TonyBet adheres to strict data storage standards.

To sum it up, TonyBet is not just a sportsbook. It's a transparent, fully licensed betting ecosystem committed to your satisfaction. Whether you are in Ontario or elsewhere in Canada, if you're asking, "Is TonyBet legit?", the answer is yes. Now, let's dig deeper.
TonyBet Strengths and Weaknesses
TonyBet comes across as a strong player in the online sports betting world, particularly with its variety of betting options and sports. However, it does have a couple of wrinkles that need ironing out, particularly when it comes to customer support.
TonyBet Strengths
Diverse Betting Options: TonyBet is a comprehensive platform, offering an array of betting options
Wide Sports Variety: With over 45 sports to bet on, you're covered whether you're into mainstream or niche sports.
Live Betting: TonyBet offers real-time, live betting options, intensifying your involvement in the game.
TonyBet Weaknesses
Limited Availability: While it's gaining worldwide traction, TonyBet's services aren't globally available due to local regulations.
Customer Support: Some TonyBet customer reviews mention less-than-ideal experiences with their 24/7 customer service, including the absence of a call service.
Overall, if you're in Ontario or anywhere else where TonyBet is accessible, it could be a worthy contender for your betting adventures. Just weigh the pros and cons to see if it's the right fit for you.
TonyBet Canada Rating
TonyBet Profile
| | |
| --- | --- |
| Website | https://tonybet.ca/ |
| Year founded | 2003 as OmniBet |
| License & regulation | Alcohol and Gaming Commission of Ontario and iGaming |
| Contact | FAQ page, "contact us" form and email. |
| Payment methods | Visa, MasterCard, Interact, e-transfer |
| Features | live and pre-match sports betting, exclusive forecasts, Combo Betting, great in-depth niche sports coverage, and eSports. |
| Apps Devices | iOS and Android |
| Min Deposit: | $10 |
| Owner | TonyBet |
TonyBet Sportsbook Review – An Insider's Comprehensive Analysis
TonyBet Canada has carved a unique space for itself in the crowded online gaming world. Founded originally as OmniBet, it underwent a rebranding by Antanas Guoga, famously known as Tony G, in 2009. TonyBet provides a comprehensive betting experience. With nearly two decades in the industry, TonyBet establishing itself as a reliable and trustworthy venue for various online betting and gaming activities.
The platform scores high in multiple areas. If you're wondering what sports you can bet on, TonyBet offers over 45 sports, catering to fans of both mainstream sports like football and niche markets like esports. TonyBet live betting adds a dynamic layer of excitement, enhancing your betting experience. Navigating through the TonyBet mobile app or desktop interface is a breeze, making it accessible for both newcomers and experienced bettors.
Security is another strength; TonyBet operates as a fully licensed and regulated entity. This answers the questions, "Is TonyBet legal in Canada?" and "Is TonyBet safe?" With a variety of payment methods, from Visa to PayPal, TonyBet caters to a broad spectrum of financial preferences.
However, it's not all roses. While TonyBet customer support is available around the clock, the service quality can be hit or miss. The absence of a customer service call line might be a deal-breaker for some. TonyBet's restricted availability due to local regulations is another limitation.
Despite these setbacks, TonyBet continues to be a formidable competitor in the online betting landscape. It offers a user-friendly and comprehensive betting experience –  this platform has something for everyone.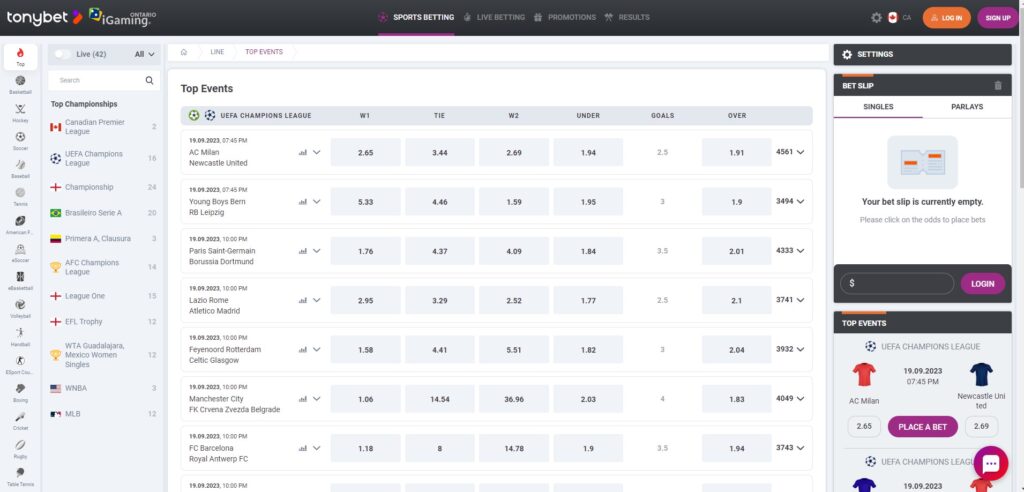 TonyBet Canada Betting Features
When it comes to online sports betting and gaming, features can make or break a user's experience. TonyBet offers a range of features designed to not only enhance the gameplay but also to offer a tailored experience that caters to both novice and seasoned bettors. Below, we'll delve into some of TonyBet's standout features that contribute to a well-rounded and engaging online betting experience.
Live and Pre-Match Sports Betting – One of TonyBet's strongest attributes is its comprehensive offering of both live and pre-match sports betting. Users can place bets before the event starts or get in on the action as it unfolds. This versatility allows bettors to strategize and adjust their bets in real-time, adding an extra layer of excitement to the experience.
Exclusive Forecasts and Events – TonyBet regularly features exclusive forecasts and special betting events that you won't find elsewhere. These often focus on major sports events, tournaments, or cultural happenings. By offering these unique opportunities, TonyBet keeps the betting experience fresh and exciting for its users.
Combo Betting – Combo betting is a crowd-pleaser for good reason. It allows you to place multiple bets under one umbrella bet, increasing the stakes and potential winnings. If all the individual bets hit, you win the combo. TonyBet's combo betting feature is straightforward to use, making it easier for you to engage in one of the most thrilling forms of gambling.
In-Depth Niche Sports Coverage, Including eSports – While most sportsbooks focus on mainstream sports like football and basketball, TonyBet goes the extra mile by offering extensive niche sports coverage, including eSports. Whether you're a fan of darts, rugby, or competitive gaming, you'll find something to bet on. This expansive coverage allows TonyBet to cater to a broad range of interests, making it a more inclusive platform.
Each of these features brings its own set of advantages to the TonyBet experience, ensuring that there's something for every type of bettor. Whether you're into live betting, or exploring niche sports, TonyBet has a feature designed to enhance your online betting journey.
TonyBet App
In today's world, a mobile application is not just a luxury; it's a necessity. Recognizing the significance of mobile betting, TonyBet has invested in providing an app that mirrors the desktop experience but adds the convenience of betting on the go. With sports betting becoming increasingly mobile-centric, TonyBet ensures you don't compromise on features when switching from desktop to mobile. The app offers an exhaustive selection of sporting events, equipped with flexible filters and detailed stats to guide your betting choices.
But does the mobile app live up to TonyBet's desktop experience? Absolutely. The app is smooth, interactive, and lives up to the standards we've come to expect from this industry giant. While the mobile browser version delivers an enjoyable experience, the app takes it up a notch. It's optimized for iOS devices, offering a full array of games with impressive graphics, alongside a wide range of betting markets and odds.
What sets the TonyBet app apart is its efficient use of resources. The app is lightweight and optimized to be battery-friendly without skimping on features, making it perfect for long betting sessions. For added peace of mind, the iOS system ensures an extra layer of security to offer a safe and pleasant betting experience. With easy installation steps and compatibility across Android devices as well, the TonyBet app is clearly designed to make your betting and gaming as seamless and enjoyable as possible.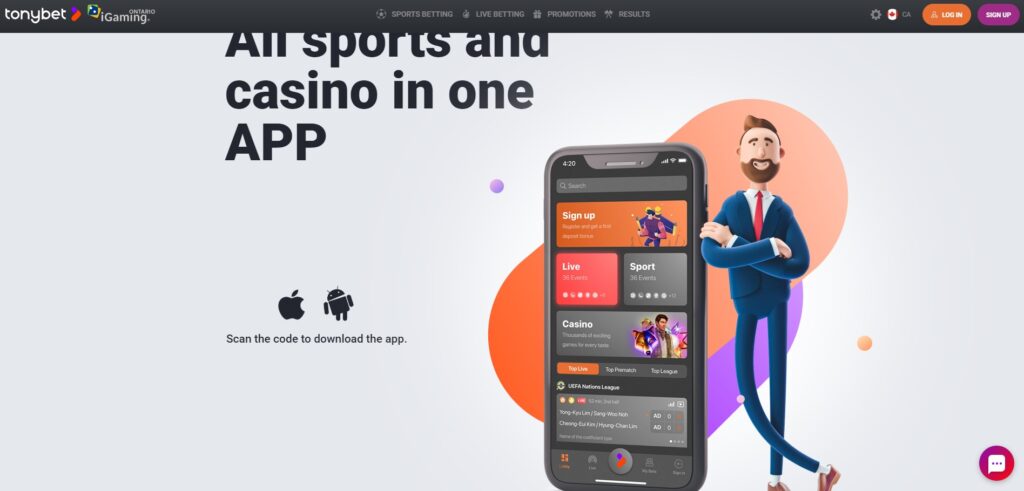 Sports Coverage on TonyBet Ontario
When it comes to diversity in sports betting, TonyBet is one of the giants in the industry. The platform offers a wide variety of sports that will engage both new and experienced bettors. Here's a closer look at the sports you can delve into.
🏀 TonyBet Basketball – Ah, basketball—one of my personal favorites. From the NBA to the EuroLeague, the options are endless. The top markets often involve point spreads and over/under bets. In Canada, we proudly support the Toronto Raptors, making the NBA season all the more electrifying.
🏒 TonyBet Hockey – No sport is closer to Canada's heart than hockey. TonyBet covers everything from the NHL to international competitions. Top leagues? Think Stanley Cup and the World Championships. The Montreal Canadiens and Toronto Maple Leafs have historical significance here, creating a riveting betting landscape.
⚽ TonyBet Soccer – Soccer, or football as it's known globally, is a massive sport on TonyBet. The top markets include match results, both teams to score, and total goals. The English Premier League and UEFA Champions League dominate, but don't overlook Canada's rising MLS presence with teams like Toronto FC.
⚾ TonyBet Baseball – Baseball offers slow-burning excitement, making each bet a nail-biter. The MLB is the top league to wager on, offering markets like run lines and total runs. While baseball may not be as popular in Canada as other sports, the Toronto Blue Jays give us a team to rally behind.
🎾 TonyBet Tennis – Tennis offers year-round action, with markets like match winners, set scores, and total games. Wimbledon and the US Open are the top tournaments here. Canada's very own Bianca Andreescu made headlines with her 2019 US Open win, making tennis a rising favorite.
🏈 TonyBet Football – The NFL is arguably the biggest show in American sports, and it's rapidly gaining popularity in Canada. Top markets include money lines, point spreads, and total points. When it comes to high-stakes games, the Super Bowl is the epitome of betting excitement.
Comprehensive Betting Experience
Play Now

TonyBet Betting Markets
The thrill of sports betting isn't just about picking winners and losers; it's also about choosing the right market to bet on. TonyBet offers a smorgasbord of options, but certain markets stand out for their popularity and strategic allure. Here are the top five betting markets that can maximize your betting experience.
Moneyline Bets – Probably the most straightforward bet you can place—simply pick the team you think will win. It's particularly popular in hockey; for instance, betting on the Montreal Canadiens in the NHL. The odds are usually straightforward, but keep in mind that in uneven matchups, the returns can be low for the favorite.
Point Spread – Popular in both basketball and American football, point spreads level the playing field by adding or subtracting points from a team's final score. If you're betting on the Toronto Raptors with a -7.5 spread, they'd need to win by 8 points or more for you to cash in. It adds a layer of excitement and strategy to games that may otherwise be one-sided.
Over/Under – This market is available in virtually every sport but is especially prevalent in baseball. Here, you're betting on the total number of points/runs/goals scored in a game. For example, an over/under bet in a Toronto Blue Jays game set at 8.5 would require nine runs or more for the "over" to win. It's a smart bet when you predict a game will be particularly high or low-scoring but aren't sure who will win.
Both Teams to Score – Especially popular in soccer, this bet can also provide a nail-biting experience until the very end of a match. In MLS, for instance, if you have Vancouver Whitecaps and Toronto FC squaring off, and both have potent offenses but leaky defenses, this could be your best bet. It's both an accessible and engaging market.
Prop Bets – These are side bets that can involve anything from a player hitting a certain number of three-pointers in basketball to a hockey player getting into a fight. Prop bets are often fun and add an extra layer of excitement. For example, you can bet on whether Canadian basketball player Shai Gilgeous-Alexander will score over or under 20.5 points in an NBA game.
Each of these markets has its own quirks and offers unique ways to enhance your betting experience. Whether you're wagering on Canadian teams or just want to get in on some action-packed moments, TonyBet's wide variety of markets has something for every kind of bettor.
Banking Options at TonyBet Ontario
Navigating the banking process at TonyBet is a breeze, allowing you to focus on what really matters: enjoying your betting experience. The platform has made it straightforward to deposit funds into your account and equally easy to withdraw your winnings. In this section, we'll guide you through the essentials.
How to Make a Deposit at TonyBet?
Use your TonyBet login to access your account.
Navigate to the 'Cashier' section.
Choose 'Deposit' from the available options.
Select your preferred deposit method.
Enter the amount you wish to deposit and any other required information.
Confirm your transaction.
Funds will appear in your TonyBet account, ready for use.
Top Deposit Options
Visa & MasterCard: Traditional yet reliable, credit cards are a solid choice for deposits. They are universally accepted and secure, providing an instant transfer of funds.
Interact: Particularly popular among Canadians, Interac allows for direct transfers from your bank account to TonyBet. It is highly secure, and transactions are generally instantaneous.
e-Transfer: Another method that's popular in Canada, e-transfer allows you to send money directly from your bank without the need for a debit card. It might take a little longer than the other methods, but it's just as secure.
If I had to recommend a method, Interact would be my go-to for its blend of speed and security, especially if you're betting from within Canada.
How to Request a Withdrawal at TonyBet?
Log in to your TonyBet account.
Go to the 'Cashier' section.
Choose 'Withdrawal'.
Select your preferred withdrawal method.
Enter the amount you wish to withdraw.
Follow the prompts to complete the withdrawal request.
Wait for the transaction to be processed; timelines vary depending on the withdrawal method chosen.
Remember, the ease with which you can manage your money at TonyBet is just another reason this platform stands out. Whether you're depositing or withdrawing funds, TonyBet offers options that are both user-friendly and secure.
Is TonyBet Legal in Ontario?
Yes, TonyBet is entirely legal in Ontario. It operates under a license regulated by the Alcohol and Gaming Commission of Ontario and iGaming. The licensing process is stringent, ensuring that you're betting in a secure and fair environment. With the introduction of single-game betting, TonyBet can now offer a wider range of betting markets, increasing the opportunities for more straightforward and exciting bets.
Advantages of Playing at a Regulated Site
Playing on a regulated site like TonyBet assures you that the games are fair, your money is safe, and that ethical conduct is maintained. What's more, the website is configured to be accessible only from Ontario, where gambling is legal. This geo-targeting enhances local regulatory compliance and offers peace of mind for players in the province.
Responsible Gaming
TonyBet believes that gaming should be an entertaining and positive experience. However, losing control over gambling behaviors can turn this enjoyment sour. That's why TonyBet provides several safer gambling tools and measures to protect players.
If you think you're developing a problem with gambling, TonyBet encourages you to reach out for professional help. They are linked with ConnexOntario, where you can seek advice at 1-866-531-2600.
By providing these tools and features, TonyBet aims to create a responsible gaming environment. Whether you're a casual player or a dedicated enthusiast, understanding the legal framework and responsible gaming tools can only enhance your overall experience.
TonyBet Customer Support
TonyBet understand that questions and issues can arise at any time. That's why they've put together a robust customer support system to ensure you get the answers and solutions you need, as quickly as possible. Whether you're a newbie puzzled about how to place a bet, or a seasoned gambler looking for specific rules, their support is tailored to meet your needs.
FAQ Page – The Frequently Asked Questions (FAQ) page is a fantastic starting point for resolving common queries. It's an extensive resource that covers a wide range of topics, from account management and deposits to gameplay and legal concerns. This self-service option often saves you time, offering instant answers to the most pressing questions.
Contact Us Form – If your question is more complex, or if you'd prefer to speak directly with a representative, you can utilize the 'Contact Us' form. Fill in the required fields and the customer support team will reach out to you within 24 hours.
TonyBet Canada FAQs
Got questions? We've got answers. This FAQ section is designed to address the most commonly raised concerns and queries by our players. Here, you'll find straightforward explanations for everything from betting options to account management.
Does TonyBet hold a valid gambling license?

What sports and leagues can I bet on at TonyBet?

What types of bets can I place at TonyBet?

What deposit methods are available at TonyBet?

Does TonyBet have a dedicated mobile app?

What customer support options are available at TonyBet?

What TonyBet bonus options are available?
Final Verdict
TonyBet offers a comprehensive betting experience that should cater to most sports betting enthusiasts. The range of sports available for betting is impressive, as are the betting markets. The fact that it holds a license from the Alcohol and Gaming Commission of Ontario adds an extra layer of trust, and the commitment to responsible gambling is commendable. The availability of multiple deposit options like Visa, MasterCard, Interact, and e-transfer is also a plus. However, the platform falls short of perfection in a few key areas. For instance, the lack of a dedicated mobile app might deter some users who prefer betting on the go.
Customer support, while responsive, could be enhanced by offering a few more avenues for immediate assistance, like a hotline number for urgent queries. Additionally, more information on withdrawal methods and times would be helpful to the user. Overall, TonyBet provides a solid, trustworthy platform for betting, but there's still room for improvement, particularly in enhancing user accessibility and convenience.
About the author: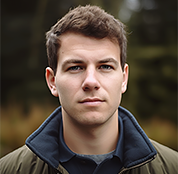 Ryan is an avid sports betting writer with a big passion for the Toronto Maple Leafs. His expertise in analyzing betting odds combined with his knowledge of sports provides readers with valuable insights. When he's not analyzing odds or cheering for the Leafs, you'll find Ryan on the basketball court.