Sports Interaction, licensed and regulated by iGaming Ontario, is Canada's premier online sportsbook and casino designed specifically for Canadian fans. Offering a wealth of betting options on popular sports and an immersive casino experience, this platform caters to a wide range of betting and gaming interests. The Live Casino with real dealers enhances the experience, making it more engaging and thrilling.

As the first service of its kind in Canada, Sports Interaction is committed to high-security standards, first-class service, and responsible gaming. With its user-friendly interface available on all platforms, players can enjoy a seamless betting experience anytime, anywhere. Complementing these offers, a dedicated customer service team is on standby 24/7 to assist with any queries. Additionally, the SIA Insights section provides a wealth of information, including game previews, betting guides, and betting picks. Located in the Kahnawake Mohawk Territory, Sports Interaction embodies a trusted and authentic Canadian betting experience.
Sports Interaction Strengths and Weaknesses
Evaluating the unique strengths and weaknesses of Sports Interaction helps reveal its overall standing in the betting industry.
Sports Interaction Strengths
Sleek Design: Sports Interaction boasts a visually appealing website design with an intuitive layout. Its color scheme is engaging, contributing to a user-friendly experience for both novice and seasoned bettors. The site navigation is smooth, ensuring that users can explore the platform with ease.
Deep Sportsbook: Betting variety is the spice of life for many online gamblers. Sports Interaction steps up to this demand by offering an extensive range of odds and markets for every major sports and leagues game. Whether you're keen on player props or futures, this platform provides an array of exciting betting options.
Live Betting Options: Sports Interaction capitalizes on its deep sports coverage and user-friendly design by offering a robust live betting feature. This function is a highlight of the platform, delivering a dynamic, real-time betting experience that is often regarded as one of the best in the industry.
Sports Interaction Weaknesses
Limited Deposit Options: Sports Interaction could broaden its appeal by diversifying its deposit options. Currently, the platform primarily accepts standard Canadian payment methods, such as Visa, MasterCard, and Interac, offering only a few additional choices. This limitation could deter bettors seeking alternative banking solutions.
Crypto Not Accepted: Despite the rising popularity of cryptocurrencies in online transactions, Sports Interaction currently does not accept crypto payments. This omission could deter potential customers who prefer the convenience and anonymity provided by such digital currencies for their betting transactions.
Although Sports Interaction has its strengths and weaknesses, the positives significantly outweigh the negatives. The broad betting options, appealing design, and high-quality live betting experience generally outweigh the limitations in deposit options, offering a worthwhile user experience overall.
Sports Interaction Canada Rating
Sports Interaction Profile
| | |
| --- | --- |
| Website: | on.sportsinteraction.com |
| Company: | Electraworks Maple Limited |
| Year Founded: | 1997 |
| License & Regulation: | Alcohol and Gaming Commission of Ontario (AGCO) and IGO (iGaming Ontario) |
| Contact: | available 24/7 via Live Chat and Phone. |
| Payment Methods: | Visa, Mastercard, iDebit, Interact, Instadebit, echeck, Interac Online (Paydirect), and paysafecard |
| Features: | Weekly pick 'ems, Pinata Bets, Live Experience, Player Props, Cash Out, Live Betting, Teaser betting, Betting Guides, Specials Market, and Amazing Mobile Betting. |
| Apps Devices: | Android or iOS. |
| Casino Providers: | Playtech |
| Casino Games: | Drops & Wins, Slots, Fire Blaze, Roulette, Blackjack, etc. |
| Products: | Sports, Live Betting, Casino & Live Betting |
Sports Interaction Sportsbook Review – Our Expert's Highlights
Sports Interaction, the first online sportsbook and casino dedicated to Canadians, brings a trusted, safe, and exciting platform to sports betting enthusiasts. As a Canada-focused bookmaker, Sports Interaction offers a deep, diverse sportsbook featuring thousands of betting options for local and global sporting events, from Super Bowl and Stanley Cup odds to NBA, NHL, and NFL betting. The service extends beyond traditional sports, offering betting options for boxing, e-sports, and even entertainment events like the Oscars.
Aside from the comprehensive sportsbook, Sports Interaction has an immersive casino with an array of slots, card and table games, and a live casino with real dealers, thus creating a holistic gambling experience. The service is marked by its fast and secure deposit and withdrawal options, combined with round-the-clock customer service from their offices in Canada. The platform operates responsibly and is licensed and regulated by iGaming Ontario, ensuring a safe and fair gambling environment.
The online platform of Sports Interaction is easily navigable across all devices, making it accessible for both novice and seasoned bettors. The design is sleek, intuitive, and user-friendly, featuring unique options like "SIA Insights" for daily game previews, betting guides, power rankings, and betting picks. Live betting is particularly commendable, with extensive coverage of sports and a smooth, dynamic interface.
However, there is room for improvement. The deposit options are somewhat limited, primarily including standard methods like Visa, MasterCard, and Interac, which may not cater to those seeking more diverse banking methods.
Features such as "Sports Interaction Boosted Odds" and "Pinata Bets" provide added excitement and value, while the comprehensive "Player Props" market and the "Cash Out" feature contribute to an enhanced betting experience.
Overall, Sports Interaction presents a strong sports betting platform with its wide variety of markets, easy navigation, and robust customer service. While improvements could be made in terms of banking options, the strengths of the platform make it an excellent choice for sports betting and casino gaming enthusiasts, particularly in Canada.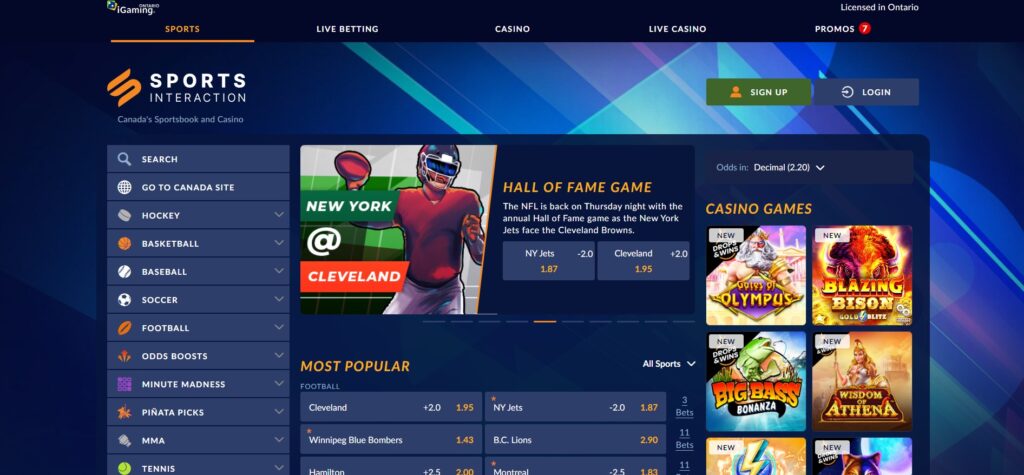 SIA Sports Betting Features
Sports Interaction prides itself on providing a diverse and exciting set of betting features for the modern sports bettor. The aim of these features is to enhance your experience and provide more opportunities to win.
Sports Interaction Pinata Bets: This unique bet type offers a touch of unpredictability and potential high payouts. With 25-1 odds on a futures bet like the NFL season winner, you receive a random team. It's a risk, but one that could pay off spectacularly, especially if you're dealt a strong favorite.
Sports Interaction Live Betting: The live betting interface is seamless, user-friendly, and highlights all ongoing games you can wager on. With an extensive range of markets and the option to cash-out early, it significantly enhances the live betting experience.
Sports Interaction Player Props: This market enables you to bet on individual player performances within a game. With a vast array of options, especially in sports like basketball, football, and uniquely, NHL, it adds an extra layer of strategic betting.
Sports Interaction Cash Out: While not unique to Sports Interaction, the early cash-out feature can be a potential lifesaver, enabling you to settle your bet before the event concludes. This way, you can avoid late-game losses and free up funds for new wagers.
Mobile Betting: Sports Interaction offers a dedicated mobile app, now available for Ontario residents. You can find it on both the App Store and Google Play, allowing you to conveniently place bets anytime, anywhere.
Props and Teaser Betting: Sports Interaction offers an impressive range of prop bets, enabling you to wager on specific events within a game. Teaser bets, which allow for adjusted points spreads, add a strategic twist to your betting experience.
Specials Market and Weekly Pick 'Ems: These feature unique and exciting betting options on extraordinary events, and weekly predictions contests respectively, injecting a dash of variety and extra winning opportunities into your betting routine.
Through these features, Sports Interaction makes sports betting an immersive and dynamic experience, offering you plenty of ways to strategize and win.
Sports Interaction Ontario App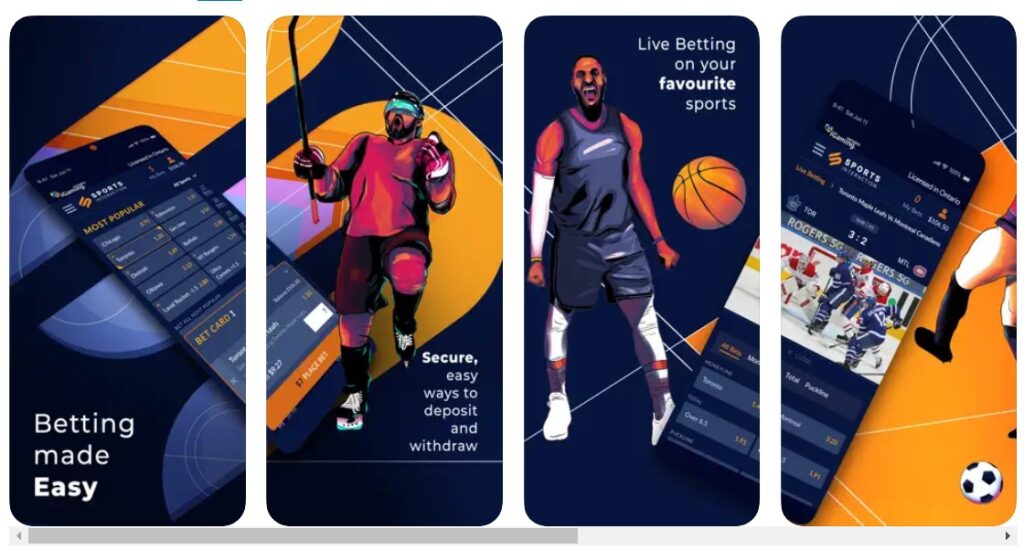 Sports Interaction's mobile app, available for both iOS and Android devices, delivers an immersive betting experience right at your fingertips. Reflecting its deep Canadian roots, the app provides the best odds on all major events, particularly those featuring Canadian teams and leagues. It's not just limited to professional sports – bettors can enjoy UFC, EPL, La Liga Soccer, college football, and various racing events among others.
The SIA app offers an array of betting markets, from moneyline and over-under to futures and round robins. Unique offerings like Minute Madness and Pinata Picks add an extra layer of thrill. With secure deposit methods, quick cash-outs, and excellent customer service, Sports Interaction ensures a seamless betting experience.
Getting started is a breeze – simply download the Sports Interaction app from the App Store or Google Play, create an account, choose your sport, place your bet, and dive into live in-play action. This intuitive, user-friendly app embodies Sports Interaction's commitment to its patrons.
Sports Interaction's Sports Coverage

Sports Interaction covers a wide range of sports, satisfying the tastes of various bettors. From the high-adrenaline MMA matches to the strategic battles on the soccer field, there's something for everyone.
🏈 SIA NFL – Football is a thrilling sport to bet on, given its unpredictable nature. The NFL and CFL leagues offer numerous markets, from point spread to futures. As a Canadian, cheering for teams like the Toronto Argonauts or the BC Lions adds a layer of excitement.
🏒 SIA NHL – Hockey, Canada's beloved sport, features prominently on Sports Interaction. Betting on NHL games, particularly when Canadian teams like the Montreal Canadiens or Toronto Maple Leafs are playing, is my personal favorite.
🏀 SIA NBA – Basketball offers fast-paced action, perfect for in-game betting. The NBA and its Canadian presence, the Toronto Raptors, provide a lot of opportunities for prop bets and point totals.
⚾ SIA MLB – Baseball, with its strategic depth and long season, is great for diligent bettors. Whether you're backing the Toronto Blue Jays in MLB or diving into minor league games, it's a rich betting field.
🥊 SIA UFC/MMA – MMA is thrilling to wager on due to the high volatility of fights. The UFC provides a steady stream of events, with Canadian fighters like Georges St-Pierre highlighting the sport's local appeal.
⚽ SIA Soccer – Soccer, while not as popular as hockey in Canada, has a massive global following. From UEFA Champions League to MLS, where Toronto FC and Vancouver Whitecaps FC compete, the beautiful game offers plenty of betting action.
In addition to these, Sports Interaction covers Tennis, Golf, Lacrosse, eSports, Motor Racing, Boxing, Table Tennis, Cricket, Rugby, Volleyball, Handball, Darts, and Aussie Rules, ensuring a comprehensive betting experience for all users.
Sports Interaction Betting Markets
Betting markets form the core of any sportsbook, providing an array of options that cater to different betting strategies and preferences. Sports Interaction offers a multitude of markets across various sports, allowing bettors to make their predictions in ways that align with their understanding of the sport. Here are the top five betting markets on Sports Interaction:
Moneyline: One of the most straightforward betting markets, the moneyline involves simply betting on who will win the game. For example, in an NHL game between the Toronto Maple Leafs and Montreal Canadiens, the odds might favor the Maple Leafs -150, meaning you'd have to bet $150 to win $100.
Point Spread: A favorite among bettors, point spread betting involves predicting not just who will win, but by how much. If the Toronto Raptors are -6.5 favorites in an NBA game, they need to win by 7 or more points for a winning bet.
Over/Under: Also known as totals, this market involves betting on the total number of points/goals/runs scored by both teams in a game. For instance, in a CFL game between the Calgary Stampeders and Ottawa Redblacks, the total might be set at 48.5, and you can bet on whether the total score will be over or under this number.
Props: Prop bets involve wagering on specific events within a game that aren't directly related to the outcome. You might bet on whether Connor McDavid, an ice hockey forward for the Edmonton Oilers, will score a goal in a particular NHL game.
Futures: Futures bets involve predicting outcomes that will be decided in the long term, such as who will win the Grey Cup in the CFL or Stanley Cup in the NHL. These bets are popular because of the high potential returns and are typically placed before or during the season.


Banking at Sports Interaction
Banking at Sports Interaction is a seamless process designed to ensure user convenience. This bookmaker offers several payment options for deposits and withdrawals, catering to a variety of preferences. The following guide provides details on how to make a deposit, the best deposit options, and how to request a withdrawal.
How to Make a Deposit at Sports Interaction?
Step 1: Sign in to your Sports Interaction account.
Step 2: Navigate to the 'Cashier' section.
Step 3: Select 'Deposit'.
Step 4: Choose your preferred deposit method from the available options.
Step 5: Enter the amount you wish to deposit.
Step 6: Follow the prompts to complete the transaction.
Sports Interaction Deposit Options:

Visa/Mastercard: Credit and debit cards are a common deposit method due to their widespread use and convenience. Transactions are typically instant, allowing you to start betting right away.

iDebit/Instadebit: These services allow you to make deposits directly from your bank account without needing a credit card. Transactions are secure and instant, making them a popular choice.

Interac Online (Paydirect): This option lets you pay directly from your bank account. It's a secure and fast method widely used in Canada.

Paysafecard: A prepaid online payment method based on vouchers with a 16-digit PIN code, independent of bank account, credit card, or other personal information.
How to Request a Withdrawal at Sports Interaction:
Sign in to your Sports Interaction account.
Go to the 'Cashier' section.
Select 'Withdraw'.
Choose your preferred withdrawal method.
Enter the amount you wish to withdraw.
Follow the prompts to complete the transaction. Please note that verification procedures might be required to ensure the safety of your funds.
Additional Information
It's important to note that Sports Interaction operates under a 'closed loop policy', meaning that you're required to withdraw funds back to the same method you used for your deposit. This policy is designed to protect both Sports Interaction and its customers from card theft and fraud.
For instance, if you deposited $50 using MuchBetter, then the first $50 of your next withdrawal must be sent back via this same method. This policy applies primarily to eCheck or non-gift card Credit Card methods. Once you've fulfilled this withdrawal requirement, more withdrawal options will become available.
Sports Interaction accepts prepaid gift cards that display the Visa or MasterCard logo, except for Vanilla Prepaid cards. Some prepaid gift card providers may not permit international online transactions. Therefore, it's advisable to confirm with Sports Interaction's Customer Service team before purchasing a card to ensure it will be accepted.
Depositing with your Visa or MasterCard credit card is a secure, free, and immediate process. Sports Interaction protects your transactions using 128-bit encryption and Verisign Secure Socket Layer (SSL), ensuring the highest standard in online security. After making your initial deposit, your information is saved to streamline any future deposits.
Is Sports Interaction Legal in Ontario?

Yes, Sports Interaction is entirely legal in Ontario. The platform is licensed and regulated by the Alcohol and Gaming Commission of Ontario (AGCO) and iGaming Ontario (iGO). Being a licensed operator adds an extra layer of trust and security for players. It assures users that the bookmaker operates under strict regulations, ensuring fair play, transparent transactions, and the protection of player data.
This licensing also brings changes to the betting landscape in Ontario. Specifically, it allows single-game betting, which was previously restricted. This change gives bettors more flexibility and opens up a wider range of betting options.
Playing at a regulated site like Sports Interaction offers significant advantages. Not only does it provide a secure environment for placing bets, but it also ensures your winnings are guaranteed and your rights as a player are protected. It's a reassurance that you're engaging with a legitimate and trustworthy platform.
Sports Interaction Ontario Customer Support
When it comes to customer service, Sports Interaction shines bright. They understand the importance of customer satisfaction and have implemented a comprehensive support system available 24/7. You can reach out to them through phone calls or their responsive live chat feature, where you're assured of getting swift, professional assistance anytime you need it.
In addition, they offer a robust Help Center that addresses a wide range of issues. The Help Center is structured around four key areas: 'Manage My Account & Responsible Gaming,' 'Deposits & Withdrawals,' 'Bonuses & Promotions,' and 'GeoLocation.' This structure allows for easy navigation, ensuring that players can quickly find solutions to their concerns.
From account management and safe gaming practices to transaction-related queries and geographical restrictions, each section provides a wealth of information to guide users. The customer support offered by Sports Interaction is undoubtedly a cornerstone of their platform, ensuring a smooth, enjoyable experience for all users.
Final Verdict
After an in-depth review of the various features, offerings, and services provided by Sports Interaction, I can confidently say that this platform holds its own in the highly competitive world of sports betting. They excel particularly in the area of sports coverage, providing a wide array of sports and leagues that cater to diverse tastes and preferences. Their unique betting features like Pinata Bets and Player Props, coupled with their robust live betting offerings, add an element of excitement and strategic depth to the betting experience.
However, there are areas where Sports Interaction could improve. Most notably, the absence of cryptocurrency payment options and limited deposit methods are significant drawbacks.
Despite this, the platform is praiseworthy for its robust customer support, user-friendly interface, and commitment to safe and responsible gambling. Sports Interaction is undoubtedly a solid choice for both new and seasoned bettors. Still, it would be exciting to see them take strides in addressing areas of improvement to further enhance the user experience.
FAQs
Here, we have compiled the most frequently asked questions about Sports Interaction to help you get the information you need as quickly as possible. Each answer is designed to be concise and straight to the point.
Does Sports Interaction hold a valid gambling license?

What sports and leagues can I bet on at Sports Interaction?

What types of bets can I place at Sports Interaction?

What deposit methods are available at Sports Interaction?

Does Sports Interaction have a dedicated mobile app?

What customer support options are available at Sports Interaction?

What casino games are available at Sports Interaction?

Does Sports Interaction offer any bonuses?
About the author: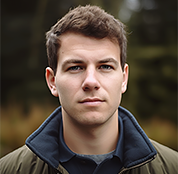 Ryan is an avid sports betting writer with a big passion for the Toronto Maple Leafs. His expertise in analyzing betting odds combined with his knowledge of sports provides readers with valuable insights. When he's not analyzing odds or cheering for the Leafs, you'll find Ryan on the basketball court.