BetRivers Canada, a reputable sportsbook product by Rush Street Interactive, burst onto Ontario's iGaming scene in April 2022, setting the stage for a modern, user-friendly betting experience.

Catering specifically to the Ontario market, BetRivers distinguishes itself with a user-centric mobile app for both Android and iOS devices. Its dynamic platform features a comprehensive suite of betting options, including live betting, early cash outs, live streaming, and unique same-game parlays.

Despite its current geographical limitation, the platform's impressive range of offerings and secure transaction methods have quickly propelled it to prominence. Licensed by the Alcohol and Gaming Commission of Ontario (AGCO), BetRivers provides a secure, engaging, and versatile betting platform, fully primed to make its mark in the fiercely competitive iGaming industry.
BetRivers Ontario Strengths and Weaknesses
Evaluating a betting platform like BetRivers sportsbook requires a balanced view. The platform possesses several noteworthy strengths, but it's also crucial to consider potential drawbacks. Here, we dissect these aspects to provide a well-rounded perspective on BetRivers.
BetRivers Strengths
Comprehensive Betting Menu: BetRivers offers a diverse range of betting options to suit all kinds of bettors. Whether it's live sports betting, intriguing parlays, or just simple straight bets, there's something for everyone.
Combined Online Casino and Sportsbook: Unlike many platforms that specialize in one or the other, BetRivers provides a combined sportsbook and casino experience. This allows users to enjoy a broader range of gaming and betting activities without needing to switch platforms.
Robust Payment Support: The inclusion of payment methods such as Interac and PayPal provides users with secure, efficient deposit and withdrawal options. It's a strength that ensures a smooth betting experience for all users.
BetRivers Weaknesses
Geographical Limitation: BetRivers is only available in Ontario, thereby limiting its access to potential bettors located outside this region. This could hinder those who want to engage with the platform from different Canadian provinces or abroad.
Customer Support Limitation: Despite having several customer support channels, BetRivers doesn't provide round-the-clock service. This could potentially leave users in need of immediate assistance during off-peak hours.
While BetRivers provides a diverse betting experience and excellent user interface, it is slightly hampered by its geographical limitations and inconsistent availability of customer support.
BetRivers Canada Rating
BetRivers Ontario Profile
| | |
| --- | --- |
| Website: | https://on.betrivers.ca/ |
| Year founded: | 2009 |
| Company: | Rivers IP Holding, BetRivers is operated by Rush Street Interactive |
| License & regulation: | iGO (Ontario iGaming) & Alcohol and Gaming Commission of Ontario |
| Contact: | Live chat, phone, and email |
| Payment Methods: | Credit/Debit card, Interact E-Transfer, PayPal, and Trustly Online Banking |
| Features: | Live betting, Early cash out, Live streaming, Same-game parlays, and Boosted odds/betting insurance, Buy Out. |
| Apps Devices: | iOS and Android |
| Casino Providers: | IGT, NetEnt, Scientific, Konami, AGS, Red Tiger, Everi and others. |
| Casino games: | Tables, Slots, Blackjack, Video Poker, Slingo, Live Dealers |
| Products: | Sports & Casino |
BetRivers Sportsbook Review – Our Expert's Highlights
A trusted entity of Rush Street Interactive, BetRivers has made quite an impact in Ontario's iGaming scene since its inception in April 2022. In this BetRivers Canada review, we aim to provide a comprehensive overview of what this platform has to offer.
Our first experience involved a BetRivers login, which allowed us to explore both the desktop interface and the mobile app available for Android and iOS devices. BetRivers distinguishes itself with an appealing fusion of online casino and sportsbook services, setting a high bar in Ontario's market. Standout features include live sports betting, early cashouts, live streaming, and same-game parlays. Coupled with the iRush rewards program, these elements significantly enhance user engagement, creating a memorable BetRivers casino experience.
In the heart of our BetRivers betting review is the vast array of betting options that BetRivers presents. From moneylines and spreads to parlays and multi-bets, the comprehensive sportsbook encompasses a variety of major sports and leagues. This diversity ensures that sports enthusiasts will find a betting opportunity that suits their preferences.
One area ripe for enhancement is BetRivers' banking facilities. Although reliable options like PayPal and Interac are provided, offering a broader selection of cash-out methods could cater to a wider range of user preferences. Despite this minor drawback, the payout times of 1-2 banking days are in line with industry standards.
Despite their impressive casino and robust sportsbook, the platform does have limitations. The absence of 24/7 customer support is a notable shortfall, and the service is currently only available in Ontario, which restricts its potential user base. However, we remain hopeful about future geographical expansion.
Unfortunately, due to regulations, we cannot discuss specifics about the BetRivers bonus in this review. We encourage users to explore this aspect on the platform itself and take note of the bonuses and promotions on offer.
Despite these minor setbacks, our overall BetRivers betting review is decidedly positive. The platform's user-centric approach, rich feature set, and comprehensive betting options contribute to a dynamic betting and casino experience. Despite areas for improvement, BetRivers holds its ground as a solid competitor in Ontario's iGaming landscape.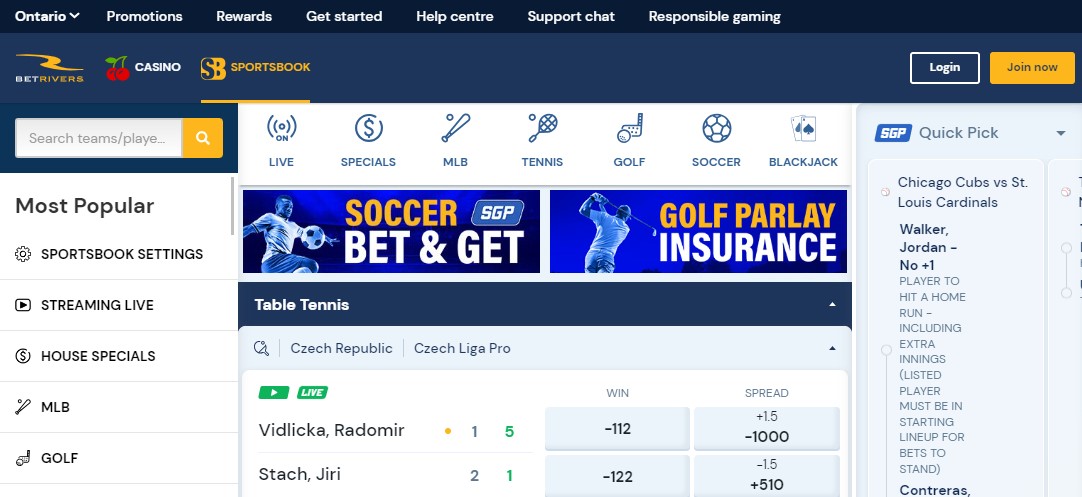 BetRivers Sports Betting Features
BetRivers Ontario offers an array of unique features designed to enhance your betting experience. These features are not only available on their desktop platform but also through the BetRivers mobile app, offering you the convenience of betting on the go. Let's explore each feature in detail:
Live Betting: Whether you're using the BetRivers app or desktop version, live betting allows you to place bets on ongoing games, adjusting odds in real-time based on game dynamics. This feature is perfect for those who enjoy the thrill of making predictions on the fly, capitalizing on game-changing moments.


Early Cash Out: This feature offers flexibility by letting you close your bet before the event's end, both on the BetRivers mobile app and desktop platform. It's a strategic tool that can lock in profits or mitigate losses depending on the odds shifting in or against your favor. The ability to make a decision mid-event brings an additional layer of strategy to your bets.


Live Streaming: BetRivers provides live streaming for selected sports events, offering a convenient way to watch games directly on their platform. Available both on their desktop site and mobile app, this feature allows you to observe the action closely and make informed live bets, enhancing your overall betting experience.


Same-Game Parlays: This feature, available on the BetRivers mobile app and desktop site, allows you to create a parlay bet within a single game, combining multiple bet types such as money lines, point spreads, and totals. It offers you the chance to win big if all your bets hit, adding an extra thrill to your sports betting experience.


Buy Out: Buy Out, accessible on both the desktop platform and the BetRivers app, is an innovative feature that allows you to close out your active bet before the final outcome. Whether you want to secure part of your potential winnings or reduce your losses as the odds shift, Buy Out gives you the power to control your bets more dynamically.


Teaser+ Bet: Teaser+ is a type of parlay that allows you to adjust the spread or total for all games involved, increasing your chances of success. The trade-off is a slightly lower payout compared to standard parlays, but the adjusted spreads mean you're more likely to win, striking a balance between risk and reward.


BetRivers Mobile App: Available on both iOS and Android, the BetRivers mobile app offers a seamless betting experience on the go. It mirrors the features of their desktop site, ensuring you never miss out on any betting opportunities, no matter where you are.

All these features enhance your betting experience at BetRivers, providing various ways to strategize and potentially increase your winnings. Whether you're a seasoned bettor or a newcomer, these features offer a myriad of opportunities to make your betting experience more exciting and rewarding.
BetRivers Sports Coverage

BetRivers provides an impressive range of sports for betting, ensuring there's something for everyone. Whether you're a fan of mainstream sports or niche activities, you'll find plenty of options. Here's my take on the sports offerings at BetRivers Ontario:
🏈 BetRivers Football: As a die-hard fan myself, there's nothing quite as thrilling as football betting. With NFL being the prime market, you can support popular Canadian players like Chase Claypool. Key events like the Super Bowl attract massive betting activity. The variety of markets, from point spreads to prop bets, ensures constant excitement.
🏒 BetRivers Hockey: For a Canadian, hockey is more than just a sport – it's a passion. At BetRivers, NHL games are a major attraction, with teams like Toronto Maple Leafs stirring up the betting excitement. Moneyline, puck line, or over/under bets, there's a lot to explore during the Stanley Cup season.
🏀 BetRivers Basketball: NBA betting is a significant market at BetRivers. With teams like the Toronto Raptors boasting a massive fan base, basketball betting is exhilarating. Player prop bets and future bets are some of the popular markets. And don't forget March Madness, an absolute must-bet for any basketball enthusiast.
⚾ BetRivers Baseball: Betting on MLB games at BetRivers is a summer staple. The Blue Jays' games always draw in significant betting interest. The sheer number of games in the season provides ample opportunities to bet on moneylines, run lines, or even individual player performance.
🥊 MMA: MMA, especially UFC betting, has gained popularity in recent years. It's not just the adrenaline rush of the fights; it's also the extensive betting markets that BetRivers offers, from moneyline bets to prop bets. Supporting Canadian fighters like Georges St-Pierre adds an extra thrill.
⚽ Soccer: As a globally loved sport, soccer attracts significant betting activity at BetRivers. From Major League Soccer to the English Premier League, there's a wealth of matches to bet on. Canadian teams like Toronto FC and Vancouver Whitecaps keep the local fanbase engaged. Plus, the FIFA World Cup is an unmissable event for any soccer bettor.
At BetRivers, each sport brings its unique flavor to the betting experience. With a diverse range of markets, leagues, and events, sports betting at BetRivers is not just about winning bets; it's about being part of the game you love.
BetRivers Betting Markets
The plethora of betting markets is what makes BetRivers a veritable playground for sports enthusiasts. From classic options that attract novice bettors to intricate ones designed for seasoned players, the variety caters to a broad spectrum of preferences. Here are the top five betting markets on BetRivers Ontario:
Moneyline bets: Arguably the most straightforward form of betting, moneyline bets involve picking the winner of a match or event. For instance, in an NHL game between the Toronto Maple Leafs and the Montreal Canadiens, if you believe the Maple Leafs will win, you place a moneyline bet on them. Their popularity lies in their simplicity, making them ideal for beginners.


Point Spreads: Point spread betting is immensely popular in games where scoring points is frequent, such as basketball and football. For instance, in an NBA game, the Toronto Raptors might be favored by 7.5 points against the Brooklyn Nets. If you bet on the Raptors, they need to win by more than 7.5 points for you to win the bet. This market brings an added level of excitement and complexity to the game, enticing seasoned bettors.


Over/Under bets (Totals): These bets involve wagering on whether the total number of points (or goals, runs, etc.) scored by both teams combined will be over or under a specified amount. For example, in an MLB game between the Toronto Blue Jays and the New York Yankees, the total might be set at 9.5 runs. If you think both teams will score 10 or more runs combined, you would bet the over. These bets are popular as they allow bettors to focus on the game's overall flow rather than a specific team's performance.


Prop bets: These are bets on specific outcomes within a game that do not necessarily correlate with the final result. An example could be wagering on whether Connor McDavid, the Edmonton Oilers star, will score a goal in an NHL game. These bets add an extra layer of excitement and are popular for their potential high returns.


Futures bets: Futures bets are wagers placed on the outcome of a season or tournament rather than a single game. For instance, bettors might place a futures bet at the start of the NHL season on the Montreal Canadiens to win the Stanley Cup. This type of bet is popular for its potential high payout and the prolonged excitement it brings throughout the season or tournament.
Each of these betting markets has its unique appeal and level of risk, providing a comprehensive and engaging betting experience. Whether you're cheering for your favorite Canadian team or anticipating a specific player's performance, the wide array of markets at BetRivers ensures there's something for every bettor.
Thrilling Sportsbook and Casino Fusion
Play Now


BetRivers Banking Options
At BetRivers, they've made sure that banking is as straightforward as possible. With a variety of popular deposit methods and an easy withdrawal process, you can focus on enjoying your betting experience. Here's a comprehensive look at how to navigate banking at BetRivers.
How to Make a Deposit on BetRivers?
Log in to your BetRivers account.
Navigate to the cashier section.
Click on 'Deposit' and select your preferred payment method.
Input the amount you wish to deposit.
Follow the prompts to complete the transaction.
BetRivers Deposit Options

Visa & MasterCard: Being globally recognized and trusted, these credit and debit cards provide a fast and secure way to fund your account. Transactions are usually instant, and these cards are widely accepted, making them a convenient option.

Interac E-Transfer: A popular Canadian banking method, Interac E-Transfer allows you to transfer money directly from your bank account. It's a secure and reliable method, making it a go-to option for many Canadian bettors.

PayPal: Renowned for its security and speed, PayPal offers a convenient way to deposit without sharing your bank details with the betting site. A recommended option if you're looking for swift transactions.

Trustly Online Banking: Trustly is a method that allows you to make transactions directly from your bank account without the need for a card or app. It's a secure and straightforward option.

How to Request a Withdrawal at BetRivers?
Log in to your BetRivers account.
Navigate to the cashier section.
Click on 'Withdraw' and select your preferred withdrawal method.
Enter the amount you wish to withdraw.
Follow the prompts to complete the withdrawal process.
Remember to check the processing times and any possible fees associated with your chosen banking method. BetRivers does its part to ensure that your banking experience is as smooth and secure as possible.
Is BetRivers legal in Ontario?
BetRivers is fully legal and regulated within Ontario. It holds a valid license from the Alcohol and Gaming Commission of Ontario (AGCO), which guarantees its operations adhere to stringent standards for fairness, security, and responsible gambling. The AGCO's regulatory oversight means that BetRivers is bound to follow all necessary legalities in Ontario, enhancing your trust and confidence in the platform.
The licensing also facilitated the introduction of single-game betting, significantly diversifying your betting options. Before, bettors had to place parlay bets involving multiple games, which was a more challenging proposition.
The advantage of playing at a regulated site like BetRivers is immense. It ensures a fair and transparent betting environment, robust player protection mechanisms, and dispute resolution procedures. Moreover, regulated sites uphold strict data privacy and financial security measures, putting your mind at ease while you focus on enjoying the gaming experience.
BetRivers Customer Support
The customer support at BetRivers, while not available 24/7, remains committed to assisting you in resolving any issues or answering any queries you might have. The platform provides various support channels to ensure you can reach them in a manner most convenient to you.
Live chat is an excellent option for immediate and real-time responses, helping you resolve pressing issues efficiently. On the other hand, phone support offers a more personal and direct interaction with the support team, allowing for comprehensive problem-solving.
For non-urgent inquiries or when you need to attach supporting documents, email support is an effective avenue. The support staff are known to provide detailed and helpful responses, and while the turnaround might not be as immediate as live chat or phone support, it typically does not disappoint.
Overall, BetRivers' commitment to offering a variety of support channels exemplifies its dedication to maintaining a smooth and enjoyable user experience, despite not providing round-the-clock service.
Final Verdict
BetRivers presents a compelling platform for sports betting and online casino gaming enthusiasts in Ontario. Its extensive sports coverage, featuring football, hockey, basketball, baseball, MMA, and soccer, is quite impressive. The variety of betting markets and the innovative betting features, such as Live Betting, Early Cash Out, Live Streaming, Same-Game Parlays, and the exclusive Buy Out and Teaser+ bet, certainly adds to the site's appeal. The BetRivers mobile app also offers a seamless betting experience on the go.
On the flip side, the platform's limitations, including its availability only in Ontario, could be improved to widen its user base. The limited cashout methods might not cater to every bettor's preferences, and the lack of a 24/7 customer support is a slight drawback. Nevertheless, BetRivers is a solid betting platform that has much to offer. Its strengths outweigh its weaknesses, and with time, we hope to see the brand addressing these areas of improvement.
FAQs
We've compiled some of the most frequently asked questions about BetRivers to help you get a better understanding of what this platform offers:
Is BetRivers legal in Canada?

How does BetRivers casino compare to others in Ontario?

How do I download the BetRivers mobile app?

Is live betting available on BetRivers?

Does BetRivers offer early cashout?

What payment methods does BetRivers accept?
About the author: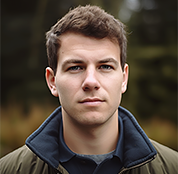 Ryan is an avid sports betting writer with a big passion for the Toronto Maple Leafs. His expertise in analyzing betting odds combined with his knowledge of sports provides readers with valuable insights. When he's not analyzing odds or cheering for the Leafs, you'll find Ryan on the basketball court.