Meet Unibet, a sportsbook with roots in a Swedish student dorm, thanks to Anders Ström's knack for stats and horse racing. From newsletters like Travtjänsten to today's global Unibet presence, it's been quite the ride.

Keen on mobile betting? The Unibet mobile app has you covered across Ontario. More of a casino enthusiast? Dive in at https://unibet.com/ontario/casino/.

"Is Unibet legit?", you wonder? Absolutely! Dive deeper with this Unibet review, as we explore everything from its legality in Canada to its unique offerings. Ready to place your bets, eh?
Unibet Strengths and Weaknesses
As we journey through the world of online betting, every platform has its highlights and hiccups. Unibet, while recognized globally, is no exception. Before we make the pass, shoot, or bet, it's crucial to recognize both the power plays and the penalties of the platform. Here's a breakdown of Unibet's strengths and the areas where they might need a quick timeout.
Unibet Strengths
Mobile Live Streaming: Unibet sportbook isn't just confined to your desktop. They bring the game to your fingertips with mobile live streaming. Whether you're on the go or chilling on your couch, you can keep up with real-time action seamlessly.
Diverse Betting Opportunities:

With Unibet, there's no shortage of action. They're not just about the big leagues. With great odds across 30+ sports markets, including popular ones like baseball and football, they've got something for every sports fan out there.

'Starting Soon' Feature:

No more FOMO! With their 'Starting Soon' feature, you're always in the loop on upcoming matches and games. It's like having a personal heads-up for all things sports.
Unibet Weaknesses
Limited Banking Options: While they offer a range of payment methods, the absence of e-wallet deposits or withdrawals is a bit of a letdown. For those who rely on digital wallets, this could be a deal-breaker.
Website User Experience:

Some might find the website a tad dated. Navigating can feel a bit clunky, and getting answers from the FAQ takes more clicks than one would hope. Plus, the absence of a 24/7 live chat can be a hiccup for those nocturnal bettors.
Unibet Ontario brings a solid game to the table with diverse betting options and mobile live streaming. But like any seasoned player knows, there's always room to up the ante. Some modern tweaks to their website and expanded banking options could take them from good to legendary. Keep these in mind, eh, and bet wisely!
Unibet Canada Rating
Unibet Ontario Profile
| | |
| --- | --- |
| Website | https://on.unibet.ca/ |
| Year founded | 1997 |
| License & regulation | iGaming Ontario |
| Contact | Live chat, phone, email, help center and FAQ |
| Payment methods | Interac, credit card |
| Withdrawal times | 1-3 business days |
| Features | List of Unibet betting features: Variety Of Sports To Bet On, Live Betting, Live Streaming, Cash-out, bet builder |
| Casino providers | Pragmatic Play, NetEnt, Microgaming, and more |
| Other Products | Casino, Live dealer |
| Casino games | Slots, Blackjack, Jackpot |
| Apps Devices | iOS and Android |
| Min Deposit: | $10 |
| Owner | Unibet ON Inc |
Unibet Ontario Sportsbook Review
From the humble beginnings in a student dorm in Karlstad, Sweden, during the early 1990s, Unibet has evolved to be a force to reckon with in the sports betting world. Founded by the insightful Anders Ström, who harnessed the power of mathematics, statistics, and economics, Unibet was birthed from a passion for sharing knowledge and helping others make informed bets. Fast forward to today, the Unibet legacy remains unchanged. We still resonate with Anders' pioneering spirit, ensuring we equip players with quality intel for making the right moves. We've expanded our horizons, embracing not just sports but a vibrant Unibet casino that promises its own set of thrills. Coming soon, also a Unibet Casino Review.
Being 'mobile first' showcases Unibet's commitment to the evolving betting landscape. Whether you're looking to dive into sports betting action or enjoy a bit of casino fun, Unibet ensures you're covered, no matter where you are. Although our global journey has been commendable, the recent expansion to Ontario in 2022 has been nothing short of exciting. With Unibet now being legally accessible for everyone aged 19 and above in Ontario, we're not just offering regular sports betting; we're serving a buffet of options from football to niche sports like trotting and chess. The Unibet app, while needing some refinement to enhance its accessibility, ensures you aren't confined to a desktop.
However, we acknowledge there's room to grow. Our app's location-specific nature poses a challenge, especially when other sportsbooks provide universal accessibility. We're on the path to rectify this for better customer convenience.
Whether you're a seasoned bettor or a newbie exploring the world of betting, our in-depth Unibet review recommends getting familiarized with the platform. Dive into its expansive offerings, and perhaps, even check out the dedicated Unibet casino. With its rich legacy and ever-evolving features, Unibet sportbook stands as a promising portal for all your betting endeavors.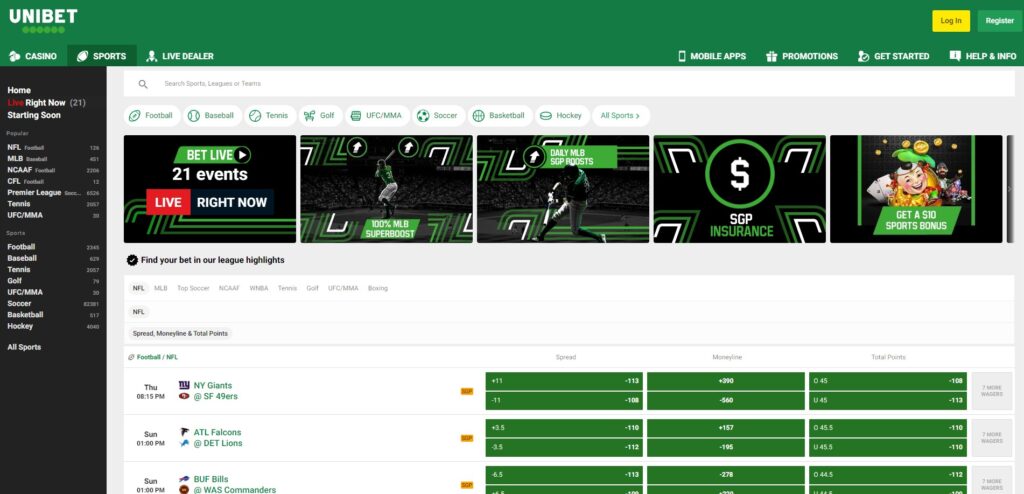 Unibet Ontario Betting Features
Unibet, as one of the leaders in the sports betting industry, constantly evolves to provide its users with innovative features that enhance the overall betting experience. Their commitment to user satisfaction is evident in the array of betting features they offer. Let's dive into some of these features and explore how you, as a bettor, can leverage them for an optimized betting journey.
Variety Of Sports: Unibet offers an impressive array of sports for users to place bets on. From mainstream sports like football and basketball to niche ones like trotting and chess. This expansive selection ensures bettors always have fresh and exciting events to wager on. Navigate to the sports section on Unibet, research, pick your favorites, and get started!
Unibet Live Betting:

Also known as in-play betting, this feature allows users to place bets on matches or events as they unfold. This dynamic form of betting presents unique opportunities to tap into changing odds during live games. To dive into this real-time action, simply access the "Live Betting" section on Unibet and place your bets based on the ongoing dynamics of the game.

Unibet Live Streaming:

With Unibet's live streaming service, users can watch the games or events they've bet on in real-time. This not only keeps bettors engrossed in the action but also ensures they make informed betting decisions. Once you've placed a bet on a particular event, check for its live streaming availability and tune in.

Unibet Cash-out:

The cash-out feature offers bettors the freedom to settle their bets before an event concludes, either securing a portion of the potential winnings or curbing losses. It hands bettors more control over their active stakes, allowing for tactical decisions during the ongoing game. To take advantage of this feature, keep an eye on your active bets and use cash-out if you foresee the game swaying against your predictions.

Unibet Bet Builder:

Bet builder empowers users to create a personalized bet for a single event by amalgamating multiple bet types. This flexibility can lead to increased odds and a unique betting strategy. To craft your tailored bet, select an event, use the bet builder feature to combine various bet types on that single event, and place your custom wager.
With these user-centric features, Unibet guarantees that every user, be it a beginner or a seasoned bettor, is treated to a comprehensive and thrilling betting journey.
Unibet App
Unibet has embraced the mobile era with its feature-packed Ontario sportsbook & casino app. A seamless blend of sports betting and casino games, the Unibet mobile app caters to diverse tastes.
Dive into a wide array of sports betting options, from college sports to professional leagues, ensuring every fan finds their match. For casino aficionados, the app offers classics like Blackjack, Roulette, and an array of slots.
Prioritizing user safety and experience, Unibet's robust technology ensures a smooth, secure betting environment. Ready for a dynamic betting experience? Download the Unibet app and embark on a thrilling journey.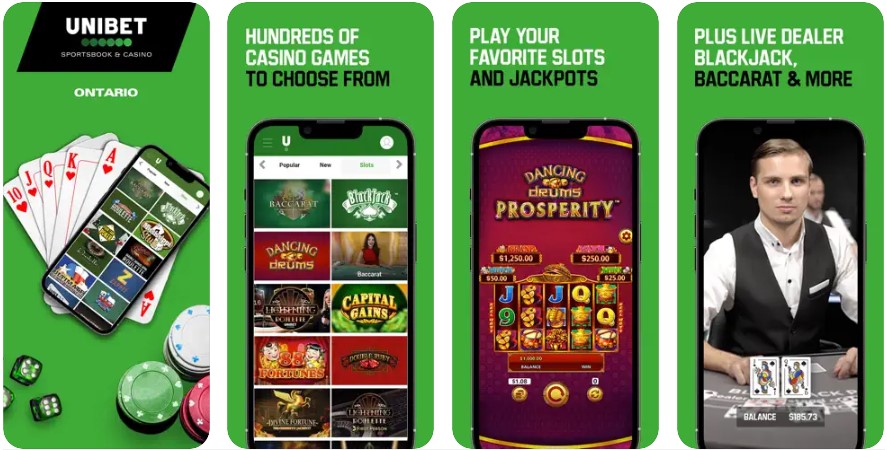 Unibet Ontario Sports Coverage
Dive deep into the captivating realm of sports betting with Unibet Canada. With a multitude of sports at your fingertips, every game, match, and bout feel like a journey. Whether you're a seasoned bettor or just starting out, Unibet ensures an immersive experience. Here's a sneak peek into the sports that have kept me, and undoubtedly many Canadians, glued to our screens.
Unibet Hockey: As a Canadian, hockey is undeniably close to my heart, and Unibet does not disappoint. From the NHL to local leagues, the coverage is extensive. Placing a bet on the Toronto Maple Leafs or the Montreal Canadiens elevates the adrenaline rush, making each game a thrilling experience.
Unibet Basketball:

My personal favorite, basketball on Unibet, offers bets from NBA to international leagues. Rooting for the Toronto Raptors or watching rising Canadian stars like Shai Gilgeous-Alexander makes every dunk and three-pointer even more exhilarating.

Unibet Football:

Canadian Football League (CFL) fans, Unibet's got you covered! Whether you're a die-hard Ottawa Redblacks supporter or a casual fan, the strategic intricacies of football bets make every touchdown exciting.

Unibet Soccer:

Arguably the world's favorite sport, soccer has grown immensely popular in Canada too. From Premier League to MLS, with teams like Vancouver Whitecaps representing, the opportunities and markets on Unibet are vast and varied.

Unibet UFC/MMA:

The raw intensity of the UFC/MMA fights is unmatched. Betting on fighters like the legendary Georges St-Pierre, Canada's pride, brings a rush like no other.

Unibet Baseball:

With the Toronto Blue Jays soaring in MLB, baseball bets have their own charm. Pitch by pitch, homeruns or steals, the drama unfolds in real-time, making every match a nail-biter.
For enthusiasts of Tennis, Golf, and other sports, Unibet provides ample betting opportunities. The platform's diverse coverage ensures there's something for everyone, making every game, set, or round a unique adventure.
Unibet Betting Markets
Dive into the dynamic world of betting markets with Unibet. Each market offers its own unique thrill, with different strategies and potential rewards. Understanding the nuances of these markets is key to elevating your betting experience.
Let's explore the top five markets that not only dominate global attention but are particularly popular among Canadian bettors.
Moneyline Bets: At its core, a Moneyline bet is a straightforward wager on which team or player will win a match or event. Its simplicity makes it a favorite among beginners and seasoned bettors alike. It's often tempting to bet on the underdog because of the lucrative odds. For instance, if the Montreal Canadiens are at +150 against a dominant team priced at -130, a C$100 bet could yield a C$150 profit if Montreal clinches the win. However, it's always wise to assess teams' form and statistics before diving in.
Over/Under (Totals) Bets: This betting type revolves around whether the combined number of points or goals scored by both teams will surpass or fall short of a specified number. It provides an opportunity to bet on a game's outcome without having to pick a winning side, making it highly appealing. To make a smart bet, researching previous matchups and current forms can be invaluable. For instance, if the Toronto Raptors and another team have a history of high-scoring games and the over/under is set at 210.5, betting on the over could be a good call.
Point Spread: Point Spread betting offers a way for bookmakers to level the playing field by giving a points advantage to the underdog and a disadvantage to the favorite. This system ensures more competitive odds and makes matches between unevenly paired teams more engaging. If in a CFL game the Ottawa Redblacks have a spread of -7.5 against an opponent, they must secure a win by 8 or more points for a bet to be successful. Factors like team performances and player injuries can significantly influence the outcome.
Futures: As the name suggests, Futures bets involve staking on events set to happen down the road. Examples include predicting which team will hoist the Stanley Cup or which nation will emerge victorious in the World Cup. Due to the distant nature of these events, the odds can be particularly rewarding, especially if wagers are set well in advance. While they carry higher risk because of the sheer unpredictability, informed bets, considering team compositions, transfers, and past performances, can bring substantial rewards.
Prop Bets (Proposition Bets): Prop bets involve placing wagers on specific occurrences within a game, such as which player will net the first goal or the total number of corner kicks in a soccer match. These bets add an extra layer of excitement and cater to bettors with a keen analytical approach. Player statistics can offer significant insights here. For instance, if Christine Sinclair is on a hot scoring streak for Canada's national soccer team, a prop bet on her to score next might be a calculated move.
Remember, while understanding markets is essential, in-depth knowledge about the teams and players is equally crucial. Always bet responsibly and employ informed judgments. Whether you're anticipating the NHL playoffs or the next big UFC fight featuring a Canadian icon, Unibet promises a rich array of diverse and exhilarating markets.
Diverse bets, top-tier experience
Play Now


Unibet Banking Options
Navigating through the banking facets of an online betting platform can be daunting, but Unibet simplifies the process. With its user-friendly interface and top-notch security, Unibet offers both transaction ease and peace of mind. Below, we'll guide you through the specifics of the banking process.
How to Make a Deposit at Unibet?
Log In: Use your Unibet login credentials to access your account.
Navigate to the Cashier: Once inside, head to the 'Cashier' or 'Banking' section, typically located at the top right or within your account dashboard.
Choose 'Deposit': Opt for the 'Deposit' to view available payment methods.
Select a Payment Method: From options like Interac, Visa, or MasterCard, pick one that suits you.
Enter Amount and Details: Input the deposit amount, furnish required payment details, and follow the on-screen prompts.
Confirm and Transact: Review all the information, then hit 'Confirm' or 'Submit'. Your Unibet account should soon reflect the deposited amount.
Top Deposit Options:

Interac: Especially popular among Canadian bettors, Interac offers swift and secure transactions, linking directly to most major Canadian banks. Given its efficiency, Interac is a top recommendation for those prioritizing speed and security.

Credit Card (Visa and MasterCard): Visa and MasterCard, accepted by Unibet, offer the benefit of instant deposits. Though they come with bank-level security, it's wise to verify any potential restrictions or fees with your card provider.
How to Request a Withdrawal at Unibet?
Access Your Account: Use your Unibet login to access your account.
Head to the Cashier: Locate the 'Cashier' or 'Banking' segment.
Opt for 'Withdraw': Initiate the withdrawal process.
Choose a Withdrawal Method: Ideally, use the same method for withdrawal as for your deposits. If you've used Interac, select that. If it's a credit card, pick accordingly.
Specify Amount: Ensure your desired withdrawal aligns with Unibet's set limits.
Confirm: Double-check all details, then click 'Submit' or 'Confirm'. The processing time can vary based on the method chosen.
With Unibet, banking is streamlined, allowing you more time to savor the thrill of betting. Catering to Canadian users, Unibet ensures an efficient and safeguarded banking journey.
Is Unibet Legal in Ontario?

For bettors in Ontario seeking a trusted platform, Unibet emerges as a prime choice. Fully licensed by the Alcohol and Gaming Commission of Ontario and iGaming, Unibet guarantees a secure and transparent betting experience.
Licensing and Its Importance: Being licensed means Unibet adheres to the highest standards of fairness and security. It's a testament to the platform's dedication to providing users with a protected and reliable betting environment.
Why Choose a Regulated Site: Betting with a regulated entity like Unibet ensures the security of your funds, protection of personal details, and a guarantee of fair play.
Account Verification – A Must in Ontario: In line with local regulations, Unibet requires all users to verify their account details. This step ensures players' authenticity and that they meet the age criteria, underscoring Unibet's commitment to responsible gambling.
In essence, Unibet offers a combination of legality, security, and top-tier betting experiences, making it a preferred choice for Ontario's bettors.
Unibet Customer Support
Navigating the world of online betting can occasionally present a few challenges. But with Unibet's exemplary customer support, players are never alone in their journey.
Unibet Live Chat: Instantaneous and highly efficient, the live chat feature ensures you're never more than a few clicks away from a solution. Whether you're facing a technical glitch or have a query about your bets, Unibet's live chat representatives are always on hand, ready to assist in real-time.
Phone Support: For those who prefer a more direct approach or want to discuss an issue at length, phone support is ideal. It offers the advantage of a one-on-one conversation with a dedicated Unibet support representative, ensuring your concerns are addressed comprehensively.
Email: If you have detailed queries or need to provide supplementary information, email support is the way to go. While this method may not be as immediate as live chat or phone, it gives users the advantage of a detailed, documented correspondence with the Unibet team.
Help Center & FAQ: Before reaching out, it's always beneficial to check the Help Center and FAQ sections. These resources are filled with a wealth of information, from account management to betting guidelines. Given the extensive nature of these sections, most common questions and concerns are readily addressed, saving users valuable time.
In summary, Unibet's multifaceted approach to customer support ensures players receive timely, effective assistance, reinforcing its reputation as a player-centric platform. Whether you're a novice or a seasoned bettor, Unibet has got your back, every step of the way.
Unibet Canada FAQs
Navigating the world of online betting can spark a myriad of questions. We've compiled the most frequently asked questions about Unibet to make your experience seamless.
Is Unibet legal in Canada?

What sports and leagues can I bet on at Unibet?

What types of bets can I place at Unibet?

What deposit methods are available at Unibet?

Does Unibet have a dedicated mobile app?

What customer support options are available at Unibet?

What casino games are available at Unibet?

Can you tell me more about Unibet bonus offers?
Final Verdict on Unibet
Unibet presents itself as a strong contender in the world of online sports betting and casino gaming. The platform's extensive sports coverage, with particular attention to popular leagues and a variety of betting markets, is commendable. Their dedicated mobile app and diverse banking options, notably including Interac and major credit cards, streamline the user experience. Moreover, being licensed and regulated by the Alcohol and Gaming Commission of Ontario speaks volumes about its legitimacy and commitment to ensuring safe gambling practices. The positive Unibet customer reviews further attest to the platform's reliability and user satisfaction.
However, while their customer support is comprehensive, the platform could benefit from more transparent bonus information, given that many users frequently inquire about promotions and offers. Although legal constraints may restrict direct advertising, perhaps a more intuitive navigation to the bonus section on their site could bridge this gap. All in all, Unibet offers a reliable and engaging betting experience, but there's always room for refinement.
About the author: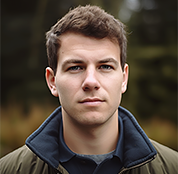 Ryan is an avid sports betting writer with a big passion for the Toronto Maple Leafs. His expertise in analyzing betting odds combined with his knowledge of sports provides readers with valuable insights. When he's not analyzing odds or cheering for the Leafs, you'll find Ryan on the basketball court.