Hey there, fellow sports enthusiast! Looking to ride the thrill wave of online sports betting in Ontario? Let us give you the lowdown on NEO.bet. As a bookmaker crafted by pros for pros, NEO.bet Canada has quickly established itself as a go-to for Canadian punters. We're talking an arsenal of sports to bet on, from the adrenaline-packed football matches to the tactical play in tennis and the sheer force in boxing.

They've designed a platform that keeps us in the loop of all the major sports happenings, and it doesn't stop there. The NEO.bet mobile app ensures you never miss out on a bet, no matter where you're at in Ontario. Oh, and if you're the type who's keen on optimizing your betting strategies, the personal bet configurator on NEO.bet is pure gold. Want to know if NEO.bet is legit? Trust me, with their transparent approach, especially the NEO.bet journal detailing your bets and transactions, it feels like they've got our backs. Dive deeper into this NEO.bet review, and let's navigate the odds together! Stay tuned for our upcoming NEO.bet casino review for more insights into their gaming offerings.
NEO.bet Pros and Cons
NEO.bet brings a blend of innovation and efficiency to the sports betting scene. Here, we dive into the platform's notable strengths and areas needing improvement.
NEO.bet Pros
Personal Bet Configurator: NEO.bet shines with its unique personal bet configurator, catering to both beginners and seasoned bettors. It understands that professionals often deploy specific strategies, and this tool provides an intuitive platform for them to manifest their plans effortlessly.
Comprehensive Mobile Experience: Their mobile app is undeniably top-tier, available for both iOS and Android users. The integration of sharp betting odds across a plethora of sports, coupled with the flexibility offered by the app, enhances the betting experience for users on the go.
Unique Replay Sports Feature: This distinctive feature stands out, reflecting NEO.bet's innovative spirit. With Replay Sports, users can engage in betting on significant past matches, a novel approach especially in times when live games are limited. The mystery element of not disclosing teams and the prospect of winning jackpots add an extra layer of excitement.
NEO.bet Cons
Limited Banking Options in CAD: Despite offering popular methods like Interac, NEO.bet could expand its banking options for Canadian users. The limited choices might deter potential users who prefer varied payment methods.
Customer Support Limitations: For a platform that presents itself as modern and user-centric, the limitations in customer support are glaring. The absence of round-the-clock assistance and the restrictive live streaming to only Esports can be areas of concern for many users.
NEO.bet certainly has carved a niche for itself in the crowded sportsbook market with its unique offerings. While its strengths make it a go-to option for many, addressing the identified weaknesses could elevate the platform's appeal even further. The balance of innovation and user experience remains the key.
NEO.bet Canada Rating
NEO.bet Ontario Profile
| | |
| --- | --- |
| Website | https://on.neobet.ca/en-ca/Sportbets |
| Year founded | 2018 |
| License & regulation | Malta, iGaming Ontario |
| Contact | Live chat, email, FAQs |
| Payment methods | Interac, eCashout, Mastercard, VISA |
| Features | Live betting, Cashout control |
| Apps Devices | Android and iOS |
| Min Deposit: | $10 |
| Withdrawal times: | 1-3 days |
| Other Products | Games, News |
| Casino providers: | Pragmatic Play, Relax Gaming, Silver Bullet |
| Casino games: | Roulette, Blackjack, Slots, and more |
| Owner | Greenvest Betting Ltds |
NEO.bet Ontario: A Modern Sportsbook with Innovative Features
Our exploration into NEO.bet revealed a bookmaker that has its finger firmly on the pulse of modern sports betting. Created by professionals for their peers, it boasts a comprehensive array of betting options that cater to sports enthusiasts across the spectrum, from football to esports. One of the standout features we found impressive was the NEO.bet mobile app, optimized for both iOS and Android, ensuring punters have seamless access to their bets, odds, and live events.
The personal bet configurator is a significant boon, especially for seasoned bettors looking to implement specific strategies. Unique offerings like Replay Sports provide a fresh spin on sports betting, letting users wager on reruns of iconic past matches. The transparency that NEO.bet provides, especially with the NEO.bet journal detailing betting results and account transactions, underlines its commitment to its user base.
However, no platform is without its shortcomings. Some instructional material being in German can pose a challenge for non-German speakers, and the interface, though comprehensive, can sometimes be a tad confusing. Their banking methods for CAD also felt restricted, and the limited customer support availability is an area they could potentially improve.
While the sports coverage is impressive, ranging from soccer to handball, there is room to expand in terms of markets when compared to other top-tier sportsbooks. Additionally, although live streaming is available, it's primarily limited to Esports.
In conclusion, if you're seeking a sports betting platform that fuses traditional betting with innovative features, NEO.bet could be worth the punt.
NEO.bet Top Betting Features
In the ever-evolving world of online sports betting, NEO.bet stands tall, offering a range of unique and user-friendly features. From live betting to exclusive tools like the Personal Bet Configurator, NEO.bet crafts a betting experience tailored to both newbies and veterans. Below, we delve into what makes NEO.bet a favorite among users.
Live Betting: Experience the thrill of betting in real-time with NEO.bet's live betting feature. As events unfold, you can place bets, making decisions based on the live action. It's particularly beneficial for those who trust their instincts and have a knack for predicting game momentum.
Cashout & Early Cashout: Having second thoughts on a bet? NEO.bet's Cashout feature lets you retrieve your bet before the event concludes. Moreover, the Early Cashout option ensures you can secure your winnings or minimize losses even before the event's conclusion, granting punters more control over their stakes.
Single Bet and Parlays: Whether you're making a straightforward bet on a particular event or combining multiple wagers for a higher payout, NEO.bet caters to both. The flexibility ensures you can strategize your bets based on your confidence level and potential returns.
System Bet: At NEO.bet, even if you don't win all your single bets, you can still come out on top. Depending on how you've strategized your System Bet, winning a portion of your bets could still result in overall profit, albeit reduced.
Personal Bet Configurator: Exclusive to NEO.bet, this tool is a haven for professionals with tailored betting strategies. Not only does it cater to seasoned bettors, but the Personal Bet Configurator, available on the NEO.bet app, also offers handy functions for newcomers, ensuring everyone crafts their perfect bet.
Double Chance: This is a favorite among those who see potential in two outcomes. By covering more ground, you heighten the chances of a win, particularly when a draw is likely.
Replay Sports: A creative answer to game cancellations, Replay Sports on NEO.bet rekindles past matches, without revealing the teams. Bettors can venture guesses, with jackpots for correct predictions, making it both mysterious and lucrative.
Bet Builder: Combine bets and personalize your wagers seamlessly with the NEO.bet mobile app's Bet Builder. It grants you the freedom to construct a bet based on your predictions, offering a more immersive experience.
News: Stay updated with the latest in the sports world. NEO.bet provides timely news, ensuring you make informed bets. Plus, you can explore more about NEO.bet betting reviews, updates, and more through this section.
In the bustling landscape of online betting, NEO.bet distinctively carves its niche. With an ensemble of features tailored to enhance the betting experience, it speaks to both the novice bettor and the seasoned punter. Whether you're navigating the NEO.bet mobile app's intuitive interface, leveraging the exclusive Personal Bet Configurator, or diving into the mysterious realm of Replay Sports, there's a sense of user-centric innovation at every turn. As bettors continue to seek platforms that prioritize their needs and elevate their gaming journey, NEO.bet, with its robust offerings, emerges as a compelling choice in the sportsbook universe.
Neo.bet App
In the digital age, on-the-go betting is more than a luxury—it's a necessity. Recognizing this shift, NEO.bet offers a seamless mobile experience that caters to the needs of every modern bettor. Available for both Android and iOS platforms, the NEO.bet app stands out as a product of meticulous optimization. With the liberty to access the NEO.bet sportsbook directly on the site or delve deeper through the dedicated apps, users are in for an immersive experience. The Android version can be effortlessly acquired from the NEO.bet website, while Apple enthusiasts can head over to the App Store for their iOS counterpart.
The NEO.bet mobile app doesn't just mirror the desktop version but enhances it, providing a fluid interface that is both aesthetically pleasing and functionally robust. Whether it's one-click betting, real-time notifications, or exploring the personal bet configurator, the app ensures that you're never more than a tap away from your next big win. Additionally, the inclusion of the cash-out control feature ensures that you remain in the driver's seat, no matter where you are. For those in Canada and beyond, the question isn't just "Is NEO.bet legit?" but "How did I ever bet without it?"
Sports Coverage at Neo.bet
In the vibrant world of sports betting, having a diverse selection of sports to wager on is paramount. NEO.bet Canada offers a vast array of options, ensuring there's something for everyone, from soccer enthusiasts to esports aficionados.
Soccer: Soccer, or football as it's globally known, is the world's most popular sport and one of my absolute favourites. From the pulsating energy of the English Premier League to the finesse of La Liga, the thrills never end. In Canada, our very own Canadian Premier League is growing in stature, making it even more exhilarating to place a bet on NEO.bet's platform.
Football: While American Football dominates in the US, its charm has permeated borders, and Canadians have joined the fandom. The Canadian Football League (CFL) adds a unique twist to the sport, and betting on games, especially the Grey Cup, is an event in itself on NEO.bet.
Basketball: Ah, basketball! The NBA is a global sensation, and with Canadian teams like the Toronto Raptors making waves, it's easy to see why it's a Canadian favourite. NEO.bet provides extensive markets for every slam dunk and three-pointer, making each game a thrilling betting opportunity.
Baseball: The bat's crack, the ball's flight, and the crowd's roar – that's baseball. Major League Baseball, with teams like the Toronto Blue Jays, offers countless betting opportunities. The intricate strategies in baseball games make them an exciting prospect for bettors on NEO.bet.
Hockey: It's no secret that hockey is Canada's heart and soul. The NHL, with iconic Canadian teams such as the Montreal Canadiens and the Toronto Maple Leafs, offers nail-biting action. Betting on hockey games, especially during the Stanley Cup, is an experience like no other on NEO.bet's sportsbook.
Tennis: The precision of tennis, with grand slams like Wimbledon and the US Open, provides a different kind of adrenaline. Canadian stars like Denis Shapovalov and Bianca Andreescu have put Canada on the tennis map, making it a compelling sport to bet on at NEO.bet.
In addition to these top sports, NEO.bet also covers mixed martial arts, cricket, table tennis, volleyball, handball, rugby, boxing, and the rapidly emerging world of esports. Each sport comes with its unique charm and betting strategies, ensuring a diverse and thrilling betting experience.
Betting Markets at NEO.bet
Understanding betting markets is the backbone of making informed wagers. On NEO.bet Canada, bettors are presented with an assortment of markets, each with its unique appeal and strategy. Let's delve into some of the most popular ones, offering insight into why they resonate with bettors and when it's smart to consider them.
Moneyline: The most straightforward of all betting markets, the moneyline is simply about picking the winner. For instance, if the Toronto Raptors are playing with odds at -150 and the Golden State Warriors are at +130, betting on the Raptors means they must win for your bet to cash. It's popular because of its simplicity, especially for beginners on NEO.bet's platform.
Point Spread: This market is about the margin of victory. Let's say the Montreal Canadiens are favored by 1.5 goals against the Boston Bruins. If you bet on the Canadiens, they'd need to win by 2 or more goals. It's popular because it levels the playing field, making even lopsided games intriguing.
Over/Under (Totals): Rather than focusing on who wins, this market deals with the combined score. For instance, if you're watching a CFL game between the Calgary Stampeders and the Ottawa Redblacks with a total set at 48.5, and you bet the over, you're hoping for a combined score of 49 or more. It's a strategic bet, especially when you foresee a high-scoring or defensive game.
Prop Bets: These are bets on specific occurrences within an event. For example, betting on Connor McDavid to score the first goal in an Edmonton Oilers game or predicting the number of aces in a tennis match featuring Denis Shapovalov. They're popular because they add an element of fun and allow for deep insights into players and games.
Futures: This is about long-term outcomes, like betting on the Vancouver Canucks to win the Stanley Cup at the start of the NHL season. While they can tie up your stake for longer, the potential payouts on NEO.bet can be lucrative if your foresight proves accurate.
Additional Betting Types:
Single Bet: The simplest form, where you place a bet on a single outcome. For instance, betting on the Toronto Blue Jays to win their next MLB game.
Parlays: Combining multiple bets into one. The payouts can be large, but every leg of the parlay must win.
System Bet: It's like a parlay but with room for error. For example, in a 5-game system bet, you might only need 3 correct predictions to see a return.
Double Chance: Enhancing your chances by covering two potential outcomes, e.g., betting on a team to either win or draw.
Bets on Results: Simply predicting the exact final score, which can offer attractive odds due to the challenge involved.
Betting markets, when understood, can significantly enhance your experience on platforms like NEO.bet, making every game a potential opportunity for profit and entertainment.
Banking at NEO.bet
Financial transactions form the backbone of any betting experience, and at NEO.bet Canada, users are presented with a suite of secure and convenient banking options. Whether you're eager to dive into the action or keen to reap the rewards of a smart bet, understanding the banking methods is paramount. Here's a comprehensive overview to ensure smooth transactions on NEO.bet.
How to Make a Deposit:
Log in to your NEO.bet account.
Navigate to the 'Banking' or 'Cashier' section.
Select 'Deposit'.
Choose your preferred deposit method from the available options.
Enter the deposit amount and any required payment details.
Confirm the transaction. Funds should appear in your NEO.bet account shortly.
Top Deposit Options:
Interac: A leading Canadian interbank network, Interac is renowned for its speed and safety. It allows direct transfers from your bank account to your NEO.bet account, making it a recommended option for many Canadian bettors.
Mastercard & VISA: These global giants in the credit card industry ensure swift and secure transactions. Simply enter your card details, and funds are instantly transferred to your NEO.bet account. Remember, while deposits are instant, withdrawal times might vary.
eCashout: While primarily used for withdrawals, eCashout is gaining popularity in Canada. It's an e-wallet solution, ensuring users don't have to repeatedly enter card details for online transactions, enhancing both convenience and security.
How to Request a Withdrawal:
Access your account using the NEO.bet login.
Navigate to the 'Banking' or 'Cashier' section.
Select 'Withdraw'.
Choose your preferred withdrawal method.
Enter the withdrawal amount and confirm the transaction.
Depending on the chosen method, withdrawal times may vary. It's always good to check NEO.bet's guidelines for specifics.
Before proceeding with any transactions, many users often ask, 'Is NEO.bet safe?' Rest assured, when using the NEO.bet login, the platform prioritizes user security to ensure a protected experience.
NEO.bet has gone the extra mile to ensure their banking process is as seamless as the betting experience itself. With such diverse and trusted banking options, coupled with a user-friendly interface, it's no wonder NEO.bet's reputation is soaring in the Canadian market.
Is Neo.Bet Legal in Ontario?
NEO.bet operates within the legal frameworks of Ontario, ensuring bettors' peace of mind. The Alcohol and Gaming Commission of Ontario, along with iGaming, has licensed and regulated NEO.bet, verifying its status as a trusted platform.
Having a license means the platform can offer services while adhering to strict regulatory requirements. The legalization of single-game betting has also given bettors more options. Opting for a regulated site like NEO.bet ensures fairness, transparency, and adherence to local regulations. In fact, NEO.bet takes the extra step by verifying account details. This not only complies with Ontario's local regulations but also assures that players meet age requirements.
International Security Recognitions: A Testament to NEO.bet's Dedication Safety isn't just a buzzword for NEO.bet; it's a commitment. Their dedication to providing a secure betting environment is highlighted by their TÜV Rheinland ISO/IEC 27001:2013 certification. This underlines NEO.bet's position among platforms with the most stringent security frameworks globally. Data security, especially in the betting industry, isn't just a preference but a necessity.
Upholding Global Payment Standards: PCI DSS Compliance NEO.bet stands out by not only adhering to but excelling in global security standards. The Payment Card Industry Data Security Standard (PCI DSS) is a testament to that. All establishments dealing with credit card data must adhere to this, and NEO.bet surpasses these requirements. Using a certified payment solution, NEO.bet annually submits a self-assessment, reinforcing its commitment to safeguarding credit card data.
Data Security: Ensuring Safe Bets and Protected Information "Is NEO.bet safe?" – another vital question in the minds of many. With an SSL certification, the answer leans heavily towards 'yes'. This encryption ensures that any data transmission, from personal details to bet specifics, is shielded from potential breaches.
NEO.bet Review of Safety Protocols: NEO.bet doesn't just provide a platform for betting; it offers peace of mind. From legality to world-recognized security standards, it's evident that NEO.bet prioritizes its users' safety and trust.
NEO.bet Customer Support
Diving into the world of sports betting can sometimes come with its queries or challenges. That's why the essence of exceptional customer support cannot be understated, especially in this industry. And in my NEO.bet review, their commitment to this crucial service truly shines.
Round-the-clock, seven days a week, NEO.bet's dedicated customer support team is poised to assist. Whether you're navigating the NEO.bet app for the first time, pondering over the intricacies of a specific bet, or dealing with a technical glitch, the team is equipped to provide the necessary guidance. Their all-encompassing approach means you're never alone in your betting journey.
Easily accessible, the NEO.bet Live-Chat offers real-time solutions. It's perfect for those immediate questions or if you prefer interactive support. But if you're the kind who'd rather put things in writing, their E-Mail support is prompt and responsive. And for specific bet-related concerns, the Direct Bet Support ensures your queries are addressed with precision.
But it's not always about direct interaction. Sometimes, finding the answer yourself can be more gratifying. That's where the FAQ's – Frequently Asked Questions section comes into play. It's a comprehensive reservoir of information tailored to address the most common concerns. Before reaching out to the NEO.bet support team, it might be worth taking a quick tour of the FAQ section. More often than not, your query might have already found its solution there.
In a landscape dotted with myriad betting platforms, NEO.bet sets itself apart with a holistic approach to customer service. Because at the end of the day, it's not just about placing bets, but also feeling valued and heard.
Frequently Asked Questions at NEO.bet
Whether you're a newbie or a seasoned bettor, questions are bound to arise. Here's a concise rundown of the most common inquiries we receive about NEO.bet, ensuring your experience is as seamless as possible.
Is NEO.bet legal in Canada?

What sports and leagues can I bet on at NEO.bet?

What types of bets can I place at NEO.bet?

What deposit methods are available at NEO.bet?

Does NEO.bet have a dedicated mobile app?

What customer support options are available at NEO.bet?

What casino games are available at NEO.bet?

Can you inform me about the NEO.bet bonus?
NEO.bet Bottom Line
Having delved deeply into the ins and outs of NEO.bet, it's apparent that this platform brings a lot to the table. NEO.bet's sportsbook offers an impressive array of sports, and the betting markets cater to both novice and seasoned punters. The platform's commitment to security, as demonstrated by its multiple certifications, instills confidence in users about the safety of their personal and financial data. Moreover, the availability of the NEO.bet mobile app ensures a seamless betting experience on the go.
However, room for improvement always exists. While NEO.bet customer reviews have largely been positive, echoing the sentiments of satisfied bettors, some users would appreciate a clearer layout or more promotions. Additionally, although the platform is vast in its offerings, navigating through the plethora of options can be overwhelming for newcomers. Despite these minor caveats, it's clear that NEO.bet has built a reputable and user-friendly platform, aligning well with the diverse needs of Canadian bettors.
About the author: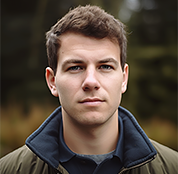 Ryan is an avid sports betting writer with a big passion for the Toronto Maple Leafs. His expertise in analyzing betting odds combined with his knowledge of sports provides readers with valuable insights. When he's not analyzing odds or cheering for the Leafs, you'll find Ryan on the basketball court.