Welcome to the ultimate guide to the Sports Interaction app – your all-access pass to the thrilling world of sports betting! Today, we're diving headfirst into everything you need to know about this industry heavyweight and its dedicated mobile app.

In this page-turner, we'll be spilling the beans on Sports Interaction sportsbook – the who, what, when, and why. This is your one-stop shop for all things related to the Sports Interaction Ontario app. From the markets they cover and the bet types they offer to the features that'll leave you cheering for more.

So, it's time to hit that download button and get ready to swing for the fences with the Sports Interaction app, available for both iOS and Android.
Dive into the Action-Packed Features of the Sports Interaction App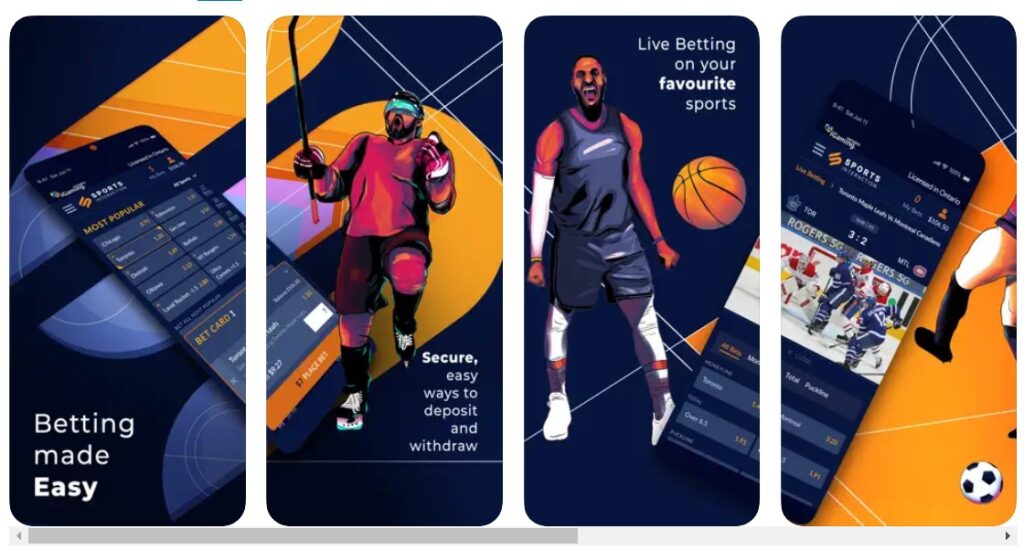 First, up, let's dive straight into the heart of the action – the features of the Sports Interaction mobile app. Get ready for a thrilling ride, my fellow sports fans, because they've got a whole bag of tricks that'll make your betting experience rewarding and worthwhile!
Live Betting – Experience the adrenaline rush of in-play betting with Sports Interaction's in-depth live betting section. Delve into a plethora of real-time betting options for all of the top sports leagues from around the world, complementing your love for thrilling sports action. You can even stay ahead of the game by accessing the full schedule of upcoming events, empowering you to strategize like a seasoned pro.

Early Cash Out – Speaking of gaining a strategic advantage, why not try out the handy Cash Out feature on the Sports Interaction app? This unique feature allows you to secure your winnings before an event has ended or minimize potential losses if luck isn't on your side. Accessible through the "My Bets" section in your account, this option adds a layer of flexibility to your betting experience.

Live Casino & Table Games – Beyond sports betting, the Sports Interaction app boasts a vibrant casino section, powered by industry behemoth Playtech, with hundreds of online casino games. Indulge in a diverse array of entertainment, from dynamic slots to captivating table games and even immersive live dealer games, where you can interact with dealers and fellow players in real-time. The Sports Interaction casino app even features an online poker room with massive prize pools.
Sports Interaction Application Customization
While Sports Interaction's mobile site emphasizes a straightforward user experience, it does offer some limitations in terms of personalization. You have the freedom to choose between the mobile and desktop sites, granting you access to your preferred interface on both iOS and Android.
Plus, you can customize how the odds are displayed (decimal, fraction, or American), catering to different betting styles. But past that, there aren't too many customization options.
How to Get and Play with Sports Interaction's Cutting-Edge App
Not all Ontario betting sites make it easy to download their dedicated mobile app, but luckily this is not the case with Sports Interaction. Playing on the Sports Interaction app is a straightforward and convenient process, as is downloading and installing the software. To get started, follow these steps:
Go to the Google Play or Apple App Store – First, you will need to visit the Google Play Store for the Sports Interaction Android app, or the Apple App Store for the Sports Interaction iPhone app. Alternatively, there is a link for each in the bottom left-hand corner of the Sports Interaction website.

Download the App – After selecting the right app for your device, click on the download button. This will initiate the Sports Interaction app download process.

Login or Register – After successfully installing the Sports Interaction app, open it on your device. If you already have a Sports Interaction account, simply log in using your existing credentials. If you are a new user, click on the "Sign Up" button to create a new account.

Enjoy Mobile Betting – Now you're all set to explore the world of mobile betting on Sports Interaction. Browse through the various sports, leagues, and betting options, place your wagers, and enjoy the thrill of betting on the go!
How to Fund Your SIA Account on Mobile
| | | | |
| --- | --- | --- | --- |
| Deposit Method | Deposits Available | Withdrawals Available | Fees |
| Visa/Mastercard | Yes | No | None |
| Instant Banking | Yes | Yes | C$1.50 (Deposit), C$3 (Withdrawal) |
| iDebit | Yes | No | C$1 (Deposit) |
| Interac e-Transfer | Yes | No | None |
| Paysafecard | Yes | No | None |
| InstaDebit | Yes | Yes | C$1.95 (Deposit), C$2 (Withdrawal, after the first free payout) |
| eCheck | Yes | No | None |
| EcoPayz | Yes | Yes | None (Deposit), 3% of payout amount (Withdrawal, after the first free payout) |
| Bank Wire Transfers | No | Yes | Free for the first withdrawal per calendar month, $7 for subsequent withdrawals |
| Instant Echecks | No | Yes | Free for the first withdrawal per calendar month, $2 for subsequent withdrawals |
Betting Made Easy: A Complete Guide to Placing Bets on Sports Interaction App
The Sports Interaction app is one of the most celebrated Ontario betting apps for several reasons, but above all else, users constantly revel in how intuitive and organized the platform is. All of the sports, leagues, and events are conveniently arranged on the left-hand side of the screen, and they've even laid them out in order from most to least popular.
So, you shouldn't have any trouble finding the market you're after. Although, just in case you need a little help getting started, let's take a closer look at the ins and outs of how to use the Sports Interaction Ontario app.
SIA's Sports Coverage: From Pucks to Touchdowns
Sports Interaction App provides an impressive array of sports and leagues coverage, ensuring there's never a shortage of thrilling events to bet on. From the adrenaline-packed NHL games to the courtside action of the NBA, this Canadian brand covers it all. Not only can you wager on the top North American sports, such as NFL and MLB, but you'll also find a wide selection of international leagues, from soccer in Europe to basketball in Asia.
Dive into SIA's World of Markets & Betting Types
Sports Interaction App brings a treasure trove of betting options to your fingertips. The variety of markets and bet types available cater to all kinds of bettors. Whether you're a fan of traditional single bets or looking to spice things up with parlays and teasers, this platform has you covered.
Betting on the NFL, for example, goes beyond standard moneylines and spreads, with player props and even exciting NFL futures bets. The options are endless, allowing you to customize your betting experience to your liking.
Unravel the Mystery of Odds
One of the most important aspects of sports betting is finding the best odds, and it's not always easy either. Luckily, this is something that Sports Interaction takes seriously.
The platform offers highly competitive odds, especially for major leagues like the NFL, NBA, and MLB. But it doesn't stop there. Sports Interaction ensures that Canadian sports fans are well taken care of, with attractive odds for leagues Canadians love most, like the CFL, NLL, and of course, the NHL. No matter your favourite sport, you can rest assured that you're getting some of the best lines on the internet.
With its extensive sports coverage, diverse markets, and top-notch odds, you're in for a winning experience with the Sports Interaction mobile app. However, once you've downloaded the app and funded your account, you might be wondering how to begin placing bets. Well, just follow these quick steps to get started:
Browse Sports & Leagues – Explore the wide range of sports and leagues available on the Sports Interaction app. From the home screen, tap on your preferred sport to view the upcoming matches and events.

Choose a Market & Bet Type – Click on the match you want to bet on and select the market and bet type of your choice. You can find options like moneyline, point spread, over/under, props, futures, and more.
Add Selections to Bet Slip – After making your picks, they'll appear on your bet slip. Review your selections and adjust your stake accordingly.

Place Your Bet – Once you're satisfied with your selections, hit the "Place Bet" button. Double-check your stake and odds before confirming the bet.
Monitor Your Bets – Keep track of your bets in the "My Bets" section. Here, you can see the status of your wagers and track potential winnings.
Sports Interaction Ontario App: Mobile Security
As one of the most trusted and reliable sports betting apps in Canada, Sports Interaction takes online security seriously, implementing robust measures to safeguard your personal information.

To begin, the Sports Interaction app is always secure and all connections are fully encrypted, meaning that your data is protected from unauthorized access and potential cyber threats. Additionally, withdrawals can only be made to the deposit methods used in the past, adding an extra layer of security to your transactions.

The Sports Interaction Canada app is also fully licensed by the Alcohol and Gaming Commission of Ontario for residents within the province and by the Kahnawake Gaming Commission for the rest of Canada. These licenses validate their commitment to maintaining a safe and fair betting environment.

Sports Interaction also heavily promotes responsible gambling, providing users with a wealth of resources to ensure a safe approach to the game, including deposit limits and self-exclusion tools. You can even choose to take a voluntary break if needed, temporarily closing your account for a specific time frame.
Users' Measurements
While Sports Interaction takes stringent measures to ensure the security of your data, there are some steps you, as a user, can take to further enhance your online safety. Here are some key measurements you can implement to keep your information safe:
Strong Passwords – Create strong and unique passwords for your Sports Interaction account. Avoid using easily guessable information like your name or birthdate. A combination of letters (both uppercase and lowercase), numbers, and special characters is ideal.

Secure Internet Connection – Always connect to the Sports Interaction app using a secure and private Wi-Fi network. Public Wi-Fi hotspots may be convenient, but they can pose risks to your data security.
Be Wary of Phishing Attempts – Be cautious of suspicious emails, messages, or links that may attempt to trick you into revealing personal information. Sports Interaction will never ask you for sensitive details via email or text.

Keep Devices Updated – Regularly update your mobile device's operating system and apps, including the Sports Interaction app. These updates often include security patches that protect against potential vulnerabilities.

Logout & Lock – Whenever you're done using the Sports Interaction app, make sure to log out from your account. Additionally, set up a screen lock on your mobile device to prevent unauthorized access.
Avoid Sharing Credentials – Never share your Sports Interaction account credentials with anyone else. Keep your login information confidential to maintain the security of your account.


Help is Just a Tap Away: Reaching Out for Support on the Go
When it comes to having your back, Sports Interaction is always there, offering a variety of channels to provide you with the assistance you need while using the app for Ontario sports betting.
24/7 Live Chat – Quick answers are just a chat away. Their live chat service ensures speedy and personalized help, with minimal waiting time. No matter the hour, their friendly agents are on standby to assist you with any questions or concerns.

Phone Support – If talking to a real person is your preference, SIA has you covered 24/7, 365 days a year. Their phone agents are ready to listen and address your queries, ensuring a direct and efficient line of communication.

Email – For more detailed inquiries or when attachments are involved, email support comes to the rescue. You can count on a prompt response from the Sports Interaction team, providing the information you seek.

In-Depth FAQ Section – New to online sports betting? The SIA Frequently Asked Questions (FAQ) section is a treasure trove of useful information, covering a wide array of common topics to get you started on the right track.

SIA Help Center – Seeking in-depth solutions and additional information? Their extensive SIA Help Center is a valuable resource, catering to users' needs with a wealth of knowledge.
Rest assured, Sports Interaction is committed to being there for you whenever you need them. With a simple tap or a call, their customer support team is ready to assist you 24/7.
Conclusion
In conclusion, Sports Interaction's mobile app brings the world of sports betting and online gaming to the palm of your hand. With a user-friendly interface and a wide range of sports and leagues covered, the app ensures an exciting and seamless betting experience.

From live betting to casino games and poker, it offers a diverse array of options for every user.
Whether you have a deep passion for sports or simply enjoy betting for fun, Sports Interaction's app caters to all, with intuitive features, competitive odds, and a variety of banking options.

So, take your betting to the next level and download the Sports Interaction app to enjoy the thrill of online gaming anytime, anywhere.
FAQs
Is the Sports Interaction app legal to use?

How can I set responsible gambling limits on the app?

What sports and leagues are covered by Sports Interaction?

What types of betting markets are available on the Sports Interaction app?

Are there any associated fees for depositing and withdrawing funds on the app?

Is my personal and financial information safe on the Sports Interaction app?
About the author: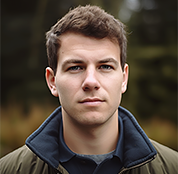 Ryan is an avid sports betting writer with a big passion for the Toronto Maple Leafs. His expertise in analyzing betting odds combined with his knowledge of sports provides readers with valuable insights. When he's not analyzing odds or cheering for the Leafs, you'll find Ryan on the basketball court.