Having firmly established its name in the UK, Bet365 has now branched out to Ontario, becoming a leading player in the province's regulated iGaming market. Known for its comprehensive sports coverage, exceptional live betting, and robust mobile app, Bet365 offers Ontario bettors a plethora of betting opportunities coupled with a seamless and secure experience.

Despite minor setbacks such as a lack of phone support and loyalty programs, Bet365 remains a premier choice for sports enthusiasts in Ontario and worldwide, due to its user-friendly platform, competitive odds, and top-notch customer support.
Bet365 Strengths and Weaknesses
To make an informed decision about a sportsbook, it's crucial to understand its strengths and weaknesses. Let's explore what sets Bet365 apart, and where it could improve.
Bet365 Strengths
Extensive Sports Coverage: Bet365 offers an unparalleled range of betting markets. From popular sports like football and basketball to niche markets like darts or snooker, you'll have a world of opportunities at your fingertips, catering to the tastes of diverse bettors.
Impressive Live Betting Platform: The live betting options are second to none, providing an interactive and exhilarating betting experience. The intuitive interface, coupled with a wide array of live events and markets, positions Bet365 as a leader in in-play betting.
Responsive 24/7 Customer Support: Accessibility is key when it comes to customer service, and Bet365 excels in this area. Their support team is available around the clock via live chat and email, ensuring all queries and issues are handled promptly.
Bet365 Weaknesses
No Phone Support: The absence of phone support is one area where Bet365 falls short. Some users may prefer a direct line for immediate resolution of issues.
Restrictions on Winning Accounts: Bet365 has been known to limit or restrict the accounts of consistently successful bettors. This could deter experienced punters seeking a platform where their winning streaks aren't penalized.
Despite certain areas for improvement, Bet365's strengths far outshine its weaknesses. It offers a broad and engaging betting experience backed by robust customer service. While the addition of phone support and more lenient policies for successful punters would enhance the platform, it remains a leading choice for bettors in Ontario.
Bet365 Canada Rating
Bet365 Canada Profile
| | |
| --- | --- |
| Website | on.bet365.ca |
| Company | Bet365 Group Ltd |
| Year Founded | 2000 |
| License & Regulation | iGaming Ontario (iGO) & Alcohol and Gaming Commission of Ontario |
| Contact | 24/7 Customer Service via Live Chat, email, mail and Bet365 FAQ |
| Payment Methods | Interact, Visa, MasterCard, Maestro, Instadebit, iDebit, Apple Pay, Paysafecard, and Click to Pay. |
| Features | Live Betting, Live Streaming, One-Wallet System, Same Game Parlay, Cash Out and Edit Bet. |
| Apps Devices | iOS and Android |
| Casino Providers | NetEnt, Microgaming, and Playtech. |
| Casino Games | Live Dealer, Blackjack, Roulette, Baccarat, Slots, Bingo & More |
| Products | Sports, Bingo, Casino & Live Casino |
| Odds Provider | bet365 |
Bet365 Sportsbook Review – Our Expert's Highlights
In our collective experience with sportsbooks and online casinos, we believe Bet365 sets a high bar for both variety and quality. With roots as a UK-based sportsbook, Bet365 entered the Ontario iGaming market as a provincially regulated platform. The platform's expansive sports coverage, efficient mobile app, and varied banking options have made it an easy favourite for both us and sports enthusiasts in Ontario and globally.
From a sports betting perspective, Bet365 sportsbook shines in its comprehensive market coverage and impressive live betting platform. The array of options caters to diverse sports fans, making the betting experience feel personalized and extensive. In addition, their odds are competitive, offering fair and enticing betting opportunities. A standout feature for us is the live streaming service, an element that injects real-time excitement into the betting process. However, due to legal reasons, we can't provide details on the enticing Bet365 bonus opportunities.
On the casino front, Bet365 Canada is equally noteworthy. Boasting a game library featuring hundreds of titles from reputable software providers like NetEnt, Microgaming, and Playtech, there's no shortage of high-quality games. Navigation is seamless, whether on desktop or mobile, making for an enjoyable gaming experience. I appreciate the commitment to responsible gambling demonstrated by Bet365, with tools available for deposit limits, self-exclusion, and time-outs.
However, we think Bet365 can improve in a few areas. Customer support lacks phone services, an option some users may prefer. Additionally, their policy of imposing restrictions on winning accounts could deter seasoned bettors. From the casino perspective, a wider selection of banking options for certain countries would enhance the user experience.
Despite these areas for improvement, we believe Bet365 offers a comprehensive and secure betting platform. The 24/7 customer support, secure platform, and user-friendly interface, coupled with their commitment to responsible gambling, make Bet365 a top choice for both sports betting and casino gaming. Our overall impression of Bet365 remains positive, largely due to their vast betting and gaming options, as well as their commitment to user safety and experience.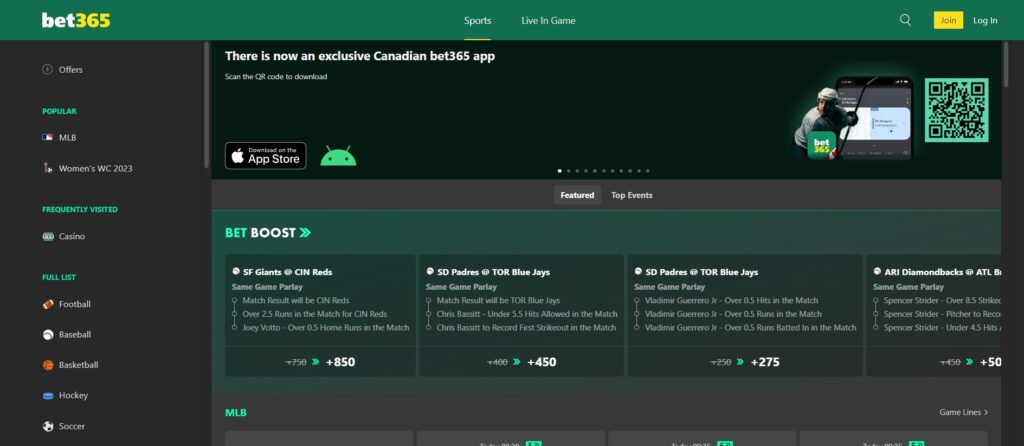 Bet365 Sports Betting Features
An online betting platform's features often set it apart, providing unique services and user experiences. Bet365 has several notable features that enhance its appeal:
Live Betting: Bet365's live betting feature allows you to place bets on games and events as they happen in real-time. This dynamic form of betting increases the excitement and offers unique betting opportunities as the action unfolds. You can use this feature to take advantage of shifting odds and react to the live action as it happens.
Live Streaming: One of Bet365's most appreciated features is live streaming, which allows you to watch the events you bet on in real time. It provides a more immersive experience and allows for better-informed in-play bets. The availability of live streams depends on your location, but it covers a wide array of sports and events.
One-Wallet System: This system makes managing your funds convenient and simple. It means you have a single account balance, whether you're betting on sports, playing casino games, or enjoying poker. This seamless approach allows you to switch between different sections of Bet365 without needing to transfer funds.
Secure Platform: is Bet365 safe? Bet365 prioritizes user security, employing top-level measures like 256-bit SSL encryption to protect your data. You can bet and play with confidence, knowing your information is safe and secure.
iGaming Licensed: Holding a license from iGaming Ontario means that Bet365 adheres to strict standards and regulations to ensure fair and transparent operations. This provides a reassurance of reliability and trustworthiness.
Great Odds: Offering competitive odds across a vast range of sports and events is a key strength of Bet365. Better odds mean better potential returns, making your betting experience more profitable and enjoyable. Always remember, though, to bet responsibly and within your means.
Same Game Parlay: Same Game Parlay allows you to create a single bet by combining different markets from the same game. This innovative feature offers real-time odds updates for each added selection, leading to a highly personalized betting experience.
Bet365 Live Golf Tracker: Experience golf like never before with Bet365's Live Golf Tracker. This feature offers real-time shot-by-shot data, interactive course visualization, and live streaming for select tournaments, ensuring you are part of the action from the comfort of your home.
Soccer Live Streaming: Bet365's Soccer Live Streaming brings top global soccer competitions straight to your device. Available on mobile, tablet, and desktop, this feature requires a funded account or a recent bet. Enjoy soccer action live and bet in real-time.
Cash Out: Cash Out is a feature that allows you to take a return before an event has ended. Available on select events, it gives you the option to fully or partially cash out your bet at a time of your choosing. It's a handy tool for managing betting risks.
Edit Bet: Edit Bet lets you add, swap, or remove selections from your bet both pre-match and Live In Game. This feature also enables changing your bet type to any applicable parlay option. It gives you greater flexibility and control over your betting decisions.
Bet365 App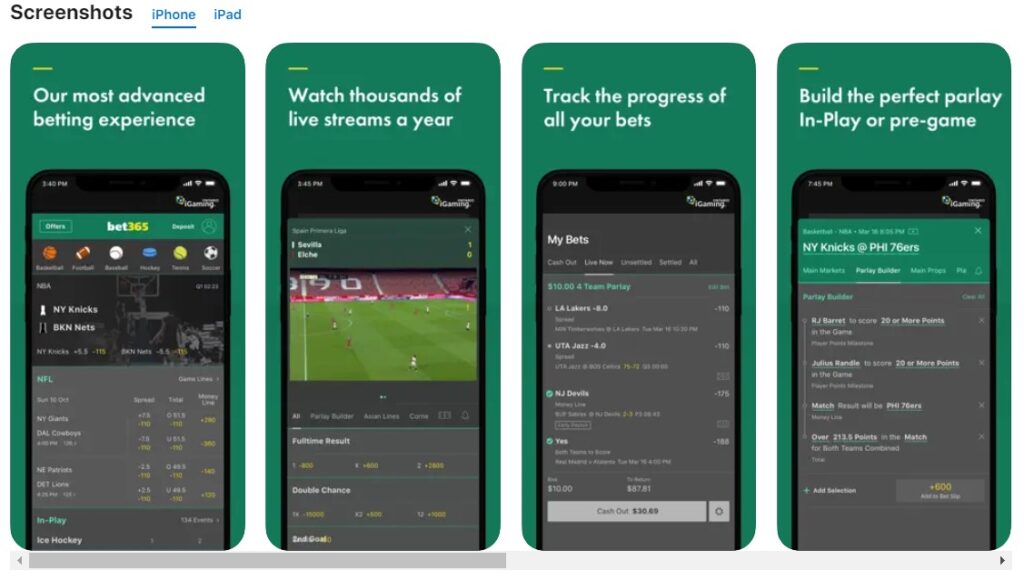 Experience the thrill of betting at your convenience with Bet365 app's robust mobile platform. Whether you're a sports betting enthusiast or a fan of casino games, Bet365's mobile applications have you covered. This operator, recognized as one of the top in the world, brings to your mobile device a flawless interface and an extensive selection of games from reputable providers.
The Bet365 app, available on both iOS and Android, is a fine-tuned mobile gambling platform offering instant access to top titles and a seamless transition between different betting sections. The app promises faster loading times, instant access to popular titles, and the convenience of logging in with Touch ID.
The mobile experience extends to their Live Casino app as well. You can engage with professional live dealers straight from your device, be it Blackjack, Roulette, Baccarat, or Hi-Lo. The high-quality streaming puts you right on the Casino floor, delivering an immersive gaming experience.
For those who prefer using their mobile browser, Bet365's website is mobile-optimized, ensuring the same quality of user experience. It offers an instant-play version that automatically loads when accessed from a smartphone or tablet. Banking and customer support are also fully integrated into the mobile platform, ensuring a smooth and comprehensive mobile betting experience.
To ensure compatibility with a variety of mobile devices and operating systems, Bet365 conducts regular testing against popular handset and OS combinations. This focus on mobile compatibility underscores Bet365's commitment to delivering a superior mobile betting experience.
Sports Coverage at Bet365
When it comes to sports betting, Bet365 certainly delivers in terms of coverage. Whether you're a fan of Canadian classics like hockey or more globally appreciated sports such as football, you're sure to find a wide variety of betting markets at Bet365.
🏈 Football: As an avid football fan, the excitement of betting on the NFL at Bet365 is incomparable. You can find top markets like the Super Bowl and teams such as the Canadian born Kansas City Chiefs. Each game offers a unique opportunity to wager and heighten the thrill of each touchdown.
🏒 Hockey: Hockey is a staple of Canadian sports culture, and betting on NHL games at Bet365 never disappoints. With renowned Canadian teams like the Toronto Maple Leafs and the Montreal Canadiens, betting adds another layer to the suspense of the on-ice action.
🏀 Basketball: Basketball has surged in popularity in Canada, especially after the Toronto Raptors' historic NBA Championship win. Betting on the fast-paced, high-scoring games at Bet365, with diverse markets including player stats and match outcomes, amplifies the exhilaration.
⚾ Baseball: Baseball offers a slower, more strategic betting experience, making each pitch and swing critical. Betting on Major League Baseball games, like those featuring the Toronto Blue Jays, at Bet365, allows you to delve into an array of intriguing markets.
🥊 MMA: Mixed Martial Arts is a global phenomenon and the UFC hosts some of the most exciting matches. Famous Canadian fighters like Georges St-Pierre have graced this platform. Betting on MMA at Bet365 brings you closer to the visceral, fast-paced action of the fights.
⚽ Soccer: Soccer, or football as it's known worldwide, offers a wealth of betting opportunities at Bet365, from domestic Canadian Premier League games to international events like the FIFA World Cup. Soccer betting is especially thrilling due to its unpredictable nature, making every goal count.
Whether it's my personal favourite, football, or Canada's beloved hockey, Bet365's sports coverage ensures every sports enthusiast has an engaging betting experience.
Bet365 Betting Markets
At Bet365 sportsbook, the depth of betting markets is exceptional, offering plenty of choices to bettors irrespective of their preferences. Here are the top five betting markets you'll find at Bet365 Ontario and why they're popular.
Moneyline: The Moneyline market is arguably the simplest and most popular form of betting. It simply involves predicting the outright winner of a match. For instance, a moneyline bet could be placing a wager on the Toronto Raptors to win an NBA game.
Point Spread: Also known as handicap betting, point spreads are popular in sports where high scores are common, such as basketball and football. Here, the underdog is given a head start, and the favorite a handicap. For example, if the Ottawa Senators (+1.5) are playing the Montreal Canadiens (-1.5), a bet on the Senators would be successful if they win the game or lose by one goal.
Over/Under: This market involves betting on whether the total number of points (or goals, runs, etc.) in a game will be over or under a set number specified by Bet365. It's a smart bet when you expect a high or low scoring game, irrespective of who wins.
Futures/Outrights: These bets involve predicting long-term outcomes, such as who will win the Stanley Cup or the Super Bowl. While these bets can take a while to settle, they can offer substantial rewards, particularly if you have a strong hunch early in the season.
Prop Bets: Prop bets (short for proposition bets) involve wagering on specific events within a game that don't directly affect the final outcome. For example, betting on whether Auston Matthews of the Toronto Maple Leafs will score a goal in a specific game.
These markets offer diverse ways to engage with your favorite sports, leagues, and teams, and heighten the excitement of the sporting event. Each offers unique opportunities to bet, so choose the one that best suits your knowledge and strategy.


Banking at Bet365
Managing your funds at Bet365 is straightforward, secure, and convenient. The platform offers a variety of banking methods to accommodate all players. Let's walk through the steps for depositing and withdrawing money, and explore the best options available.
Making a Deposit at Bet365:
Proceed with your Bet365 login to access your account.
Click on 'Deposit' at the top right corner of the homepage.
Choose your preferred deposit method from the options provided.
Enter the desired amount and any required information, then click 'Deposit'.
Bet365 Deposit Options:

Interac: Interac is a popular Canadian banking method. It allows direct transfers from your bank account to Bet365 in a safe and secure way. It's fast and has low fees, making it a recommended option.

Visa/MasterCard/Maestro: Credit and debit cards are universally accepted and provide instant deposits. They're simple to use and secure, thanks to Bet365's high encryption standards.

Instadebit/iDebit: These are secure online banking-based payment methods available to customers in Canada. They allow for quick transfers directly from your bank account to Bet365.

Paysafecard: This is a prepaid card available at various retail outlets, which you can use to deposit funds. It's a great option for those who prefer not to share their banking information online.

Apple Pay: If you're an iOS user, Apple Pay offers a quick, secure way to deposit funds using your Apple device.
Requesting a Withdrawal at Bet365:
Log into your Bet365 account.
Click on 'Withdraw' from the dropdown menu under your username.
Select your preferred withdrawal method (it's typically the same as your deposit method).
Enter the amount you wish to withdraw, then click 'Confirm'.
Remember, withdrawal times can vary depending on the method chosen. Always ensure to verify your account for smooth transactions. Bet365 makes banking easy so you can focus on enjoying your gaming experience.
Is Bet365 Legal in Canada?

Bet365 is legally permitted to operate in Ontario, being licensed and regulated by both the Alcohol and Gaming Commission of Ontario (AGCO) and iGaming Ontario. This licensing means that Bet365 adheres to the highest standards of fairness, safety, and operational integrity, providing reassurance to players about the site's legitimacy.
With this license, Bet365 can offer single-game betting, a game-changer for sports betting enthusiasts as it allows for more flexibility and strategic betting. This change has significantly enhanced the betting landscape, allowing bettors to focus on individual games rather than being restricted to parlay betting.
The advantages of playing at a regulated site like Bet365 are numerous, including safe and secure transactions, dispute resolution services, and the knowledge that the site is routinely audited for fairness and responsible gaming practices. In short, a license provides an additional layer of protection for the players, enhancing their overall gaming experience.
Bet365 Customer Support
A crucial aspect of any online platform is the quality of its customer support, and Bet365 shines in this department. Their commitment to ensuring a seamless user experience is evident in their comprehensive support system that includes a detailed FAQ section. This section covers a vast array of topics, providing immediate answers to common questions, saving users precious time.
For more personalized assistance, Bet365 provides a Live Chat feature, which is available 24/7. This enables users to resolve queries promptly at any time of the day, adding convenience and speed to problem resolution.
Alternatively, users can choose to communicate via email, which is particularly useful for queries requiring detailed explanations or attachments. Send your email from your private account and expect a thorough response from the support team.
For those who prefer traditional methods, Bet365 also accepts postal queries. Simply send your letter to their headquarters.
With a wide variety of options, Bet365 ensures that no user is left in the dark.
Final Verdict
After a comprehensive evaluation of Bet365, there is little doubt that the platform stands as one of the leading online betting services available today. The website's interface is intuitive and easy to navigate, appealing to both seasoned bettors and newcomers alike. Its extensive sports coverage, offering markets across football, hockey, basketball, baseball, MMA, and soccer, is impressive and caters to a wide variety of betting preferences. Bet365's features such as Live Golf Tracker and Same Game Parlay enhance the user experience, adding a dynamic and engaging layer to the betting process.
However, there is always room for improvement. While the customer support system is excellent with various contact methods, including a 24/7 live chat, an FAQ page, and postal support, the addition of a telephone support line could offer an additional layer of assistance for some users. Lastly, while the deposit and withdrawal methods are numerous and cater to a broad user base, some users might find the withdrawal times to be longer than expected.
In conclusion, Bet365 offers a robust and comprehensive betting experience with a few areas that could be improved for an even more seamless user experience. Nonetheless, it remains an excellent choice for betting enthusiasts looking for a reliable, engaging, and user-friendly platform.
FAQs
When considering an online betting platform like Bet365, it's natural to have some questions. Let's address some of the most common queries:
Does Bet365 Canada hold a valid gambling license?

What sports and leagues can I bet on at Bet365?

What types of bets can I place at Bet365 sportsbook?

What deposit methods are available at Bet365?

Does Bet365 have a dedicated mobile app?

What customer support options are available at Bet365?

What casino games are available at Bet365?
About the author: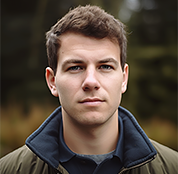 Ryan is an avid sports betting writer with a big passion for the Toronto Maple Leafs. His expertise in analyzing betting odds combined with his knowledge of sports provides readers with valuable insights. When he's not analyzing odds or cheering for the Leafs, you'll find Ryan on the basketball court.