Sports fans, meet BetRegal Canada, your 2017-born online betting powerhouse that covers all of the Canadian classics, from hockey and baseball to football and basketball.

Beyond sports, they've got an exciting casino section jampacked with thrilling slots, table and live dealer games. But here's the kicker: they offer unbeatable lines for sports betting, meaning more money in your pocket. Stay with us; in this BetRegal review, we'll explain why it's already become one of the top betting sites available. Let's roll!
BetRegal Sportsbook Strengths & Weaknesses
In our BetRegal review, we've uncovered several key strengths that make this sportsbook worth considering. However, like any other platform, BetRegal does have its share of weaknesses.
BetRegal Strengths
Swift & Convenient Banking Options – Firstly, BetRegal boasts swift and convenient banking options, allowing users to fund their accounts quickly and efficiently. This is a major advantage because not all sportsbooks offer the sheer variety that BetRegal does.
Several Licenses from Reputable Authorities – With multiple licenses from reputable authorities, including the Malta Gaming Authority and UK Gambling Commission, the platform provides a strong sense of security and trust. These aren't just recognized authorities, but they are also stringent that don't just hand out licenses.
Vast Sports Coverage & Market Variety – Moreover, BetRegal offers a vast sports coverage and market variety, catering to a wide range of sports fans and bettors. This means you'll never run out of exciting options throughout the calendar year.
Competitive Odds for Major Leagues – Perhaps one of its most significant strengths, however, lies in the competitive odds it provides for major leagues. With most Canadians focused on the NBA, NHL, NFL, and MLB, this enhances the potential for bettors to secure favourable returns on their wagers.
BetRegal Weaknesses:
Customer Support Not Available 24/7 – The limited customer support hours, from 2 am to 7 pm ET, can be restrictive for users who may require assistance outside of these times. It's also below the industry standard of several other bookmakers who offer customer support 24/7.
No Mobile App – Additionally, the absence of a dedicated mobile app can inconvenience those who prefer the convenience of app-based betting. Like the customer support issue, this will make it hard to compete in the long run with the ever-growing list of Ontario betting apps.
Outdated Website Design – Lastly, the platform's slightly outdated website design, while functional, may not provide the visually appealing and modern interface that some users seek.
In conclusion, BetRegal Canada offers a strong array of strengths, including efficient banking options, reputable licensing, diverse sports coverage, and competitive odds. While the limited customer support hours, lack of a mobile app, and dated website design are drawbacks, they don't overshadow the overall positive aspects of this platform. For those seeking a secure and versatile sports betting experience, BetRegal is certainly a platform worth considering.
BetRegal Canada Rating
BetRegal Profile
| | |
| --- | --- |
| Website | https://betregal.ca/ |
| Year Founded | 2017 |
| License & Regulation | Malta Gaming Authority (MGA), UK Gambling Commission (UKGC) |
| Contact | Live chat, email and FAQ |
| Payment methods | Visa, Mastercard, Interac, ecoPayz, Paysafecard, and more. |
| Features | Live Betting, Early Cash Out and Casino |
| Casino providers | NetEnt, Evolution Gaming, Play'n Go, Pragmatic Play, Thunderkick and more. |
| Casino Games | Slots, Table Games and Live Casino Games |
| Products | Sportsbook, Live Sports Betting, Casino and Live Casino |
| Partners | Hamilton Tiger-Cats (CFL), PGA of Canada, and Dundalk FC |
| Owner | The Regal Group Aspire Global 7 Limited |
BetRegal Sportsbook Review – Our Expert's Highlights 
My BetRegal review left me with quite the story to tell. First off, their sports coverage is nothing short of impressive. Hockey, basketball, soccer, football – they've got the big players covered. But here's the cool part; they don't stop there. Niche sports, e-sports, and even political bets are in the game. I counted over 25 sports, each with European, Asian, and International leagues. Simply put, BetRegal Sportsbook is holding its own in the Canadian sports betting scene.
As for the available betting markets and bet types, BetRegal Canada's got it all. Moneyline, point spread, over/unders – check. Fancy some futures, props, or parlays? They've got that covered too. Plus, their Live Betting section promptly featured at the top of the page adds that extra thrill to the game.
Next, let's talk odds. BetRegal Sportsbook's lines are like a golden ticket. They take less juice than the big guys, which means better odds and more wins. Particularly, their odds on NHL, MLB, NFL, and NBA games are highly competitive.
Now, for the cash matters. They offer a smorgasbord of banking options, from bank cards and bank transfers to prepaid cards and eWallets. Canadians will also love the inclusion of Interac for its speed and convenience. The downside? BetRegal withdrawals can be a tad sluggish, taking 3 to 6 business days, which is above the norm among Ontario sports betting sites.
On the plus side, BetRegal Canada's customer support is pro-level, though their hours are somewhat limited, running from 2 am to 7 pm ET for the live chat function. Thankfully, there's a handy FAQ section to handle common queries.
What about the mobile experience you ask? Well, even though there isn't a BetRegal app just yet, their mobile website does the job nicely. Some prefer the convenience of a dedicated app, but others like me find the BetRegal mobile site easier on the device and less hassle. So, it's mostly a matter of personal preference.
In conclusion, BetRegal isn't just another sportsbook. It's a competitive player in the evolving Canadian sports betting scene, offering an impressive sports lineup, great odds, and a variety of markets. Banking could be speedier, but their professional support and mobile-friendly website make it a solid choice for Canadian bettors.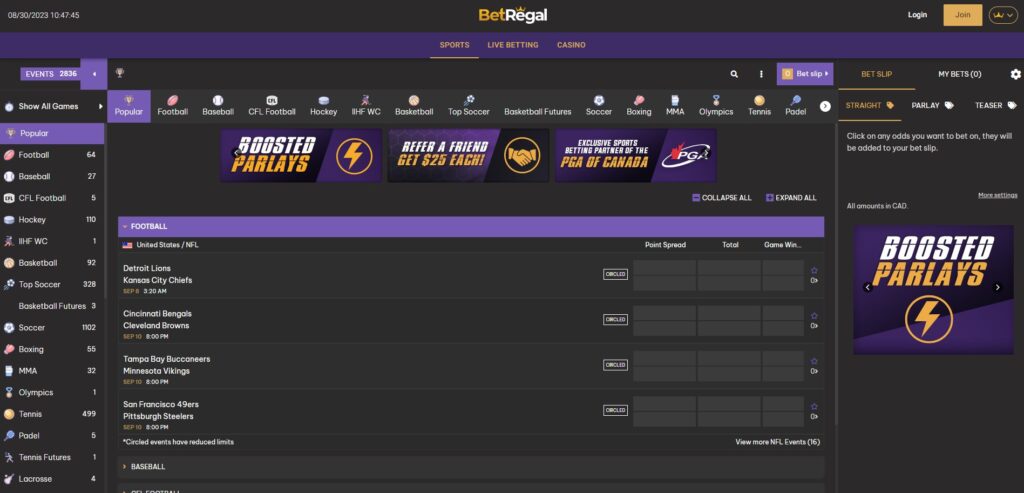 BetRegal Sports Betting Features
Sportsbook features are like tools in a bettor's toolkit, helping you bet smarter and more strategically. They're vital because they let you make informed decisions during the game and can sometimes save you in moments of desperation. Here's a quick breakdown of what features BetRegal Canada offers and how to make the most of them:
BetRegal Live Betting
This is where the excitement goes through the roof. BetRegal's Live Betting feature is your ticket to in-game action. You'll find it all here – basketball, baseball, hockey, football, tennis, and soccer, with occasional international sports. The magic happens as you watch the game unfold, and you can place bets on real-time events. Trust me, it's an absolute game-changer. I've used it myself to catch those unexpected twists and score some big-time wins.
BetRegal Early Cash Out
Picture this: you've got a bet in play, but things are getting tense. BetRegal's Early Cash Out feature gives you an escape hatch. If your bet is eligible, you'll see a dedicated cash-out button on your slip. You can cash out anytime, securing your winnings or minimizing losses before the final whistle. It's like having a safety net for your bets. I've used it several times at other Ontario sportsbooks to secure profits when a game took a last-minute turn for the worst.
BetRegal Casino
BetRegal doesn't stop at sports. They've got a vibrant casino section too. Right at the top of the page, you'll spot it, packed with hundreds of games, from classics like blackjack and baccarat to poker and roulette. What's cool? Live dealers elevate the casino experience, making it feel like you're right there in the action. Plus, top-notch game developers like Microgaming, Pragmatic Play, and Evolution Gaming ensure the slots are nothing short of thrilling. As someone who enjoys the occasional spin, I can vouch for the quality of the casino offerings at BetRegal Canada.
BetRegal Mobile App
Even though BetRegal doesn't offer a native mobile app for their sportsbook, they've optimized their website for mobile use, inviting you to enjoy all of the same features from your smartphone or tablet.
When you visit BetRegal Canada, you'll be automatically directed to a mobile-friendly version of their site. This version retains all the functionality of the desktop site, which means you can do everything from depositing funds to placing bets and cashing out your winnings – all from the palm of your hand.
The layout is slightly adjusted to make navigation even easier on a smaller screen. But you can seamlessly find shortcuts to your favourite sports and popular markets, so you can get to the action quickly.
Now, personally, I enjoy the convenience offered by Ontario sports betting apps. Even though they take up space on my phone, they load quickly and I don't need to type in the URL and wait for the site to upload before jumping into all of the betting action. So, the fact that there is no BetRegal app is a slight disappointment.
With that being said, it should be noted that some folks argue that a mobile-friendly website trumps a dedicated app since you don't need to download additional software, saving valuable space on your device. There's also no more fretting about system requirements or app updates.
At the end of the day, it's a personal preference, and I know plenty of sports bettors who swear by the mobile website. So, all in all, BetRegal Sportsbook provides a smooth mobile experience, ensuring that those winning plays are just a tap away.
BetRegal Sports Coverage
When it comes to coverage, BetRegal Canada is a sports fan's paradise offering more than 25 sports spanning the most popular leagues from across the globe. Whether you fancy a little homegrown Lacrosse action or some international flair with Aussie Rules football, there's truly something for everyone.
Like most Canadian sportsbooks, BetRegal offers a nice variety of markets for all of the expected leagues. But what sets them apart is the depth and diversity of their offerings as well as their strong focus on the Canadian market. For instance, thanks to their partnership with the CFL, they offer some of the strongest CFL betting lines in the industry.
Here are the most popular sports covered at BetRegal Canada:
BetRegal Football (CFL, NFL and NCAA) – As an official sponsor of the Canadian Football League (CFL), BetRegal gives you front-row access to CFL action. The CFL league typically runs from June to November, culminating in the Grey Cup, Canada's version of the NFL Super Bowl. Speaking of the NFL, BetRegal Canada also covers the NFL season and NCAA College Football. In Canada, NFL betting is practically a ritual and the Super Bowl is a nationally celebrated event, like the Grey Cup.
BetRegal Baseball (MLB, NPB, KBO and more) – MLB betting has its own special place in Canadian sports culture thanks to the recent success of the Toronto Blue Jays and the past success of the Montreal Expos. As a result, BetRegal Canada doesn't miss a pitch with extensive baseball coverage. The MLB season spans from April to October, ending in the World Series, but Canadian baseball fans also follow popular international leagues like Japan's Nippon Professional Baseball (NPB) and South Korea's Korea Baseball Organization (KBO).
BetRegal Basketball (NBA, LNB, NBL, and more) – The NBA's Toronto Raptors have successfully brought basketball fever to Canada. The regular season runs from October to April, followed by the NBA Playoffs and the NBA Finals, making NBA betting a beloved pastime nationwide. Although, from the NBA to international hoops, basketball fans will find plenty to bet on here. Canadians also follow leagues like France's LNB and Australia's NBL as well as both men's and women's NCAA, all of which are available to bet on at BetRegal Canada.
BetRegal Hockey (NHL, KHL, SHL and more) – Hockey is practically a national religion in Canada and BetRegal Sportsbook caters to the fervent fan base with comprehensive NHL coverage. From October to April, the NHL season captivates fans nationwide, leading to the Stanley Cup Playoffs and Stanley Cup Finals. Although, with how hockey-obsessed Canadians are, not only has NHL betting become a strong passion, but so has wagering on popular European leagues like Russia's Kontinental Hockey League (KHL) and Sweden's SHL.
BetRegal Soccer (MLS, EPL, La Liga and more) – Of course, we'd be remiss if not to mention soccer, whose global appeal is undeniable. BetRegal offers bets on all the top leagues, from the English Premier League and Spanish La Liga to the German Bundesliga and Italian Serie A. Beyond the major leagues, however, they sprinkle in a little international flavour as well with extraordinary coverage of the FIFA World Cup, UEFA Champions League and UEFA Europa League. With such a diverse international calender, BetRegal offers soccer betting year-round.

Other Notable Mentions – BetRegal doesn't stop there; they cover a plethora of sports, including eSports, tennis, golf, rugby, cricket, boxing, badminton, darts, MMA and motor racing. UFC betting and F1 betting, in particular, are two of the most popular options among Canadians.
BetRegal's Sponsorship Deals
Now, here's where it gets interesting. BetRegal Canada goes above and beyond by being the official sponsor of the CFL and Canadian Golf. That's why you'll find CFL Football prominently featured. It's a testament to their commitment to Canadian sports.
At the time of writing, BetRegal's three primary sponsors are:
Hamilton Tiger-Cats (CFL)
PGA of Canada
Dundalk FC (League of Ireland First Division)
BetRegal's Betting Markets & Types of Bets Available
Building on our exploration of BetRegal's impressive sports coverage, let's now dive into the diverse world of betting markets they offer. From the classics to the exotic, BetRegal Canada ensures your betting experience is both versatile and thrilling.
BetRegal Betting Markets
Moneyline – Bet on the game's winner, with odds indicating the amount you need to wager to win $100. For example, Toronto Maple Leafs at -150 means you bet $150 to win $100 if they secure the victory.
Point Spread – This levels the playing field by giving one team a handicap. If you bet on a CFL match with Toronto Argonauts at -6.5 points, they must win by at least 7 points for your bet to pay out.
Over/Under (Totals) – Place your wager on the total points scored in a game, such as an NBA matchup with an over/under set at 220.5 points. You bet on whether the actual score will be above or below that figure.
Futures – These are long-term bets on events like a team winning a championship or a player winning an individual award. Before an NHL season starts, you might place a futures bet on the Toronto Maple Leafs clinching the Stanley Cup.
Props – Prop (or proposition) bets cover various in-game outcomes. For instance, in an NHL game featuring the Toronto Maple Leafs, you might bet on a specific player scoring a goal or the number of goals scored within a specific period.
Types of Bets Available
Parlays – Combine multiple bets into one, offering the potential for more substantial payouts. You could bet on the Toronto Blue Jays, Raptors, and Maple Leafs all winning their respective games for a higher return.
Live Betting – This dynamic feature allows you to place bets in real-time during games, adding another layer of excitement to your BetRegal sports betting Currently, in-play betting is available for baseball, basketball, soccer, tennis, MMA and volleyball, but more will come once their respective seasons kick off.
Player Props – This is a specific focus on individual player performances within a particular game or event. For example, you might bet on Vladimir Guerrero Jr. hitting a home run in the Toronto Blue Jays season opener.
Team Props – Similar to player props, these bets center on team-related outcomes within a specific game. For instance, in a CFL game featuring the BC Lions, you could wager on whether they'll score the first touchdown of the game or the over/under on points scored in the first half.
Teasers – Teasers let you adjust point spreads to improve your odds of winning. For instance, if you're betting on the Toronto Raptors with a -6.5 point spread, you can tease it down to -3.5 to enhance your chances. The catch? It must be part of a bigger parlay meaning that all bets need to win for your teaser bet to payout.
Competitive Odds for Major Leagues
Play Now


Placing a Bet at BetRegal Canada: Step-by-Step Guide
Create An Account – Begin by visiting the BetRegal Canada website and clicking "Join" in the top right corner. You'll need to provide basic personal information like your name, email, date of birth, address, and phone number. This ensures you're eligible to bet in Canada.
Fund Your Account – Once your account is set up and verified, it's time to deposit funds. BetRegal offers various deposit options, including Visa, Mastercard, Interac, InstaDebit, iDebit, and Bank Transfers. Choose the method that suits you best.
Find Your Desired Sport & League – Use the left-hand toolbar to browse available sports. Click on your chosen sport, then filter by the league. Click the specific game you're interested in to access betting options.
Pick Your Market – After selecting the game, explore the available betting options. This includes moneylines, point spreads, over/unders, and props. Futures bets typically have their own tab.
Place Your Bets – To place a bet, choose your desired wager and adjust the stake in the betting slip on the right side of the screen. Click "Place bets" to confirm your selection.
Collect Your Winnings

– When your bets win (and we're confident they will), it's time to collect your winnings. Visit the cashier section, select your preferred withdrawal method, and follow the steps to complete the process. Keep in mind that processing times vary, with a minimum withdrawal time of 3 business days.
Banking Options
As for funding your BetRegal Canada account and withdrawing your winnings, I had a smooth experience that reflects the bookmaker's commitment to convenience and security.
BetRegal offers a variety of deposit methods, providing safe and straightforward ways to fund your endeavours. While most users prefer the speed and convenience of eWallets like EcoPayz, Instadebit and iDebit or the ever-popular Interac, there are other options available as well. This includes Visa, Mastercard, Trustly, Skrill, MuchBetter and the Paysafecard prepaid card. These methods ensure flexibility for all types of bettors, and the best part is that there are typically no deposit fees.
In terms of withdrawals, payout times vary depending on the method you choose. For eWallets, you can expect your funds in as little as three working days. Whereas card withdrawals and bank transfers typically take closer to a week (or more). While these processing times are relatively standard, it is worth noting that most of BetRegal's Canadian competitors process withdrawals within 3 business days.
The good news is that BetRegal's minimum deposit and withdrawal amount is a user-friendly $10, ensuring accessibility for all players. So, whether you prefer the speed of eWallets or the simplicity of card payments, it's clear that BetRegal's banking options are diverse, convenient, and designed with the user in mind.
| | | | | | |
| --- | --- | --- | --- | --- | --- |
| Method | Type | Depsoit Processing Time | Minimum Deposit | Minimum Withdrawal | Withdrawal Processing Time |
| Visa | Credit/Debit | Instant | $10 | $10 | 4-6 business days |
| MasterCard | Credit/Debit | Instant | $10 | $10 | 4-6 business days |
| EcoPayz | eWallet | Instant | $10 | $10 | 3 business days (on average) |
| Interac | eTransfer | Instant | $10 | $10 | 3 business days (on average) |
| Instadebit | eWallet | Instant | $10 | $10 | 3 business days (on average) |
| iDebit | eWallet | Instant | $10 | $10 | 3 business days (on average) |
| Trustly | Bank Transfer | Instant | $10 | $10 | 3 business days (on average) |
| Paysafecard | Prepaid Card | Instant | $10 | N/A | N/A |
| Skrill | eWallet | Instant | $10 | $10 | 3 business days (on average) |
| MuchBetter | eWallet | Instant | $10 | $10 | 3 business days (on average) |
| Bank Transfer | Bank Transfer | Instant | $10 | $10 | 6-10 business days |
Is BetRegal Legal in Canada?
As a Canadian bettor, the assurance of a legal, secure, and reputable sportsbook is paramount. BetRegal offers precisely that peace of mind.
BetRegal's credibility is solid. It operates under The Regal Group, a company incorporated under Malta's laws that currently holds licenses from three distinguished authorities: the Malta Gaming Authority (MGA), UK Gambling Commission (UKGC), and an Irish Betting License.
Not only that but security is a top priority at BetRegal as well. They employ cutting-edge 128-bit SSL encryption to safeguard your sensitive data and their servers are fortified with the latest firewall technology, adding an extra layer of protection.
In short, BetRegal is entirely legal in Canada thanks to its licensing from reputable regulatory bodies and its utilization of top-notch security features. Before you get too excited, however, make sure that you meet the legal gambling age in your province, which will be either 18 or 19 years old, depending on your specific region.
Is BetRegal Legal in Ontario?

While they are still in the process of obtaining a license from iGaming Ontario (iGO) and the Alcohol and Gaming Commission of Ontario (AGCO), BetRegal is indeed legal and accessible to all residents in Ontario, Canada.
In addition to holding licenses in Malta, the UK, and Ireland, BetRegal is a registered partner of the Canadian Gaming Association and therefore complies with all of the necessary legal requirements to operate within the province.
How to Open an Account on BetRegal?
Signing up with BetRegal Canada proved to be a remarkably smooth and efficient experience. Despite the platform's slightly classic design, the registration process stands as a shining example of user-friendliness. So, for those who might be new to the world of online sports betting, the ease with which one can create an account here is a welcoming aspect.
The process is broken down into a series of simple, straightforward steps. Beginning with basic personal information like your name and birthdate, it swiftly progresses to address details, contact information, and password setup. Each step is intuitive, making it an accessible process even for beginners. In fact, it took me a mere 10 minutes from start to finish to sign up and fund my account, which is a testament to BetRegal's commitment to providing a hassle-free onboarding experience.
BetRegal's simple registration process is not just about convenience, however, it's also about fostering a sense of trust and reliability. BetRegal goes the extra mile to ensure the security of your personal data by employing state-of-the-art 128-bit SSL encryption technology to safeguard your sensitive information, maintaining a virtual fortress of protection. Additionally, the platform's server is also fortified with the latest firewall technology.
Steps to Open an Account on BetRegal
Of course, our BetRegal Sportsbook review simply wouldn't be complete without a step-by-step guide explaining the whole sign-up process. So, here it is:
Head to BetRegal Canada Website – Navigate over to the BetRegal Canada website and locate the "JOIN" button in the top right corner of your screen, or the power button symbol if you're using a mobile device. Click on it to initiate the registration process.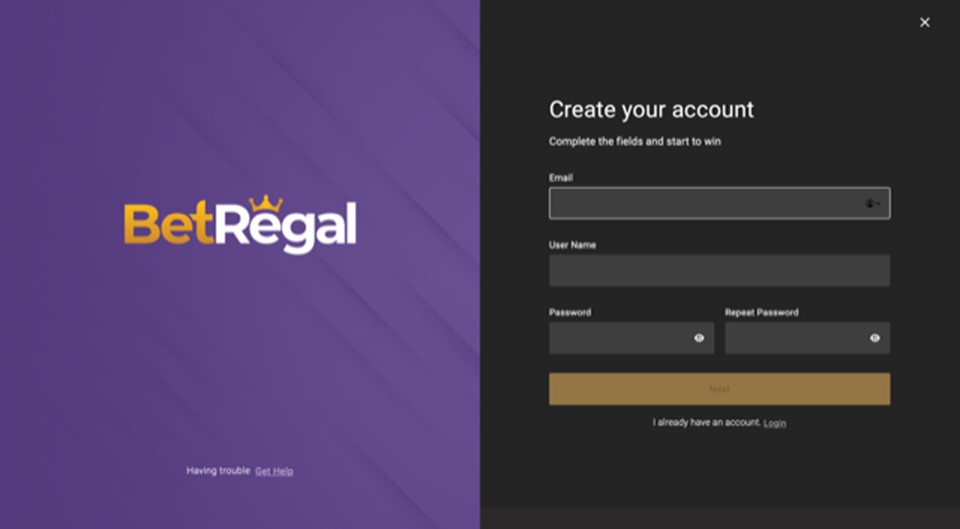 Input Some Personal Information – The registration process is divided into several steps, starting with basic personal information. You'll be prompted to provide your full name and birthdate.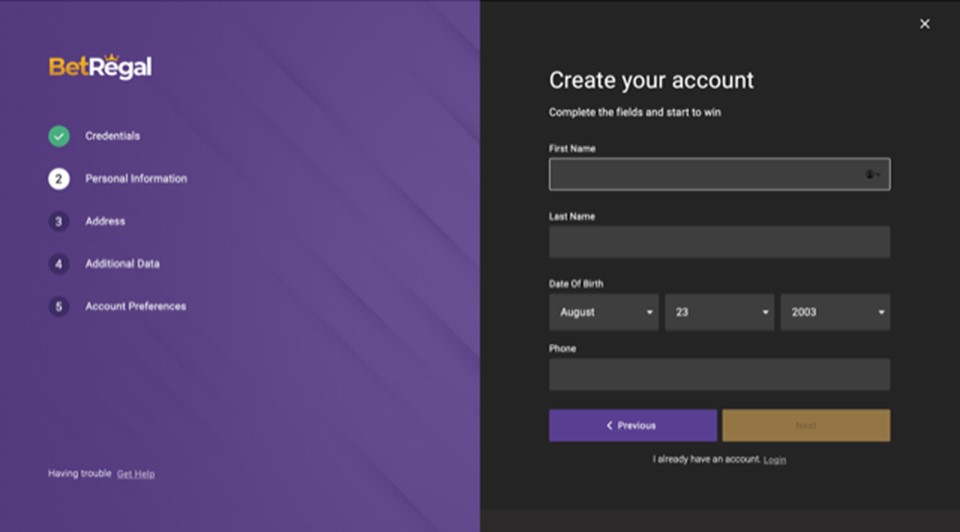 Provide Address Details & Contact Info – Next, you'll enter your address details, including your country, city, province, postal code, and precise place of residence. Afterwards, BetRegal will require your email address and phone number.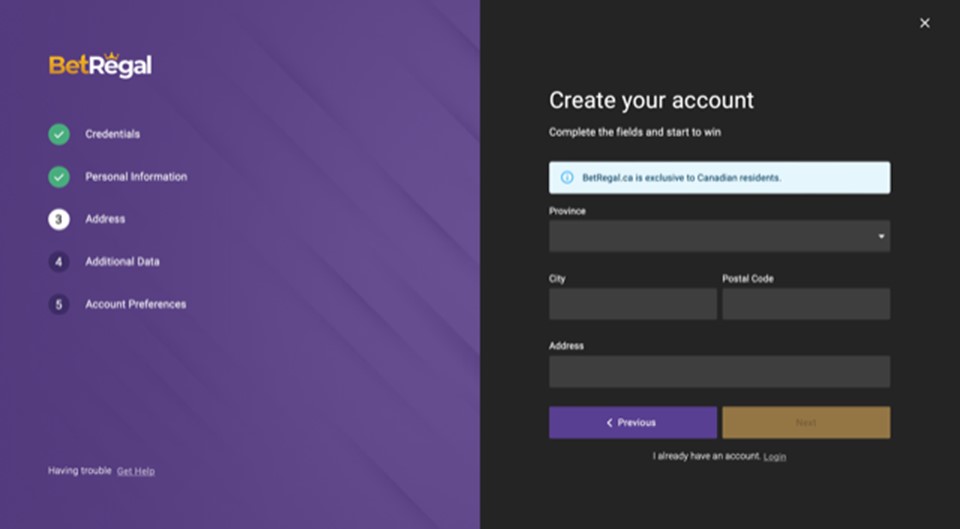 Password Setup – Set up a secure password for your account and follow the onscreen prompts to complete the registration process.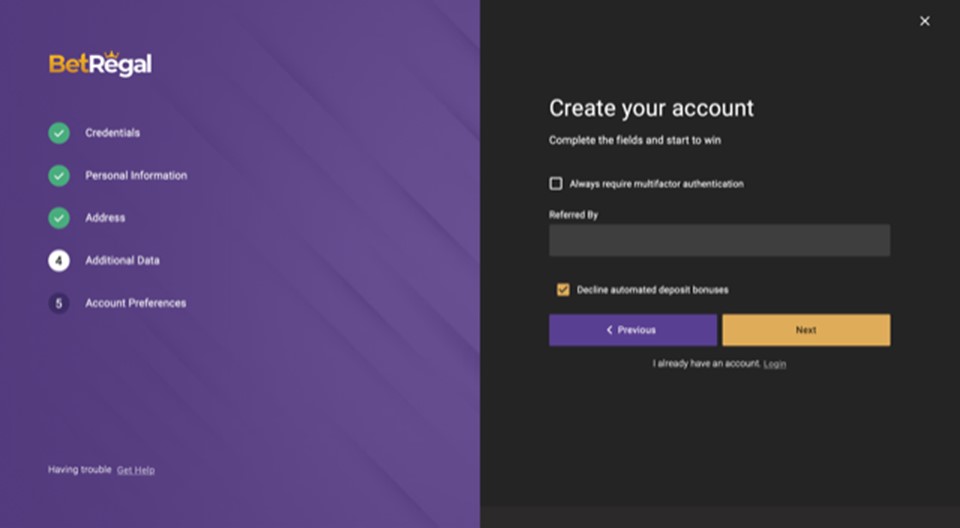 Verification – After completing the previous steps, you'll typically need to verify your account via email. BetRegal will send you a confirmation link to the email address you provided. Simply click on the link to confirm your registration.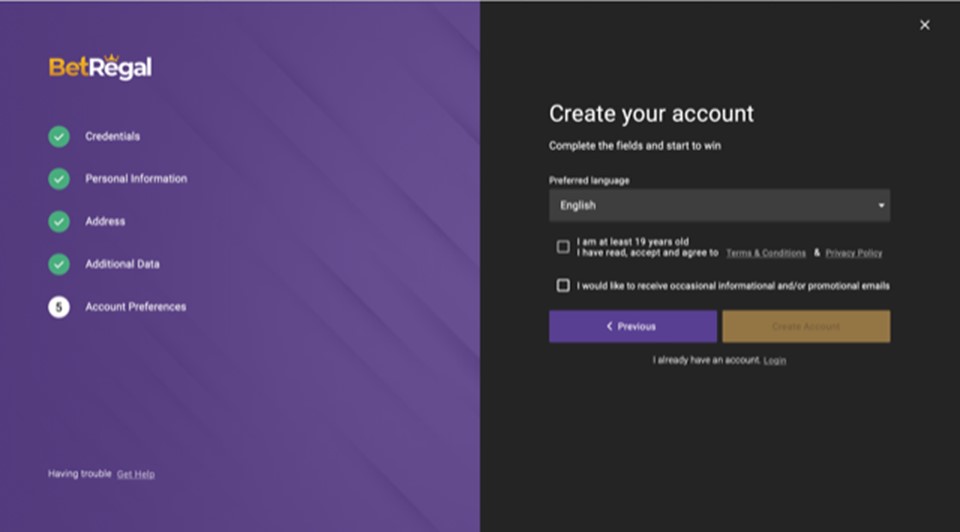 BetRegal Customer Service
BetRegal's commitment to customer service is evident in the professionalism and readiness of its support team. In the realm of online betting, where inquiries can range from account verification to banking and general sports or game-related questions, responsive customer service is pivotal. Thankfully, BetRegal Sportsbook excels in this regard.
At BetRegal Canada, registered users can reach out for support via live chat or email. Of the two options, the live chat function will offer quicker support, with reliable customer service agents eagerly waiting to assist you on the other end. However, you can also find their company email at the bottom of the home page for a more formal approach.
BetRegal further complements its direct customer support with a comprehensive FAQ section. This valuable resource serves as an excellent starting point for new users, covering a wide range of topics from banking and registration to gambling tips and resources.
On top of all that, BetRegal also provides links to its three primary social media accounts via Twitter, Facebook and Instagram. While these platforms are not direct support channels, they can be valuable for staying updated on news and community engagement.
Unfortunately, not everything is perfect in regard to their customer support. At the moment, they do not offer any sense of phone support and their live chat feature is only available between 2 am to 7 pm EST.
| | | |
| --- | --- | --- |
| Customer Service Channel | Availability | Description |
| Live Chat | 2 am to 7 pm ET | Quick and user-friendly access to customer support agents. |
| Email | Available 24/7 | Formal written communication option at [email protected]. |
| FAQ Section | Available 24/7 | Extensive guides covering various topics for self-help. |
| Social Media | 24/7 (Not for direct support) | Twitter (@betregal), Facebook (@BetRegalSports), and Instagram (@betregalsports). |
FAQs about BetRegal Canada 
Before you dive into the world of BetRegal, we know you have burning questions. What's the scoop on their legitimacy? How does the deposit process work? Are there fees involved? Relax, we've got you covered. These are the questions on everyone's mind, the crucial details that every bettor wants to know.
What sports can I bet on at BetRegal?

How can I deposit funds into my BetRegal account?

What is the minimum deposit amount at BetRegal?

Are there any fees for deposits or withdrawals?

Does BetRegal offer a mobile app?
BetRegal Conclusion
In summary, BetRegal Canada is a compelling sports betting choice, offering seamless registration, rapid banking, and a broad sports portfolio. Competitive odds backed by trustworthy licensing add allure, despite minor drawbacks like limited customer support hours and an absence of a mobile app.
There's no denying the room for improvement at BetRegal, but having only been established in 2017, it's impressive to see how far they've come. As they continue to evolve alongside the growing Canadian sports betting scene, BetRegal will surely become a major player in one of the most competitive gambling landscapes in the industry.
About the author: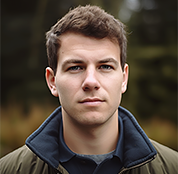 Ryan is an avid sports betting writer with a big passion for the Toronto Maple Leafs. His expertise in analyzing betting odds combined with his knowledge of sports provides readers with valuable insights. When he's not analyzing odds or cheering for the Leafs, you'll find Ryan on the basketball court.