Meet Betsafe, a top-notch sportsbook that made its Ontario debut in February 2023. If you're looking to dive into NHL, NBA, or any sport really, this platform is for you.

Owned by the Swedish company Betsson and fully licensed by Ontario's Alcohol and Gaming Commission, Betsafe brings 15 years of experience to the game.

With its slick platform and easy-to-use app, navigating through stats and scores is a breeze. Trust me, for sports enthusiasts in Canada, Betsafe is a name to consider. Stick around for our extended Betsafe review to get the full rundown and stay tuned for our upcoming Betsafe casino review as well.
Betsafe Strengths and Weaknesses
When it comes to online sportsbooks in Ontario, not all platforms are created equal. Let's break down some of the pros and cons of wagering with Betsafe in Ontario.
Betsafe Strengths
Diverse Customer Support: Need help? Betsafe has you covered with live chat, email, and even a call-back phone option. Whether you're a night owl or an early bird, support is just a click or call away.
Top-Notch Tech:

Navigating Betsafe's high-quality mobile app is like skating on fresh ice. Available for both iOS and Android, it's smooth, intuitive, and perfect for on-the-go betting. Quick account verification adds to the seamless experience.

Sport Selection & Specialties:

From the NBA to MLB, Betsafe's range of sports and bet types is a home run. If you're an aficionado of North American sports, this is your court. Plus, they're registered with the AGCO, so you know it's a fair game.
Betsafe Weaknesses
Limited Withdrawal Methods: Betsafe might drop the ball a bit when it comes to banking options for withdrawals. You might find yourself wishing for a broader selection to cash out those winnings.
No Desktop Version:

If you're the type who likes the real estate of a bigger screen for your bets, you're out of luck. Betsafe operates as an app-only sportsbook, so desktop jockeys may feel sidelined.
Betsafe offers a solid experience with particular strengths in customer service and sports selection. However, if you're someone who values varied banking options or prefers the desktop experience, you might find some hiccups. Overall, it's worth a shot, especially if you're all about that mobile betting life.
Betsafe Canada Rating
Betsafe Ontario Profile
| | |
| --- | --- |
| Website | https://www.betsafe.com/ca/sportsbook |
| Year founded | 2006 |
| License & regulation | iGaming Ontario, Malta Gaming Authority |
| Contact | Live chat, email, call back |
| Payment methods | Interac, VISA, Instant Banking, ecoPayz, Paysafe card, Mastercard, MuchBetter |
| Withdrawal times | 1-5 days |
| Features | List of Betsafe betting features: Live streaming, Live betting, Single-game betting and parlays, early cash-out, casino and poker platforms, live chat, statistics and live scores, bet builder |
| Casino providers | NetEnt, IGT, GamesInc, and more |
| Other Products | Live casino, virtual sports, esports, casino |
| Casino games | Blackjack, Poker, Baccarat, and more |
| Apps Devices | iOS and Android |
| Min Deposit: | $10 |
| Owner | Betsson AB |
An In-Depth Look at Betsafe Canada's Sportsbook
In our experience, Betsafe stands as a robust choice for sports betting enthusiasts, particularly those in Ontario, Canada. We were immediately taken with the sportsbook's expansive range of offerings, spanning over 30 sports—from the popular likes of NHL, NBA, and NFL to more global sensations like soccer and rugby. This comprehensive coverage makes Betsafe a versatile platform that caters to a wide audience, not just fans of North American sports.
What sets Betsafe apart, in our view, is the ease of navigation. The platform, available as a mobile betting app for iOS and Android, is intuitive and clean, making it easy to find and filter statistics, live scores, and bet history. Additionally, Betsafe's customer support options—live chat, email, and call-back services—are impeccable. It's reassuring to know that help is just a click away. We also appreciate the quick account verification process and the fact that Betsafe is registered with AGCO, which adds another layer of trust.
Now, let's talk live betting. The live in-play section on Betsafe is exceptional, offering opportunities for dynamic bets during ongoing matches. The graphical displays and in-game stats create a comprehensive live betting experience. The 'cashout' feature is also handy, giving you the control to lock in a profit or minimize loss before the event concludes.
However, the platform isn't without its downsides. For instance, we did find the banking options for withdrawals to be limited. Additionally, the absence of sportsbook-specific bonuses or free bets can be a bit of a letdown for new users.
Also worth noting is Betsafe's casino offerings. Beyond sports betting, you can dip your toes into a wide array of slots and table games, adding another layer to the user experience. With over 2,000 games, there's something for everyone, whether it's slots like Book of Dead or table classics like Blackjack.
To sum it up, Betsafe has established itself as a strong contender in the Ontario iGaming market. If you value a broad range of sports, a user-friendly experience, and extensive live betting options, it's definitely worth checking out. The few drawbacks we noted could use some improvement, but they don't detract from the overall high-quality service.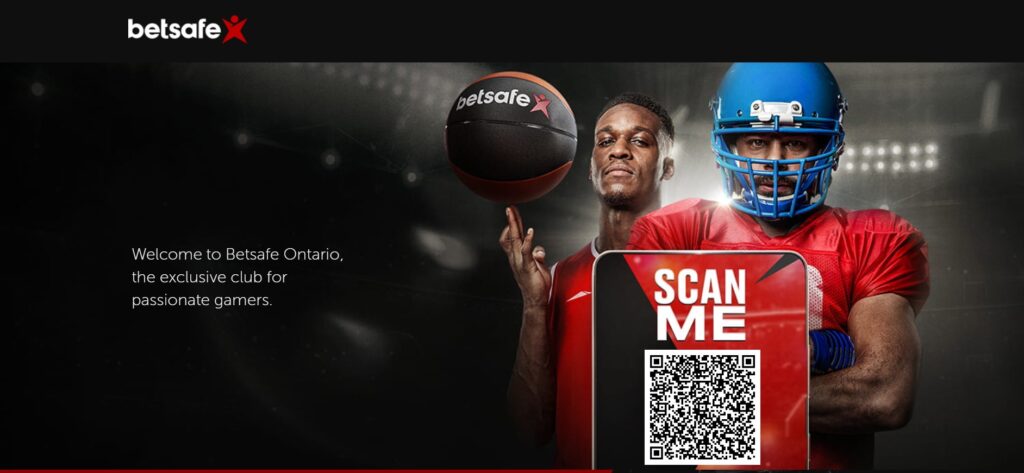 Betsafe Ontario Top Betting Features
One of the aspects that sets Betsafe Canada apart in the crowded world of online sports betting is its rich array of features. From live streaming to early cash-out options, Betsafe offers a comprehensive and user-friendly experience that caters to both novices and seasoned punters. Below, we dive into the specific features that make betting at Betsafe a rewarding endeavor.
Live Streaming: The option to watch sports events in real-time while placing bets is a great way to enhance your overall experience. Being able to watch the action unfold live means you can make better-informed bets, adding an extra layer of engagement and excitement. All you have to do is log in and navigate to the live streaming section to watch ongoing games.
Live Betting:

Betting on games as they happen makes every moment of the game a potential opportunity to win. It adds a level of excitement and unpredictability that pre-match betting simply can't offer. To use this feature, navigate to the live betting tab where you'll find various markets that allow you to capitalize on the game's momentum shifts.

Single-Game Betting and Parlays:

Betsafe offers flexibility in your betting strategy by allowing you to bet on individual games or combine multiple bets into one ticket. This diversifies your betting portfolio and increases your potential to win. Whether you prefer the simplicity of a single bet or the complexity of a parlay, Betsafe has you covered.

Early Cash-Out:

This feature enables you to secure a win or limit a loss before the event concludes. By using the 'Cash Out' button during an event, you can control your bets more dynamically, adding an extra layer of strategy to your betting experience.

Casino and Poker Platforms:

Beyond sports betting, Betsafe also offers an extensive range of casino games and poker, enriching your gaming experience even further. Navigate to the casino or poker sections from the homepage for different ways to win and added options for entertainment.

Live Chat:

With live chat, Betsafe provides instant customer support to answer your questions in real-time. Typically found at the bottom of the page, the live chat icon grants you fast and efficient assistance whenever you need it.

Statistics and Live Scores:

Updated statistics and scores keep you informed during all stages of a game. This feature can be found on individual event pages or in a dedicated statistics section, and it's a useful tool that aids in making smarter bets.

Bet Builder:

Last but not least, the Bet Builder feature allows you to customize your bets on any given event. It personalizes your betting experience by letting you select various bet types for a single event, allowing you to tailor your bets to specific predictions and hunches.
With these robust features, Betsafe proves it's a go-to platform for any Canadian looking to take their sports betting game to the next level.
Betsafe App
One of the standout features of Betsafe Canada is its robust mobile app, available for free download on both iOS and Android platforms. If you're a punter who loves the freedom to bet on the go, the Betsafe app is a godsend. Seamlessly carrying over all the features from the desktop version, the app allows you to engage in live betting, pre-match betting, live streaming, and even use the early cash-out option, all from the palm of your hand. During our review, we found the app to be highly intuitive, mirroring the desktop layout for a consistent user experience.
Depositing funds or contacting customer support is just as effortless on the mobile app as it is on your computer. And if you fancy a switch from sports betting, the app also provides automatic access to Betsafe casino games. For those who prefer not to download any software, Betsafe's mobile-optimized site can be accessed directly via your device's internet browser, offering an equally smooth experience. In summary, the Betsafe mobile app not only serves as a convenient alternative to desktop betting but in many ways, enhances the overall user experience.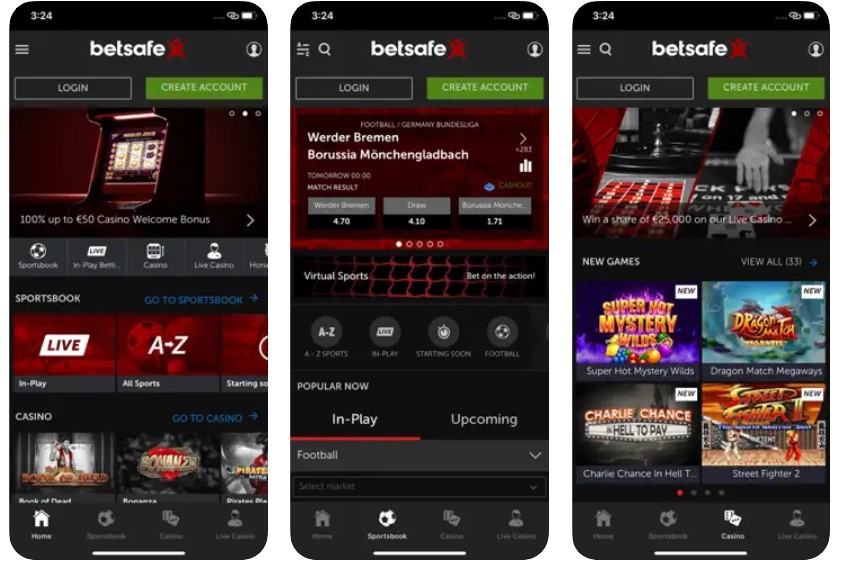 Sports Coverage on Betsafe Canada
Betsafe Canada provides a sports betting paradise that seems to never sleep, much like the sports world itself. With over 30 sports on offer, there's a dizzying array of competitions and leagues to choose from. Whether you're into mainstream sports or niche markets, Betsafe has got you covered.
Betsafe NFL – For fans of gridiron action, the NFL is a top draw on Betsafe. Betting on Super Bowl contenders or tracking the underdogs, you can never go wrong. With Canadian talent like Chase Claypool making waves, it's a sport close to many a Canadian heart.
Betsafe NBA – As a basketball lover, the NBA markets on Betsafe are a personal favorite of mine. From the regular-season games to the high-stakes playoffs, the excitement never wanes. Plus, with Canadian teams like the Toronto Raptors in the mix, national pride is always on the line.
Betsafe NHL – Hockey is arguably Canada's favorite sport, and Betsafe doesn't disappoint. Whether you're backing the Montreal Canadiens or the Vancouver Canucks, the variety of betting options makes each game a thrilling experience.
Betsafe Soccer – Football (or soccer, as we Canadians call it) offers a global palate of leagues and tournaments. From the English Premier League to the UEFA Champions League, there's a reason it's called the beautiful game. Don't forget the Canadian stars like Alphonso Davies who are making a name on the global stage.
Betsafe Formula 1 – The adrenalin rush of Formula 1 racing is unmatched, and betting on it through Betsafe adds another layer of excitement. From the Monaco Grand Prix to the Canadian Grand Prix in Montreal, the fast-paced nature of the sport keeps you at the edge of your seat.
Betsafe Esports – Esports is one of the fastest-growing betting markets on Betsafe. With a focus on popular games like CS:GO, Dota 2, and League Of Legends, it's a millennial's dream come true. The live streams add an immersive touch that traditional sports often lack.
For those interested in other sports, Betsafe offers options ranging from Grand Slam tennis and PGA Tour golf to the hard-hitting thrills of MMA and the strategic nuances of cricket. Essentially, Betsafe keeps the sporting world at your fingertips.
Betsafe Betting Markets
One of the strongest suits of Betsafe Canada is its expansive and diverse array of betting markets. From the ever-popular Moneyline to the strategic Totals and Prop bets, each market brings a unique flavor to your sports betting experience. Here are the top 5 betting markets that you shouldn't miss out on.
Moneyline – Moneyline bets are the bread and butter of sports betting, involving simply picking the winner of a game or match. They're popular for their straightforward nature and are a smart bet for those new to sports betting. For example, in an NHL game between the Montreal Canadiens and the Boston Bruins, if the Canadiens have odds of -150, you'd have to bet $150 to win $100.
Point Spread – Point Spread betting is especially popular in sports like NFL and NBA, where the scoring can be high. This market helps level the playing field by adding or subtracting points from a team's final score. It's a smart bet if you've got a keen eye for underdogs or mismatches. For instance, if the Toronto Raptors are -7.5 favorites against the New York Knicks, they need to win by 8 or more points for your bet to cash.
Over/Under (Totals) – Over/Under bets are great when you want to focus on the game's scoring rather than who wins or loses. You're essentially betting on whether the total number of points scored in a game will be over or under a specific number set by Betsafe. This is a popular market in high-scoring games like NBA matchups or in sports like soccer where low-scoring games are common.
Prop Bets – Prop bets, or proposition bets, allow you to bet on specific occurrences within a game, such as who will score the first goal, how many yellow cards will be given, or the number of three-pointers in an NBA game. They're a fun and engaging way to dive deeper into the game you're watching. For example, you might find a prop bet on whether Alphonso Davies will score in a Bayern Munich match.
Futures – Futures bets are long-term wagers predicting events that will happen in the distant future, like who will win the Super Bowl or the Stanley Cup. These are exciting because they offer high payouts, but they also carry a higher level of risk. This is the market where you might find odds for the Toronto Maple Leafs winning the Stanley Cup at the start of the NHL season.
Each market has its own appeal, and the smart bet often depends on your level of expertise in the sport you're betting on. Regardless of your preferences, Betsafe offers an impressive range of markets that cater to both newbies and seasoned bettors alike.
Secure, Diverse Betting Platform
Play Now

Banking at Betsafe Ontario
Navigating the financial aspects of your sports betting journey is crucial, and Betsafe Canada makes this process smooth and secure. Logging into your account is the first step, and once you've completed the Betsafe login, a variety of deposit and withdrawal options are designed to suit your needs. Here's a comprehensive guide to the banking features at Betsafe.
How to Make a Deposit at Betsafe: Steps-by-step
Log In: First, you need to complete the Betsafe login to access your account.
Navigate: Go to the cashier section, often represented by a 'Wallet' or 'Banking' tab.
Select Deposit: Choose the 'Deposit' option to view the available payment methods.
Choose Method: Pick your preferred payment method from the list.
Enter Amount: Input the amount you wish to deposit.
Confirm: Follow the on-screen instructions to confirm your deposit.
Top Deposit Options
Interac: This is a popular Canadian-based payment method. It allows you to transfer funds directly from your bank account to your Betsafe account securely. This would be a recommended method for Canadian users due to its low fees and quick transaction times.
VISA/Mastercard: These are classic options and widely used. They're straightforward but might incur small fees.
Instant Banking: This method allows for real-time transfers from your bank account. It's convenient but may have higher fees.
ecoPayz: This is an e-wallet option, providing a layer of anonymity between your bank and betting account. It's quick but might have fees associated with transferring back to your bank.
Paysafecard: This is a prepaid card that you can purchase with cash, making it a good option for those wary of sharing banking details online.
MuchBetter: This is a newer mobile payment option. It's user-friendly and offers low fees, making it ideal for those who prefer to manage everything via their smartphones.
How to Request a Withdrawal at Betsafe: Step-by-step
Log In: After completing your Betsafe login, navigate to the 'Banking' or 'Wallet' section.
Select Withdraw: Choose the 'Withdraw' option to initiate the withdrawal process.
Pick Method: Opt for your preferred withdrawal method, which ideally should be the same as your deposit method to avoid complications.
Enter Amount: Specify the amount you wish to withdraw.
Confirm: Follow the additional steps, which may include identity verification, to confirm your withdrawal.
By logging into Betsafe, you gain access to various secure and convenient banking options. Whether you're depositing or withdrawing, Betsafe offers an efficient and user-friendly banking experience.
Betsafe Customer Support
One of the hallmarks of a reliable online betting platform is the availability and quality of its customer support. At Betsafe, they take this aspect seriously because the bookmaker understand that questions and issues can arise at any time, whether you're a new player or a seasoned bettor.
Live Chat: Instant Assistance
Betsafe Live Chat service is one of the most popular support options, offering immediate help right when you need it. The chat icon is accessible from every page on the website, providing you a direct line to our customer support team. It's perfect for resolving simple issues or getting quick answers to your questions.
Email Support: Detailed Queries
For questions that require a more detailed response, or if you're looking to keep a record of your interactions with them, emailing is a suitable option. The email support service is comprehensive, and they strive to provide timely, accurate answers to all your queries.
Call Back: Personalized Help
If you prefer to speak with someone directly, you can request a call back. This service is ideal for complex issues that need a bit more time to sort out. The Betsafe team aims to return your call as quickly as possible to provide you with personalized guidance.
Whether you choose Live Chat, email, or the call back option, you'll find that Betsafe's customer support team is knowledgeable, friendly, and eager to assist you in any way they can.
Betsafe Canada FAQs
Welcome to the FAQ section, your quick guide to Betsafe. Here you'll find concise answers to the most common questions about Betsafe Canada.
Is Betsafe legal in Canada?

What sports and leagues can I bet on at Betsafe?

What types of bets can I place at Betsafe?

What deposit methods are available at Betsafe?

Does Betsafe have a dedicated mobile app?

What customer support options are available at Betsafe?

What casino games are available at Betsafe?

Which is the top Betsafe bonus?
About the author: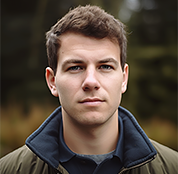 Ryan is an avid sports betting writer with a big passion for the Toronto Maple Leafs. His expertise in analyzing betting odds combined with his knowledge of sports provides readers with valuable insights. When he's not analyzing odds or cheering for the Leafs, you'll find Ryan on the basketball court.